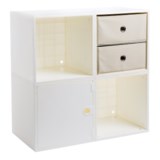 Closeouts. This iCube Modular 4 Cube storage kit is a lightweight storage system for your home office, dorm room, kids' room and more. It has snap-lock technology to snap together in a flash and break down to lay flat when not in use.
Average Rating based on
4
reviews
3.250000
0
5
Reviewed by Savvy Sleuth from Oregon on Tuesday, July 26, 2016

As long as you realize this is not a heavy-duty storage solution (only a 50 pound total capacity), you probably won't be disappointed in this inexpensive storage kit which is ideal for small spaces. The dimensions: 27-1/2x27-1/2x13-3/4" are as pictured, but this can be built four cubes high (vertically) for tall skinny spaces too. **Realize if you do that though, it may become more likely to tip on a narrow base versus a wider one.

Construction of this item took me about 40 minutes. I was hoping for 10, but the pieces didn't go together as smoothly as I would have hoped AND mine did not come with instructions for assembly! (It was well packaged though). I did go to YouTube and view an instructional video put up by the company that helped though, and I would recommend checking that out before you buy. Search for "iCube modular" and you'll find it.

The pieces vary in their thickness, but all are made of plastic. The connectors too are plastic and can be easily lost or broken if too much force is applied so take care when assembling it. I'd suggest getting a Ziploc bag to put all the small pieces in before you start for ease of assembly. No tools are required, but a good light source will help as all the pieces are black and under the right conditions - get lost easily.

The build quality is on par with most milk-crate boxes you'll find at a local discount store. I wouldn't put a 10 gallon fish tank on top of it, but it's perfect for storing t-shirts, shoes, blankets or similar with a small lamp on top.

**This product DOES ship with (2) tan iCube fabric drawers as pictured. This definitely adds to the deal you get on Sierra.

I purchased this to go into my daughter's dorm room to add additional storage to a long, narrow room. In addition I pucrhased several iCube fabric storage cubes for additional storage. While I wish putting it together had been a breeze, I'm pleased with it overall as it's what I expected it to be - cheap and functional without being able to withstand a hurricane. If those are your expectations too - give it a try!

Reviewed by Heather from Virginia on Saturday, April 16, 2016

Assembling these took a little time to figure out, but I have bought several more. They are great for skinny places (stacked four high instead of two-by-two) and for storage. I am buying two more!! These fit great under windows in bedrooms and bathrooms!! Sturdier than they look, too!!

Verified Buyer

Reviewed by Camping Friend from Layton, Utah on Friday, January 22, 2016

The iCube Modular 4 Cube storage kit had mixed reviews. The people that wrote reviews complaining how difficult the iCube Modular 4 Cube storage kit was to assemble I just figured they did not have a knack for putting things together. So I did not factor their review in my decision to purchase the iCube Modular 4 Cube storage kit. I do have a knack for putting things together. The problem with putting the unit together is it is poorly made. I found damaged pieces that made assembly impossible without manufacturing your own parts or jury rigging it together with separate hardware. I really wanted the iCube Modular 4 Cube storage kit to work. It is the perfect size for our crowded spare everything bedroom.

Reviewed by Public Display Name from Illinois on Tuesday, January 19, 2016

I originally bought one of these for my girlfriend to help organize her craft room, after putting it together and watching a video by the manufacturer I realized just how great these little units are! If you buy more than one you can combine them in just about any configuration you can think of and they seem really sturdy when assembled. We ended up putting part of her guinea pig cage on top of it and because this thing is easy to clean it works really well for storing all of the piggy supplies.

After about a week I liked the first so much that I bought two more of them.