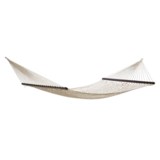 Closeouts. String up your ABO Gear Canberra hammock on the porch, deck or out in the yard and let your dreams unfold. (Get the stand, too, if you're short on trees! Item #98045.)
Average Rating based on
109
reviews
3.559633
0
5
Verified Buyer

Reviewed by Jenn B. from Michigan on Wednesday, August 10, 2016

This is a great hammock that I use with a stand due to lack of trees. I does stretch, but I hung it up higher and it works great. I did notice that two ropes are tied together right in the center, so I hope this does not become a weak point, but so far so good. It looks great and is very comfortable and was a great price.

Verified Buyer

Reviewed by captain from clearwater,fl on Thursday, July 21, 2016

cotton looks threadbare in spots,as if it was repaired.


Verified Buyer

Reviewed by t2green365 from Fruitland Park FL on Thursday, June 30, 2016

Great price for a great product.

Verified Buyer

Reviewed by A from Iowa on Wednesday, May 4, 2016

First, the box of the hammock and stand arrived in terrible shape. Second, the hammock stand was missing one Caribbean and one eye bolt/nut/washer. After going to the local hardware store to purchase the needed items, I was finally able to test of the hammock. I am 6'1", 165 lbs. When sitting in the hammock for the first time, I sunk all the way to the floor (deck). I was still touching the ground after tightening the hammock as much as possible. This was a terrible purchase. As an aside, the stand for the hammock is truly huge. It is necessary to have 8-10 feet of open space available for the hammock stand.

Verified Buyer

Reviewed by anniefromtexas from Texas on Wednesday, March 23, 2016

This is my 3rd hammock of this sort: it stays outside in the weather extremes so it doesn't last forever. The first was good for about 6 years; the 2nd lasted only about 3 years before the cotton ropes started raveling. It's SO comfortable.
When you first put it up, hang it tight because when you first lie in it, the ropes will stretch...a LOT...Keep adjusting the hooks and trying it out until it settles and you can lie in it without hitting the ground.

Verified Buyer

Reviewed by Shreve from Georgia on Monday, August 17, 2015

I was so excited to get my hammock but after it was hung and we climbed in, we went straight to the ground. This hammock has no support because it is made very cheaply and is not strung tight at all, plus some of the strings are actually knotted together instead of being one solid rope which is a big no-no when it comes to hammocks. Will be returning NOT exchanging.

Verified Buyer

Reviewed by hplc from Massachusetts on Monday, June 29, 2015

Replaced identical hammock that I've had for 5+ years - eventually the cotton rots. f
Need to keep tightening as it stretches. It shrinks some after a few rain/dry cycles.

Reviewed by jj from Colorado on Tuesday, April 28, 2015

I got one of the ABO hammocks several years ago and it was great. I saw reviews on this one and thought they may be off based on the one I had years ago. This one is terrible by comparison, it stretches all the way to the ground when installed as tight as possible.

Reviewed by Amanda from Tennessee on Sunday, November 30, 2014

I was looking for a large hammock that my husband and I could comfortably fit in...we are both over 6' tall. This is perfect. We both have ample room. We purchased this several months ago, and it has held up nicely so far. It definitely sags if you add a lot of weight to it, but this is an easily fixable problem.

Verified Buyer

Reviewed by Outdoorsy Girl from Highland, MI on Sunday, July 27, 2014

Big and comfortable. This material has some stretch and give which makes it super comfortable.