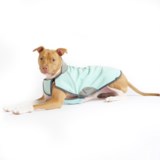 Closeouts. Pamper your pooch with Gold Paw's Cascade winter dog coat. The stretchy knit fabric is dirt- and water-repellent, and recycled polyester in the brushed fleece lining provides Fido warmth on wintry days.
Average Rating based on
13
reviews
4.307692
0
5
Reviewed by aminahyaquin from West Virginia farmer, former New Yorker on Saturday, November 26, 2016

This dog jacket is a lovely, cushy, water repellant exterior fabric with a soft, light, very warm fleece lining. The color is attractive, the fit is flexible and fits my hard-to-fit mini-coonhound...she LOVES it . The best thing, to me, besides the great quality oif the coat, is the ease with which it is put on. Georgia Hope is my most wiggly dog.

Verified Buyer

Reviewed by IdahoSkier from Idaho on Tuesday, August 30, 2016

My pup loves backcountry skiing with us, but has short hair and almost no fat. This coat is great for some extra warmth. The best feature about this coat is the adjustability around the chest and neck--he has a very deep chest and a tiny neck and waist so it's been hard to get a good fit but this works great. I did have to add tucks along the hem in the very back to prevent the material from flapping (again, because of his tiny waist he just doesn't fill it out).

Verified Buyer

Reviewed by keds1 from South Dakota on Wednesday, August 10, 2016

It fits my friend's dog perfectly, and so I think the sizing is accurate on the site. The fabric is nice, and the coat looks like it stays in place when the dog moves. The 3 stars comes from the relatively short straps that are attached to the locking mechanism at the belly (had to take it off and dig out one end to get it on her), and the front velcro flap is just odd. But once you get the thing on, it looks comfy.

Verified Buyer

Reviewed by Mountain J from Colorado on Sunday, July 31, 2016

Ran slightly large. Super soft and looks really nice on the dog

Reviewed by Wine-loving CPA from Minnesota on Monday, February 15, 2016

I bought this in a size 20 for my 45-pound female Vizsla. She is on the outer boundaries of the sizing, so I was worried that it would not fit, but it DOES fit, and I had to adjust it as small as I could. I think that the coat runs a bit larger than what their sizing chart indicates, so take that into consideration when you order. The fleece is not thick, but it kept her warm enough that she was willing to go for a walk in our Minnesota winter. It requires a bit of trial-and-error to adjust it properly to fit the dog for the first outing, but it is easy to put after that first time (by snapping the buckle on the side of the coat and wrapping the front flap over the front elastic band).

Verified Buyer

Reviewed by madchem from Chicago on Monday, February 15, 2016

Living in Chicago during the winter months brings a lot of different weather conditions. This coat has kept my lab mix dry and warm down to 4 degrees (so far) with even lower wind chills during our walks. Great quality.

Verified Buyer

Reviewed by Melanie from NE, PA on Tuesday, January 19, 2016

This was actually a bit bigger than I needed but still works. I would size down one in this brand in the future. It's made very well and provides a nice bit of warmth for my very short haired Pittie mix. The price was insanely reasonable too!

Verified Buyer

Reviewed by Slim Jim from Albuquerque, New Mexoco on Monday, December 28, 2015

I like this coat a great deal and I think (hope) my dog likes it as well. It fits my dog well, it is attractive and it is MADE IN THE USA! It is easy to put on him although it may take a moment to figure out how it attaches, and it is easy to remove. The collar is stylish and it looks great on him. Good job!

Reviewed by GSP mom from Upstate NY on Sunday, November 22, 2015

Ordered one of these for my 45 lb GSP, who is very slender but w/ a broad chest. Quality of the coat was nice, however the design and sizing was off. The length and neck were true to size for my dog, but the girth was way off. Even w/ the adjustable straps, the coat was too loose in the chest/waist (even w/ a deep-chested dog). The dangling ends of the adjustable straps were also annoying and kept getting caught on things as the dog was running--there should have been some way to tuck them in or pin them back. Getting the coat on should have been simple, but all of the straps and buckles kept getting tangled with each other and made it more complicated than necessary. For the STP sale price, and the fact that my hard-charging dog wears through coats very quickly and needs a couple of new ones every season, this coat was fine, but I wouldn't have paid full price for it.

Reviewed by madcaphorse from NYC on Sunday, November 15, 2015

I ordered my dogs normal sizes and they were very wide. Two of them have very wide chests and they were still very loose, although the fabric was quite nice i don't think it will be snag proof (?) One of my more fussy dogs did not want to hold still to buckle it and the extra hanging straps annoyed him constantly. Very good looking and well sewn but sent them back. Oh well..