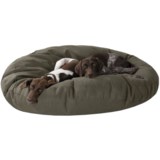 Overstock. Kimlor's jumbo round dog bed is a super-sized sleeping haven for your four-legged friends. Paw-proof upholstery cloth won't rip or tear, even when dogs dig at it, and the cover zips off easily for quick clean-up in the washing machine.
Average Rating based on
715
reviews
4.405594
0
5
Reviewed by LSKTY from NORTH CAROLINA on Wednesday, November 30, 2016

I HAVE 4 OF THESE BEDS & FOR THE MOST PART THEY ARE GREAT. THE LAST ONE I RECEIVED HAD A BAD STAIN ON IT & THERE WAS A LACK OF" FILL" TO PUT INSIDE THE BED. THE QUALITY CONTROL & LACK OF QUALITY CUSTOMER SERVICE FROM SIERRA TRADING POST IS A VERY BIG DISAPPOINTMENT, AS I HAVE BEEN SHOPPING HERE FOR 20 YEARS. THE POOR CUSTOMER SERVICE IS A RECENT DEVELOPMENT

Reviewed by Teresag from Home on Sunday, November 6, 2016

great quality .....washes great very durable I have 3 for my large labs they love there beds I want another one for a gift but stores aren't in my area they rent in stock on line :(

Verified Buyer

Reviewed by Kristen from Mississippi on Friday, October 21, 2016

My dogs love this bed but it wasn't exactly what I expected from the picture. The filling in the photo looks to be equally distributed and somewhat fixed in position, but it is not. The filling is loosely put into an insert and freely moves. I will be purchasing some sort of foam or extra filling to help cushion the entire bed. The cover is separate from the insert which will make washing a breeze.

Verified Buyer

Reviewed by dbre from Buffalo on Monday, October 17, 2016

Great price and value for this size bed . Seems to be made very well.

Verified Buyer

Reviewed by dlmilliken from Michigan on Wednesday, October 12, 2016

Bought 3 because we are always replacing dog beds. Great value.

Reviewed by Arkansas Traveller from Arkansas on Sunday, October 2, 2016

Great size and comfortable (or so my dogs tell me). The only drawback is that it's large enough that stepping over it isn't easy and the occasional time one might step in the middle of it, the material composition makes it slick. For that reason we moved it from the foot of our bed into the living room after my mate ended up on his bottom one night sfter several near falls.

Reviewed by Ruth G. from Michigan on Monday, September 26, 2016

We purchased two of these beds about 3yrs ago for our English bulldog and lab. Both dogs love these beds and after washing the covers dozens of times, they're still going strong! The covers are very durable and never show any signs of wear despite being pawed and clawed at. The zippers are heavy duty and continue to move smoothly-no jamming or broken teeth. In addition, the zippers are covered by a flap so they're well protected. The fill in these beds is also impressive! With both dogs weighing in at over 80lbs, the beds continue to hold their shape and fluff. This is by far the best dog bed on the market and for the price, you can't go wrong. We won't hesitate to purchase more in the future!

Reviewed by GVstudent from Montana on Wednesday, September 14, 2016

My 70 lb GSP has been using this bed for over three years now. The cover is super durable and the only imperfection is a small rip by the zipper, even after multiple washings. As some other people have noted the stuffing flattens out over time, but my dog seems to prefer making a donut and doesn't seem to mind the lack of stuffing in the middle. I would give it a five but the inner cover that holds the stuffing is about shot now from the "digging" my dog has done. If the inner cover was more durable it would be the perfect bed.

Verified Buyer

Reviewed by Dog lover from Indianapolis on Wednesday, September 7, 2016

Love this product.

Verified Buyer

Reviewed by Robbie from North Carolina on Sunday, June 19, 2016

This bed is not like the picture shows. When my lab lies on the bed it bottoms out right to the floor. The original description says the bed is 3" thick...that is not accurate.