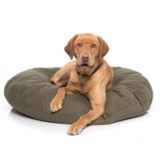 Overstock. Now here's a dog bed to treat your pooch right! The paw-proof upholstery cloth on this premium-quality Kimlor dog bed won't rip or tear -- even when dogs dig at it! -- and the cover zips off for easy clean-up in the washing machine.
Average Rating based on
729
reviews
4.440329
0
5
Verified Buyer

Reviewed by Jenny from Colorado on Wednesday, October 5, 2016

The bed is nice & fluffy. My dog loves it & it's now his favorite spot in the house. I bought it because he isn't able to jump up on the couch anymore (he's 12), & I wanted a soft spot for him to snuggle into. This bed is great.

Verified Buyer

Reviewed by Mavis & Jax Mom from PA on Friday, September 16, 2016

I should start by saying I just ordered two more! Our boxer and pitty-mix love to snuggle together, and they both curled into this one immediately! They also like to circle and dig for the right spot in their beds. This bed is holding up great so far! Another reviewer suggested lining the inner cushion with a twin plastic mattress cover with a zipper. This is an excellent idea so you don't have to wash the entire bed all the time, just the main cover. Not only will this help with the wear and tear of the bed, but help keep allergens out of the filling. Highly recommend!!

Verified Buyer

Reviewed by Flocculus from Colombia on Saturday, September 10, 2016

The cover is a nice heavy canvas -- although some of the stitching could be a bit tougher. The cushion is puffy but flattens out a lot with weight, which may not be the best for our arthritic doggie. Adding some extra foam should help with that.

Verified Buyer

Reviewed by Dog Trainer from Washington on Tuesday, September 6, 2016

I bought two of these beds for my ACD (35 lbs), one for the kitchen and a second for the bedroom. I recently purchased two more for my daughter's pit bull (40 lbs) and for her chi-mix (8 lbs). The dogs like to sleep together. Comfy, durable, easy to clean and pleasant to look at. I'm not one for all the extra patterns to call attention to my dog's bed. Great price, too!

Verified Buyer

Reviewed by Dogladie from N. Carolina on Tuesday, September 6, 2016

I've used Kimlors for years. Their durability and comfort are the best! The dogs can dig/shape them to their liking and curl up or stretch out depending on their mood and the temperature. The cover stands up to aggressive digging and washes beautifully.

Verified Buyer

Reviewed by Teresag from Home on Sunday, June 5, 2016

I have purchased the bigger one and wanted another one large labs fit fine .

Verified Buyer

Reviewed by JaxNColo from Colorado on Thursday, June 2, 2016

I gave this a 4 star rating, even tho, I'll be returning it. It just won't work for either of my dogs. It's very full and puffy, making it sit pretty high off the floor. The material for the cover seems very durable. I think this would work for the right dog!

Verified Buyer

Reviewed by Mormy24 from AR on Thursday, May 19, 2016

My dogs both love this bed. Well made, easy to clean , arrived quickly.

Verified Buyer

Reviewed by Hound Girl from North Carolina on Wednesday, May 4, 2016

My hound girl loves snuggling into this bed- especially when you stack them.

Verified Buyer

Reviewed by Max from Oregon on Monday, April 4, 2016

My dog (a 65lb blue nose pitt mix) absolutely loves this bed. He runs in from outside and leaps into. Sometimes he spends a bit of time "fluffing it up" with his powerful paws and claws. The bed seems very sturdy and stands up well to his pawing/clawing. He looks very satisfying and cozy curled in it. Will definitely be buying a second one.