Revol Times Square Plate - Rectangular, Four Indents
Item #3702Y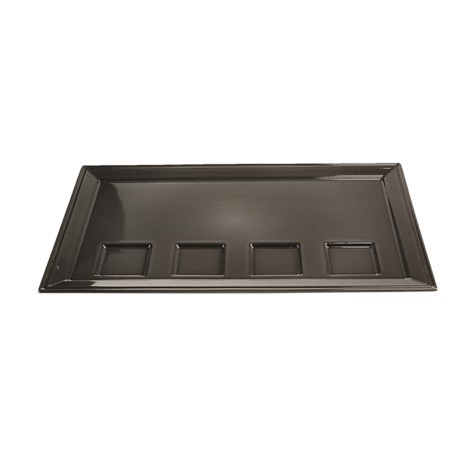 Overview
About Revol Times Square Plate - Rectangular, Four Indents
Closeouts. The slate-tone porcelain of Revol's Times Square plate with four indents still has all the same benefits of the white porcelain you love from their other collections, this one just has a sleek new modern color.
Revol of France was established in 1789 and has a family-operated history
Porcelain is fired at high temperatures, making it non-porous and hygienic
Won't absorb fats, odors and bacteria
Chip- and thermal-shock resistant
Durable enough to use in the oven, microwave, freezer and fridge
Rectangular
Dimensions (LxW): 13-7/8x8-3/8"
Weight: 2 lb. 6 oz.
Material: Porcelain
Care: Dishwasher safe
By Revol of France
Made in France
Specs
Specs about Revol Times Square Plate - Rectangular, Four Indents
Reviews
About Revol
Family run since the early 18th century, Revol is a French manufacturer of high-quality culinary porcelain kitchenware and dinnerware. Revol porcelain clays, comprised of clay, quartz, feldspar and kaolin, are mixed and fired by highly experienced technicians at the Revol production facility in Saint-Uze. Close management and perfection of the mix leads to a refined Revol porcelain that resists chipping and scratches, even from metal utensils. Revol porcelain cookware is designed to go from the stove directly to the table for a unique dining experience. Because Revol closely maintains its own materials for Revol Porcelain, its final products, such as Revol plates, are incredibly durable and pleasantly sophisticated.