Riedel Vinum XL Champagne Flutes - Set of 2
Item #6050R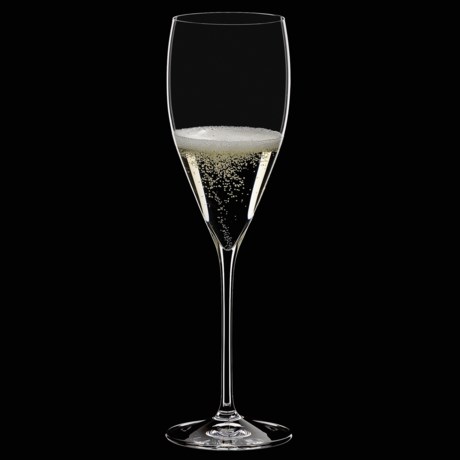 Overview
About Riedel Vinum XL Champagne Flutes - Set of 2
Overstock. Made in Germany of lead crystal and based on a 1967 design, Riedel Vinum XL champagne flutes will enhance your appreciation of sparkling wines.
Set of 2
Backed by 250 years of German glassmaking excellence, Riedel crystal glassware is meticulously designed to enhance the character of the spirits by the unique shape of the glass
Dishwasher safe
Please disregard promotion labeling on some packaging; Sierra Trading Post was able to purchase these goods at an exceptional price because of excess inventory in this packaging
Made in Germany
Specs
Specs about Riedel Vinum XL Champagne Flutes - Set of 2
Weight: 11.8 oz.
Material: Lead crystal
Height: 9-7/8"
Diameter: 2-7/8" ; Mouth: 2-5/8"
Capacity: 12 fl.oz.
Dishwasher safe: Yes
Made in Germany
Prop 65: This product contains a chemical or substance known to the State of California to potentially cause reproductive harm.
Reviews
About Riedel
Backed by 250 years of German glassmaking excellence, Riedel wine glasses and flutes are among the finest vessels in the world for enhancing the enjoyment of wine and spirits. Riedel glasses began with the research of Professor Claus J. Riedel, who recognized that wine bouquet, taste and balance are significantly affected by the shape of the glass. Crystal glasses from Riedel are available in both machine-blown and hand-blown styles – all tested by experienced wine tasters who continue to recommend fine Riedel glasses, wineglasses and stemware to match and complement the endless variety of wines and spirits.