Rocky Reviews

Popular Rocky Products

Popular Rocky Searches
Nelsonville, Ohio, proved to be the perfect "proving ground" for Rocky boots. Back in 1932 when Rocky opened for business, Ohio's wet river bottoms, rugged hills and dense thickets of brush attracted outdoorsmen and hunters who needed boots that were as tough as the terrain. Rocky boots took the challenge and created a legacy of quality and durability that ultimately became the hallmarks of the Rocky name. Incorporating fabric technologies like waterproof Gore Tex® and durable, lightweight Cordura®, Rocky built superior comfort and durability into every pair of boots they made. Whether you spe
... Learn more about Rocky
nd your day pounding the pavement or tackling rough terrain, Rocky products hunt, hike and work with the best of them. ... Less
About the Rocky Brand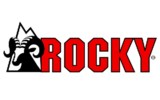 Reviewed by Mike from South Dakota on Wednesday, September 21, 2016

Fit great out of the box. Second day of work I had intense pain- now I dread putting them on. Two months in and still no noticeable break-in. Best part of the day is taking them off. Wish I could have returned these boots! Tread pattern seems to be best on carpet- slippery on fresh concrete and wet grass. good luck and stay safe at work.

Verified Buyer

Reviewed by Terry from VA from Virginia on Tuesday, September 6, 2016

I have other pairs of Rockies and therefore I do not doubt that theses boots would have probably held up; however, they were so stiff and bulky that I felt like I was Herman the Monster. In my opinion, they are too large around the back part of the foot for you to know what size boot to purchase. I normally wear a 9 but after getting a pair of 9 Wolverine Wellingtons that were way too large, I decided to get an 8 1/2 in these. They were too small around the toes and I could feel the steel insert, yet my heel was swimming in empty space. Very uncomfortable and so I decided to send them back for a full refund. From now on I will go to a store and try on instead of paying the shipping back and forth on two different pairs of boots. Perhaps if ST offered free shipping on exchanges I would keep trying until I found a pair I liked, but the shipping fee back and forth is eating into the savings you get from buying on-line. Sorry guys…

Verified Buyer

Reviewed by Joyce M from Schenectady NY on Sunday, August 28, 2016

Bought for my 20 year old son working in the construction field. He says they are extremely comfortable and great for work.

Verified Buyer

Reviewed by lakis the hunter from cyprus on Wednesday, July 20, 2016

very good boots do their job quite cheap too no problems with them fantastic Lakis

Verified Buyer

Reviewed by Crazy Dave from Las Vegas on Monday, May 16, 2016

These are well built and comfortable..The wide size is truly wide.

Verified Buyer

Reviewed by E Ozgul from Louisiana on Sunday, January 17, 2016

Boots are very comfortable and fairly easy to get on. Didn't feel like it was that you had much sole support in terms of thickness, but they were very easy to walk in. Feet were not that cold with temperatures in the 40's, but you felt a chill when it got down into the 30's, it wasn't bad...just noticeable. Handled water that was 6-7 inches deep with ease. Sizing was appropriate, I wear an 11.5 and the 11's fit just fine (as stated, half sizes go down). Only issue was that it was a challenge to get off, especially after a long day.

Verified Buyer

Reviewed by Tim Tucker from Western NC on Thursday, January 14, 2016

And...if my feet were wider - I would love them. But they are built rather wide throughout the heel to toe range....But, if you have fairly "brick shaped" feet - these will work great for you.

Verified Buyer

Reviewed by High Desert Guy from Northern NM on Wednesday, January 13, 2016

I'm extremely pleased with these boots! I was looking for a slip on boot for use around the property (shoveling snow, feeding livestock, running out to the barn, etc) that had a bit of insulation. I normally wear a 10.5 in tennis shoes (regular width) and ordered these in a size 10; the fit is perfect. I sometimes wear a wide width in cowboy boots. Snug so they won't come off in the mud, but still easy to slip out of when taking off. Traction is excellent, and the lugs are spaced far enough apart that they don't hold the mud or snow. I've warn them with just normal wool socks while shoveling snow at 0 degrees and my feet were plenty warm. The calves are large enough that I can tuck my pants in the top if I don't want them wet, but I can still fit my boot-cut jeans over the top if needed. I couldn't be happier with the boots!

Reviewed by tlmartin from Maine on Wednesday, November 25, 2015

I bought these for blind hunting in Maine. I wear a women's 7 and bought these in men's 8. I wear them with a medium weight sock, and they are perfect and warm as can be! I have hunted in them for a week, temps ranging from 28-40 and have not even thought about my feet getting cold. Yesterday it was 18 degrees, so I did wear a pair of foot warmers in them - no problems. Today was 16 and I wore foot warmers, only to find out they did not activate. After 2 1/2 hours of sitting, my big toes were cold, but nothing I couldn't stand. I am always cold and always have cold feet, and I can't believe how warm these are! They are a little odd to walk in...not much flex, so it's like walking in moon boots. However, I bought these for sitting not walking, so I am more than happy with them!!

Verified Buyer

Reviewed by Sage from Colorado on Tuesday, November 24, 2015

I got these for my 3 YO. She loves them, and I love them. They were just the right size and were dry and warm in lots of snow.