Roper apparel and boots hit the fashion scene more than fifty years ago, striding into the spotlight with the confidence of an old Western gunslinger. Rugged boots and dependable western wear soon gave them a name among bronc-busting cowboys and rodeo goers. It wasn't long before dude ranch vacationers were taking home their piece of the Old West and spreading the Roper name. As the popularity of traditional ranch wear grew, Roper expanded to include sassy styles for genuine cowgirls and those who simply wanted to be. Today you can outfit every member of your family in Roper boots and apparel,
... Learn more about Roper
from the littlest cowpoke to the oldest range rider. ... Less
About the Roper Brand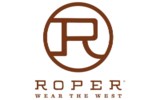 Verified Buyer

Reviewed by Tootsie from Florida on Wednesday, July 27, 2016

Awesome!! Such lovely shirts. They fit to perfection, wash great and the stitching is fabulous. And he loves them. Couldn't be any happier!! Thank you so very much.

Verified Buyer

Reviewed by Deb from Arkansas on Friday, July 22, 2016

Really cute, but small. I decided to keep it but will wear open with tank.

Reviewed by dau from illinois on Monday, July 11, 2016

My granddaughter loves these so much I now need a 13 and cannot find them. please help me find them.

Verified Buyer

Reviewed by Nail Lady from Montana on Friday, July 8, 2016

I bought several of these jackets to have them embroidered with my company name. They are awesome jackets. I have gotten an amazing response from my customers and they are so excited to get their jackets. These are high quality jackets that are soft and comfortable. They are very slimming while being very proportionate for a womans body. They do run a bit small in my opinion, so if you like a less fitted jacket, I would suggest going 1 size larger. Overall, definitely a coat I would buy again and again. (I have bought 19 so far).

Verified Buyer

Reviewed by nana from Louisiana on Sunday, July 3, 2016

Really liked everything about this shirt except that it ran a little small.

Reviewed by Ducks girl from Oregon on Wednesday, June 29, 2016

This jacket is new looking and a great price. It is puffy at waist line, runs big, and pockets though plentiful, don't warm hands. It looks easy to clean. The zippers work well.

Verified Buyer

Reviewed by Worker from Arizona on Wednesday, June 29, 2016

Husband likes the fit and I liked the pattern, color.

Verified Buyer

Reviewed by Clinton from Oregon on Monday, June 27, 2016

My little guy loves this shirt. He's a cowboy through and through and this shirt is a nice value. Great quality for the price!

Verified Buyer

Reviewed by Jay G from Atlanta on Sunday, June 19, 2016

Unfortunately shirt sizes in this style shirt seem to be all over the board. This one was true to size, nice colors and well made the perfect summer paisley. Do note the tail is long, as a 6'1" man that is appreciated but could be a concern for others. More appropriately worn tucked in.

Verified Buyer

Reviewed by Old Appy Lady from Alabama on Thursday, June 16, 2016

We ride horses & mules in the nearby National Forest in Alabama in all but the hottest most humid weather. We always wear long sleeves to protect our arms from scratches from trees and bushes and insects. These shirts are great for warm weather due to the light weight. Although they were a Father's Day gift, he has worn two of them already. The first one was great. After he had the second one on for awhile, he showed me one sleeve where the stitches missed the material. There is about a 1 1/2 inch gap in the seam. Now I have a sewing project. This one he wore to go out to eat, not even to ride. Other than the gap he loves the shirts.