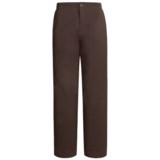 Closeouts. Just try and find something Royal Robbins' Cardiff stretch Traveler pants can't do! Not only do they have a PTFE resin treatment that resists stains and moisture, they also provide UPF 40+ sun protection, won't wrinkle, dry fast and are extremely durable.
Average Rating based on
225
reviews
4.373333
0
5
Verified Buyer

Reviewed by suzyq from Ohio on Friday, June 5, 2015

These look like really nice pants, but I bought them on clearance and while I do sometimes fit the only size they had left, these were way too big on me. Had to send them back, and was sorry to do so.

Verified Buyer

Reviewed by Ice Blue Hiker from Georgia on Friday, May 15, 2015

I ordered and sent back multiple pairs of hiking pants before finally finding a pair with excellent fit and comfort. The Royal Robbins Cardiff Stretch Travelers are lightweight, soft, stretchy without feeling like spandex, and ultra-comfortable. I have a curvy figure and every other pair of pants I ordered were too tight through the rear and hips while leaving a huge gap around my waist. I pulled this pair on and sighed in relief when I buttoned them and they fit my waist and left enough room to comfortably squat in them and not feel like I was going to bust out a seam. I love the tabs on them that allow for waist adjustment, as well. The cut is a classic cut which allows for curves and the waist sits just below the navel. The pants are finished well and have ample pockets. For sizing reference, I have a 29" waist and 40.5" hips. I ordered a size 12. I typically wear a size 8 in regular clothing, but in hiking clothes I seem to need a 10 or 12.

Verified Buyer

Reviewed by Guitar Gal from North Carolina on Monday, May 11, 2015

I am always looking for comfortable pants in size 2. These were a bit tighter than I wanted, but not so much that I would get a larger size. The seat is put together a bit strangely (probably because of the slanted pockets), which results in the areas just below and outside the pockets to be a bit baggy. They are comfortable to wear, however, and I wear a long top with them so the baggy parts don't show. Because they are mostly nylon, they are very lightweight and good for warmer days. I have washed them once, and they came out of the dryer wrinkle free. I think I will enjoy wearing them all summer.

Verified Buyer

Reviewed by Grammy Colette from Gilroy, CA on Thursday, May 7, 2015

The pants do not fit smoothly. The folds near the crotch are apparent in the photo also exist on mine but in lots more places. Also they are a bit more green than the name "portobello" and image indicated. The buttons in the waist and leg bottoms can help adjust them but they still are not form fitting on me. They seem to be well made but not for my body.

Verified Buyer

Reviewed by Shelley from Ohio on Monday, April 27, 2015

So very comfortable. I put them on after work and go everywhere in them. The fit is spot on. There is just enough stretch to allow movement but not loose shape.

Verified Buyer

Reviewed by demp52 from Hawaii on Friday, April 10, 2015

STP delivered product in a very timely manner especially living here in Hawaii. This Royal Robbins pants is very well made, so lightweight and washes and dries fast with no wrinkles. It'll be great for travelling since it hardly takes up any room in your travel bag. Need to order another one for backup. I'm 5'2" and 105 lbs and the size 4 short length fit perfectly...a little baggy but that's how I like it. Get it before it disappears!

Reviewed by katztx from Texas on Wednesday, January 21, 2015

The material is not as soft as expected (lightweight but not as soft as I would like), but the biggest problem for me is the fit. The waist and length is perfect but around the thigh is extremely wide (not as pictured) so I feel look like a clown and don't like feminine at all. There is no shape. I think I have to send this back.

Verified Buyer

Reviewed by Andrew from Kansas on Tuesday, July 1, 2014

These pants are great! They are durable and if you have a spill the water rolls off (although not waterproof). They are flexible and light. Only issue I can think of is that they aren't the best looking but that's just preference.

Verified Buyer

Reviewed by old faithful from California on Saturday, June 14, 2014

I would have kept these pants but they were too short, I ordered a 10 short 30 inches hoping they would be long enough so I had to send them back unfortunately all the regular length were gone. I would have kept them but I need them longer. They are true to fit pants, Royal Robbins is a quality company. I have their Capri's and a different color long pants size 10. I am 5'6" 139 lbs. for reference. If you are shorter than be get them!

Verified Buyer

Reviewed by KLP from New York on Thursday, June 12, 2014

How can "traveler" pants have such small and strangely shaped, dinky front pockets? They are pretty useless. It's like Royal Robbins was trying to save money on the pockets. Travelers need decent pockets. I decided to keep the pants anyway, but I may regret that. They do dry fast and don't wrinkle, but I am concerned that they will feel hot.