Royal Robbins

Popular Royal Robbins Products

Search Within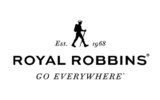 About

the

Royal Robbins

Brand
By the late-1960s, veteran Yosemite rock climber Royal Robbins and his wife Liz had grown tired of wearing cutoff jeans on the crag. At the time, apparel designed specifically for outdoor adventure was virtually non-existent. After years of wishing for something better, the couple finally decided to create their own, starting with a pair of climbing shorts called the "Billy Goat." This was the beginning of Royal Robbins' clothing revolution. Today, nearly 50 years later, Royal Robbins outdoor clothing is as rugged and reliable as ever. When you buy a Royal Robbins sweater or shirt, or a Royal Robbins pair of pants or shorts, you can bet it will fit great, whether you're climbing in the Sierra Nevadas, camping in the backcountry or relaxing in your own backyard.
Verified Buyer

Reviewed by SuSu from NC on Sunday, February 19, 2017

Not great on style but will be perfect for an upcoming trip to Italy. Fit well.

Reviewed by AJR from Missouri on Sunday, February 19, 2017

I am 5'9 and 160 lbs. Bought the medium. It fits loosely but not super big or tentlike. Nice soft fabric which is just a tiny bit wrinkly or "puckered" out of the dryer, but still wearable without ironing. This would be suitable for hiking or wearing to work in a business casual setting. I realized after I bought this (from looking at the Royal Robbins website) that the difference between the RR Mojave Desert Pucker Shirt and this one is that the Mojave is slightly fitted and this is a traditional or looser fit. The STP website does not really make this clear. Next time I will try the Mojave as I like my shirts a little trimmer in fit.

Reviewed by AJR from Missouri on Sunday, February 19, 2017

Tried this because the price was great, but it fit strangely and I returned it. Mostly the fit was loose, but the cuffs of the sleeves become very tight and restricting at the ends, and they have some stitching and buttons on them that would make it difficult to modify them in any way (fold them, alter them, wear them open, etc). It is a thick nylon fabric, not really suitable for summer.
Receive email updates for new Royal Robbins items