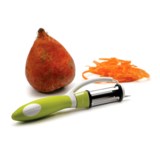 Closeouts. You'd be hard pressed to find anyone to whom Endurance's Select-a-Peel Vegetable peeler would not appeal! Encompassing three blade styles and a built-in metal thumbnail for seed and eye removal, it's a truly indispensable prep tool.
Average Rating based on
17
reviews
3.823529
0
5
Verified Buyer

Reviewed by Lolos from Montana on Wednesday, November 4, 2015

This peeler is awkward to use -- too heavy in my hand. Potato peels got stuck between the three different blades. Interesting concept but having a simple peeler that works for me outweighs the advantage of 3 different peelers in one . I sent it back.

Verified Buyer

Reviewed by ileana from Wisconsin on Friday, August 28, 2015

Is a good tool but I am left handed.

Reviewed by Language Czar from Maryland on Wednesday, March 18, 2015

This utensil is an absolute menace! It suffers from a basic design flaw: the smooth-edged blade only works one way for right-handers: away from the user. For long items like carrots or parsnips, that's fine. But for small round veggies like turnips and little potatoes, it is **way** too easy to slice into one's fingertips--which I have just now done, twice, in a matter of minutes. (And in all my years of cooking I have never cut myself with a peeler before.) Peeling **toward** the user is the only safe way to peel small round vegetables. Just watch chefs on TV: you will never ever see them peeling small round vegetables away from themselves.

And you will never see me using this peeler again. I have tossed it in the trash.

Verified Buyer

Reviewed by Betsy from ATL on Saturday, January 17, 2015

great value

Verified Buyer

Reviewed by PNWmom from Puget Sound WA on Wednesday, January 7, 2015

Very sharp, compact, has performed well so far.

Verified Buyer

Reviewed by Swchau from Sacramento on Monday, December 1, 2014

Very sharp and easy to handle. Buy 2 more for my mom and friend.

Reviewed by arcanax from New York on Sunday, November 9, 2014

Cool gaget. I don't know if you can sharpen it though, so I suppose it will have to be thrown away once it is dull. I do use all three peeling styles and the kids noticed the rigges on the fruit and liked it. works great. recommended.

Verified Buyer

Reviewed by Mjk from Illinois on Wednesday, November 5, 2014

If you are left handed, don't buy this product. Unlike other peelers, the sharp blades are only on one side and it's the wrong side for us south poles. Otherwise I would say it's pretty good.

Verified Buyer

Reviewed by SpudNV from Las Vegas, NV on Wednesday, November 5, 2014

Nice & sharp' the 3 different peeling positions are quite useful. Too bad it is so difficult for a left handed person to use. But I've been adapting to a right handed world for decades - so what's new?

Reviewed by Melu from Dallas, TX on Thursday, October 9, 2014

This is a sharp and versatile peeler, as others here have stated, no complaints about that. But - this peeler has a limitation that no other peeler I have had in the past has ever had: The smooth blade is only one-sided, i.e. there is no blade on the other side. All the serrated options are double-sided, just the smooth one isn't.

This means that as a left-handed person, I can only peel a let's say carrot, cucumber, zucchini etc. by moving the peeler toward me. Normally I would peel such a vegetable by moving the peeler away from me. It should be equally awkward to use for a right-handed person when peeling an apple in a circular fashion because then the blade would have to be used in a counter-clockwise motion instead of the more natural clockwise motion. Very strange...

Despite the great versatility and sharpness, I can not give this more than 3 stars due to this oversight.