Salewa

Sizes

Features

Gender

Style

Colors

Reviews

Prices

Search Within
Salewa has been dedicated to mountaineering and outdoor sports for more than 75 years. Salewa is an outdoor industry innovator, developing outstanding hiking boots, mountaineering boots and approach shoes for athletes who demand the best out of their technical gear. Salewa mountaineering boots and hiking boots are among some of the highest quality in the world, and Salewa approach shoes and hiking shoes provide the ultimate in versatility. Beyond gear, Salewa is committed to being a sustainable, socially responsible company, focused on conserving the environment for future generations to enjoy
... Learn more about Salewa
. Shop Salewa today, and you'll see the difference quality craftsmanship makes. ... Less
About the Salewa Brand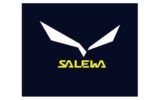 Compare at $499.00
Closeouts
Regular $69.95
Compare at $109.00
Closeouts
Compare at $109.00
Closeouts
Compare at $649.00
Closeouts
Compare at $539.00
Closeouts
Compare at $149.00
Closeouts
Compare at $149.00
Closeouts
Verified Buyer

Reviewed by Garden from NC on Sunday, July 31, 2016

I'm so impressed with the construction of this shoe, absolutely worth the price. The colors are nice. Thank goodness for the insole system because the first time I wore them, the tongue, where it joins the shoe at the base of my toes, would dig into the top of the foot. I took the front part of the insole off and wore them on a brisk walk for an hour and the tongue loosened up considerably. I will leave the front off the insole for now to give the front of my foot and toes more room, but as the shoes break in and the materials loosen up, will put it back in because I need the padding under the fall of my foot. A little more complicated that what I expected, but I think in the long run, they will turn out to be long wearing and supportive shoes for the type of hiking I do.

Verified Buyer

Reviewed by Rather Bike Than Hike from Utah on Saturday, July 23, 2016

Great shoes that feel well-worn and broken-in right out of the box. The fit is true to size, and does not run small which was important to me for a hiker; didn't want toes jammed into the ends of the shoe. Used these right after I received them on a 4-day trip with one long 15-mile day and had great results. No signs of blisters, and the sole gives very good support on uneven terrain.

Reviewed by Thepubliclauren from Wisconsin on Friday, July 22, 2016

Strange fit. Despite reading other reviews and feedback, I wanted these to work quite badly. They don't. I ordered a 7, normally wearing a 8.5 or 9, they were still to long and strangely proportioned. Very sturdy.
Receive email updates for new Salewa items