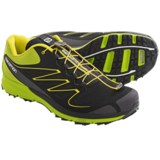 Closeouts. The trail runner goes lightweight with Salomon's Sense Mantra trail running shoes. Crowned with the Runner's World "Best Debut Shoes", these grippy, adaptive shoes take on tough terrain without weighing you down.
Average Rating based on
50
reviews
4.200000
0
5
Verified Buyer

Reviewed by Mr. Mo Jangles from Portland, OR on Thursday, September 10, 2015

Very impressed with this shoe. It is very durable and has great traction and support while also being pretty lightweight. I like the quick lace system as well. I would recommend these shoes to anyone interested in a solid pair of trail runners. I have not yet tested them in wet/muddy conditions but imagine they would do fairly well.

Verified Buyer

Reviewed by Hubby Runner from Maryland on Saturday, August 22, 2015

My husband loves it! He has no problem walking and running, no need to break-in! First time to purchase Salomon shoes.... great price too!

Verified Buyer

Reviewed by jd from California on Monday, August 17, 2015

The shoe is at the quality of previous Salomon shoes I have purchased - lightweight and good looking. I would love to see an elite shoe company like Salomon provide several actual "widths" to be available. The pair of shoes I bought were fairly narrow but my wide feet are now adjusted to the shoes.
Several of my cross country runners purchased similar models of Salomon and are liking their use , especially on trail runs.

Verified Buyer

Reviewed by The Fly from Nevada on Friday, August 14, 2015

The shoes are comfortable out of the box. The tops are breathable, so should provide good ventilation. The other side of that coin is that they appear to be not rain resistant. Since I live in the desert where it rarely rains, it's not a problem for me.

They do not have regular laces. Rather, they have Thin laces that go through a Cordlock. So far, that system seems to work. Since I have no experience with this sort of arrangement, there's no way to predict how durable they are.

Verified Buyer

Reviewed by Porschefan from New Mexico on Thursday, August 13, 2015

I'm a hiker, not a runner, but I've been interested in trying some very lightweight shoes to use on summer days. These are listed at a weight of 1 lb. for the pair, so when they went on sale, I thought it would be a good opportunity to see if this type of light trail-runner could stand up to hiking on local rocky/sandy high desert trails. So far, so good. I've been surprised at how tough they are and are able to protect my feet from the rocky trails. They also have EXCELLENT grip for scrambling over rocks and boulders. It will interesting to see how durable they are, but after about 15 miles of hiking, I'm pleased. They also look very cool...!

STP


Verified Buyer

Reviewed by Gus from South Texas on Tuesday, August 11, 2015

I just tried the shoes a couple of days ago. Besides the design, I liked the sole friction and the lace system. I was surprised by the lace system. It didn't move one millimeter.
The only reason I don't give them 5 stars is because when going downhill, I felt the shoe a little wide.

Verified Buyer

Reviewed by Johnny Mac from Estes Park, CO on Monday, August 10, 2015

My son had adopted my slightly used older Salomon trail shoes and loved them so much he wore them out quickly! I ordered these for him to train in for our upcoming Imogene Pass Run (Ouray to Telluride, CO). Fit perfect, comfortable and the closeout price was great! Arrived to us within 48hrs of ordering!
I've never had a bad experience with Sierra Trading Post...and I've been ordering from them for years!

Verified Buyer

Reviewed by Andy from South Carolina on Thursday, August 6, 2015

One of the most comfortable pair of running shoes I've ever owned. The feel like they were molded to my feet and like they disappear beneath me.

Verified Buyer

Reviewed by Ryan from Denver on Wednesday, July 29, 2015

Great running shoe. Fits a little large for size so size down. Very comfortable and supports in all the right places

Verified Buyer

Reviewed by Zhongni from Hong Kong on Sunday, July 26, 2015

The plastic used for the bottom of the shoes is not good in the bad weather and I feel little bit unbalanced when I wear the shoes in the rainy day.
The band for tightening the shoes is good so that I do not need to tie or untie the shoelace everytime.
The design and colour of the shoes are great.