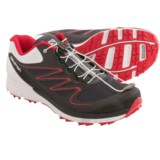 Closeouts. With foot-wrapping Endofit technology and Quicklace system, Salomon's Sense Mantra trail running shoes supply lightweight support and neutral cushioning for forefoot and midfoot strikers.
Average Rating based on
41
reviews
4.048780
0
5
Verified Buyer

Reviewed by daily walker from texas on Thursday, August 18, 2016

I really wanted a pair of Salomons and hoped that other reviews were wrong when stating the inadequacy of the lacing system. It broke when I first put the shoe on to check size. I will be returning these today

Reviewed by Kelley G from Michigan on Monday, April 4, 2016

Like the shoes but am unable to wear them as the lace broke and after 1 month dealing with Salomon customer service trying to purchase a new pair of laces I have about given up. The Customer Service department which I have called 4 separate times wondering where my laces are that I paid for almost a month ago is the WORST! I will not buy another Salomon product because of the lack of response I am getting. When asked if there is a Manager to speak with, the answer is no and asked if there is an email address to write to the answer was no. Guess I can throw away a $100 pair of shoes because I can't get a pair of laces!

Verified Buyer

Reviewed by cris from texas on Saturday, March 5, 2016

I couldn't pass these up for the price. I have had one pair of salomons in the past.
These run large and shoe string technology is difficult to operate. I've had similar laces to this but this one is really difficult to hold and release.
I 50 yrs old and walk ~ 6 miles a week, these have been comfortable to me.

Reviewed by Jennifer from Maryland on Wednesday, January 20, 2016

Very comfy shoes. If you are between sizes I would suggest to size down. Only con is that the quicklace system broke after 3 days use, which was surprising considering how well-made the shoe is otherwise.

Verified Buyer

Reviewed by tkt from Oregon on Saturday, November 28, 2015

The quicklace system broke on first use, and the shoelace holes are so small you can't fit traditional laces in to replace. I would have preferred traditional laces as once the lace system broke, the shoes were not wearable. The shoes feel comfortable and great otherwise.

Verified Buyer

Reviewed by CJ the picky shoe buyer from Arizona on Sunday, October 25, 2015

fit is as expected. I love the quicklace system as it keeps the back of the heel nice and tight. Comfortable and look great too. Well worth the money

Verified Buyer

Reviewed by Jenn from TN on Tuesday, October 13, 2015

What a great shoe! These shoes are incredibly light-weight and supportive. I am also very pleased with the drawstring shoe laces. I am forever have to re-tie and double-knot laces, but this takes care of the problem!

Reviewed by Jan from Washington State on Saturday, October 3, 2015

These were nice, comfortable shoes for the few weeks I had them before the lacing system broke. They're lightweight and have a good, supportive heel. The clips for tightening the laces are glued poorly and one of them snapped apart this morning. There's no way to fix it, so now, I have to find and purchase some sort of replacement laces. The grommets are tiny, so you can't use a conventional lace. I tried just cutting the lace and tying a regular tie, but now the shoes don't adjust properly. I can't seem to tighten the area around my ankle without over-tightening the foot part. I'm surprised Salomon didn't test this system but my guess is that this is one of the reasons these shoes are on clearance. They also run about half size too long, so you need to size down. I really have enjoyed these shoes and I'm going to replace the laces but I probably wouldn't purchase them again.

Verified Buyer

Reviewed by OhGee from California on Wednesday, September 30, 2015

this was my first purchase from STP so i wan't sure what to expect.
having never worn salomon, but looking for an inexpensive yet well-made and comfortable walking shoe, i bought a pair of the mantra's that were on clearance. it they weren't any good i wasn't out of pocket for much at all.

BUT THEY ARE GREAT! (yay!)

*very* comfortable ( i mean like, *super* comfy), well constructed, and the shoelace system makes putting them on and taking them off easy-peasy. i couldn't be happier with my new shoes. and the shipping was quick so this was a win-win for me,


Reviewed by Susan from Ohio on Tuesday, September 22, 2015

I purchased these shoes about a month ago. While the style and fit were perfect, within two weeks the clip on the strings broke on both shoes. There is no way to remove the quick tie and use regular shoelaces, as there is a plastic eyeloop that does not allow a shoestring to fit through. Overall, I have owned many pairs of salomon shoes, it is ultimately the only brand I purchase, but quite unhappy with this one.