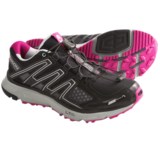 Closeouts. Chock-full of technology to make your trail-running adventure like nothing you've ever experienced. Salomon's XR Mission CS shoes feature an asymmetrical, women-specific fit, a wide toe box for plenty of room to breathe and a ClimaShield® mudguard for protection in inclement weather.
Average Rating based on
40
reviews
4.500000
0
5
Verified Buyer

Reviewed by Ktv479 from TEXAS on Friday, June 5, 2015

Still breaking it in but love the lightness of the shoes. A bit stiff right now but I'm sure it'll become more comfortable.

Reviewed by Amy from Charlotte NC on Saturday, February 7, 2015

GREAT FIT for my AA heel and narrow feet. Unfortunately my blue pair look filthy after even a trip to the grocery store. They do clean up but who wants to clean their shoes everyday? I am thinking of getting the purple and hope it shows less dirt. Outstanding in water, lightweight, comfortable immediately and priced right. They will probably go to Ireland with me. Fantastic shoe if you don't look down ;-)

Reviewed by MountainView from Boston on Thursday, January 8, 2015

Really love these shoes, but they are definitely for over-pronators. Since I'm an under-pronator, they won't work for me--they push my foot even further to the outside. If you're an under-pronator, go for the Crossmax.

Verified Buyer

Reviewed by Dimes from Wisconsin but they're going to Peru and beyond on Thursday, November 20, 2014

Love these shoes - so comfortable right away.

Verified Buyer

Reviewed by Tall Texan from TX on Tuesday, November 11, 2014

I purchased these shoes after being very satisfied with the fit and performance of my Salomon XR Crossmax 1 Neutral Trail shoes, which I can no longer find; I was hoping that perhaps these are a replacement model. I wore them for a few hours as a spectator at a sporting event, and again once for a 4 mile walk. So far, the arch of the shoe feels like it is hitting oh so slightly too far toward my toes. It is not enough to cause severe discomfort, but I am hoping that it will feel less noticeable after break in. Keeping my fingers crossed.

Verified Buyer

Reviewed by HeyJude.Oregon from Portland, OR on Monday, November 10, 2014

This is advertised as a "Trail Runner" but I use it for Daily walking around in Northwest rainy season. I also use it for gardening. It has a great grippy sole, and not a stitch of water has ever come through, even if I walk through deeper puddles or small streams. Many sited have reviews that comment you should size down a full size, but I find my normal size works best for walking. I tried a half size up and it was awkward. Amazing price on this shoe, I paid twice as much last Winter.

Verified Buyer

Reviewed by labratssu from MA on Wednesday, November 5, 2014

This will be my third pair of Solomon's. Unfortunately, one of the laces was broken when they arrived! I expect they will be great when they arrive!

Verified Buyer

Reviewed by RRT from Colorado on Thursday, October 23, 2014

Love the shoe, but tricky getting used to the lack of shoelaces. Good news is they never come untied! Curious to see how they last.

Verified Buyer

Reviewed by Running Nurse from Indiana on Saturday, September 20, 2014

These shoes are awesome. I bought a pair a couple of years ago for trail running and loved them so much I bought another to wear to work. I'm a nurse and on my feet for 12+ hours every shift and these shoes are so comfortable. They offer great support and my feet rarely end up achy after trail running or working a long shift. I love the colors too!

Verified Buyer

Reviewed by Frogwoman from Istanbul on Wednesday, September 10, 2014

This is an excellent high quality shoe with excellent stability for rocky or cobbled surfaces. One of its best feature is the unique toggle lacing...no more shoes untied.

Verified Buyer

Reviewed by Laurie in the Sierra from Pollock Pines, CA on Tuesday, September 2, 2014

Finally, I found a pair of Salomon's that were wide enough for my feet. I love their firmer EVA midsole. It is really bouncy and supportive, yet fast. Sadly, these shoes are as though "preworn." By this I mean that the soles are not balanced. The outer side is lower than the inner side of the back of each shoe. I find this imbalance most pronounced in the left shoe. I cannot pronate properly. This is not the only company that is engaging in this practice.

Verified Buyer

Reviewed by Jasmine in the Tetons from Idaho on Thursday, August 28, 2014

I backpacked a 250-mile section of the PCT this summer. I usually wear Merrell Moab Ventilator mid-level boots. They're super comfortable, and because they aren't waterproof, they usually don't cause blisters. But my section of the PCT was so hot that I did get a blister, along with some bruised toes. One through-hiker recommended the Salomon Mission trail runners, so when I took a day off in South Lake Tahoe, I tried some on. Love at first step! I left my boots behind for the next 150 miles and backpacked in these (with a 40-pound pack). My feet *loved* them. I paired them with Darn Tough socks (also recommended by a through-hiker) and Montrail insoles and couldn't be happier. The Mission XR trail runners are as comfortable as slippers, but with great traction. They seem to resist moisture, but even when they get wet, they're comfortable, and they dry very quickly. I did a 23-mile day hike in them yesterday with no sit-down breaks and only got one small abrasion and didn't get footsore at all. And this was after getting wet with dew during the first mile of the hike. I can't recommend these shoes highly enough.

Verified Buyer

Reviewed by Claire from Texas on Thursday, August 7, 2014

I really like the shoes. These are my first pair of Salomon Sport type shoes but find them to be a good choice. Breathable for my sweaty feet yet they feel rugged enough not to wear through in short order. Can't say more till after some time passes since they are new.

Verified Buyer

Reviewed by hojth from AZ on Wednesday, August 6, 2014

Love the wide toe box on these Salomons, but took a little time to break them in. The arches felt way too high the first time, but didn't cause any blisters. After a while they weren't a problem. Kept out light rain and dust, which was great. Thinking about getting another pair!

Verified Buyer

Reviewed by Trail Talker from Ohio on Sunday, August 3, 2014

This is my 4th pair of Salomon shoes and 2nd pair of Salomon XR Mission CS Shoes !! I cannot wear these out, I get tired of the color first !! True to size and comfortable on paved road as well as trails !!

Verified Buyer

Reviewed by Colorado runner girl from Colorado on Monday, July 21, 2014

Although they looked and felt good on my foot I thought the upper part of the shoe was too big. I like a snugger fitting shoe for running. Had to return..

Verified Buyer

Reviewed by Michelle from San Rafael on Wednesday, July 9, 2014

I have owned other Solomon trail shoes and loved them but this pair ran small so I had to return. They were a size 10 but tight on my feet when worn with socks. Oh well.

Reviewed by flagstafferin from flagstaff, az on Wednesday, July 2, 2014

I love these trial running shoes, so comfy, great traction and tread, and they keep my feet comfy!!! Which is important when you are running on Back country trails - already bought another pair so when these wear out I am all set!! Would recommend to everyone!!!



Verified Buyer

Reviewed by Peninsula Girl from Pacific NW on Wednesday, June 25, 2014

Of course, a perfect fit as always.

Verified Buyer

Reviewed by Michelle from Denver on Sunday, June 15, 2014

Happy with my purchase. True to size. Large toe box, but I like it.

Verified Buyer

Reviewed by Morty from washington on Tuesday, June 10, 2014

I love these shoes,so very comfortable no chaffing and I loved them so much I ordered a pair for my friend and my husband

Verified Buyer

Reviewed by Walking woman from Michigan on Wednesday, June 4, 2014

This is a very light, comfortable shoe. This is the second pair of Salomons I have purchased. The tie is unique, but once you get accustomed to it, it is fine, especially if you have a narrow foot as I do and need to be able to tighten more. Excellent price from Sierra Trading Post.

Verified Buyer

Reviewed by Running Yoga Mom from Eastern PA on Thursday, May 29, 2014

I have been wearing Salomon trail running shoes for 15 years. These offer a lot of cushion and support. Great blue/green/black color. Thinking of ordering a second pair before they sell out!

Verified Buyer

Reviewed by SuzieS from Mass. on Tuesday, May 27, 2014

Really cute, cushy, and supportive...but man that toe box is big! I recommend ordering a 1/2 size down...unless you have toes with some girth!


Reviewed by Cari from California on Tuesday, May 20, 2014

My heel slips in these and they can't be re-laced to prevent this. Maybe could have cut the weird laces out and put in regular laces but didn't want to bother. Sent them back

Verified Buyer

Reviewed by Smartwool mom from Washington on Monday, May 19, 2014

These shoes have provided me with support both on my feet and in my head. They are a very colorful pair of running shoes. I love to put them on and run on the road. Good fit, good support and expect to get many miles out of them. They run a bit big, I had to reorder as the first pair were too big. Usually wear 9.5 and the 9 fits perfectly. Interesting laces, they're quick to adjust. Tread is perfect for both road and gravel.

Verified Buyer

Reviewed by cfonz from Illinois on Friday, April 25, 2014

So comfortable and shipping was really quick. Very pleased.

Verified Buyer

Reviewed by Morty from washington on Monday, April 21, 2014

They are really comfy and have a great arch. Very light weight and really are water proof. Love the width in the toe area they fit securely and have a give in the fabric. They are true to size.



Verified Buyer

Reviewed by Tee Hernandez from Northern CA on Monday, April 21, 2014

The Salomon XR Mission CS shoes are phenomenal! I have really bad feet, bunions, spurs, and fallen arches. Usually, I have a very hard time finding shoes especially track shoes that work for me. The minute I put these shoes on, I didn't want to take them off right away. They are comfortable and light. They are supportive without feeling binding. They are very light and they breathe. I wore them all day and I had no problems. I love the fact that they had plenty of room in the toe box. I read some of the other reviews and they mentioned buying a half size larger, I did and I was very happy.

Verified Buyer

Reviewed by Jude from New Mexico on Saturday, April 19, 2014

These are tough girl shoes with great style. Comfortable right out of the box. I plan to walk, hike, travel many miles in these babies.