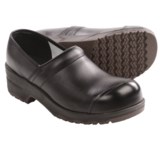 Closeouts. A serious shoe for on-the-go, active professionals, Sanita's Leo Protector clogs feature a reinforced steel toe to shield you from heavy impacts, Sanita's foot-healthy anatomic design and rocker bottom, and a grippy, oil- and slip-resistant outsole.
Average Rating based on
9
reviews
3.333333
0
5
Reviewed by campingirl from Chattanooga on Wednesday, December 10, 2014

I work in an office, but need safety toes for when I have to go out into the assembly/shop area. These are perfect, I just slip them on and go. I've had them about a month now and they seem to be of quality build. The foot bed is comfortable and there is enough room in the toe box area and they seem to be true to size. The only negative I have noticed is that they are a bit heavy - like Doc Martin type of heavy.. I can't speak to how they would hold up to daily use as I just use them a few times a week for walking in between the plants.

Verified Buyer

Reviewed by AW from NJ on Tuesday, November 25, 2014

The 3-rating is a preliminary one because the first pair I bought pretty much self-destructed. I liked them before they did so I decided (probably foolishly) to give them another chance. I liked the concept of a steel toe in a clog. My Caterpillar steel toes are great but HEAVY!! I will update this review when I've had a chance to put them to the test.

Reviewed by auntcnadie from Dallas, OR on Saturday, October 18, 2014

Just bought a pair for my hard-working farm man. He also works in an industrial setting, and his feet hurt non-stop on his 12-hour shift. I bought these, not knowing how he would like them. One stroll around the living room, and he has not taken them off. I am havng trouble finding them in his size to buy a second pair. He wants me to buy 20 pairs of them. They take the pain away completely from his 'always-hurting' feet. Best work shoe EVER for him and he loves them.

Verified Buyer

Reviewed by AW from NJ on Wednesday, October 15, 2014

Sound serious? It should. I had read the reviews and was amused by one customer who rather light-heartedly laughed off the experience that he had with them, namely, that they came apart on him. I thought, "Can they really be THAT bad?! I will say this to their credit ... they are very comfortable. However, view the photos and form your own opinion as to whether this item is something you would like to spend your money on. Granted, I have added some washers but only in order to demonstrate how almost laughably badly these have failed. I will be contacting STP to inquire if/how they intend to reimburse me for this fiasco.

Reviewed by Sam You Made The Pants Too Long from Jacksonville on Friday, August 15, 2014

This Sam you made the pants too long....again.

Wanted this to be a positive report - The 2nd pair of clogs arrived and one shoe was an 8 and the other 8.5....Thought I would just live with this....Then the rubber heels on both came unglued after about 4 or 5 days.

I have been buying from STP for years ...this is the first time I have ever returned something for poor....everything.....these shoes are broken from my experience - defective and not well glued at all according to a shoemaker. I have never been wary of Sanita products either - but I will think a long twice in the future - I don't think I will ever buy these shoes retail..

Two other reviewers indicate no problems....so .... I don't know except that I have to shop for work shoes ... again

Verified Buyer

Reviewed by Sam, you made the pants too long from Jacksonville, FL on Friday, July 25, 2014

No really...I knew when I got them that I had a problem...they squeaked... a lot...It sounded like I had mice in my shoes....That means problems with gluing in the construction.
Baby powder fixed the noise... a lot of powder....there were little dust clouds when I walked...
And then the 2nd day the heal on the right shoe fell off... Yea it did! In front of a client. She said.... "Your heel fell off...." Well the customer's always right, right?
The return was easy enough...
I like these types of clogs because they add on 2 inches or so to height ... Except in this case I walked like my right leg was 2 inches shorter than the left... People thought I had a limp... got a lot of sympathy from the women... Kinda liked the attention....So I gave this pair 5 stars (1 for the right shoe, 2 for the left shoe and 2 for the attention) and I am trying a 2nd pair. I figure lightening can't hit twice...can it?

Verified Buyer

Reviewed by KAY from NSW AUSTRALIA on Wednesday, May 28, 2014

Excellent choice. Fit extremely well, clever idea with the steel cap as I work in kitchen and when cleaning floor with chemicals dosen't effect leather front like my old Sanita's. THANK YOU. Very happy with my purchase.

Verified Buyer

Reviewed by Lisa from WI on Thursday, April 24, 2014

the arch support , the roomy toe area, and no heel rubbing. My favorite safety shoes.

Reviewed by Jon Don Ronald from Virginia on Tuesday, April 1, 2014

I am returning this item due to poor workmanship/ defect. Tried them on just out of the box. When I removed my foot from the shoe, pieces of the tongue had flaked off. Don't know what happened to the quality products that Dansko/ Sanita had 10 years ago.