Sanita

Sizes

Style

Gender

Colors

Reviews

Events

Prices

Search Within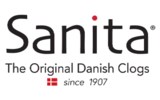 About

the

Sanita

Brand
By their ultra-stylish looks, you'd never know Sanita clogs and comfort shoes carried the Seal of Acceptance of the American Podiatric Medical Association. The Sanita company began hand-crafting clogs in Denmark in 1907, where their unique style (inspired by the shoe's quaint wooden predecessor) had become the footwear of choice among Scandanavians. Originally designed for people who work on their feet, Sanita clogs and shoes are now worn by everyone from doctors and nurses to mechanics and kitchen staff (even Emeril endorses a chef clog collection). Made from the highest quality materials, Sanita specializes in orthopaedically correct fit, moisture-absorbing linings and shock-absorbing polyurethane soles to cushion impact from the hard ground.
Regular $59.95
Compare at $120.00
Closeouts
Verified Buyer

Reviewed by katonthyme from Elk Grove on Saturday, December 3, 2016

These are really cute and would be comfy for someone with a more narrow foot. I have a bunion and they just aren't wide enough.

Verified Buyer

Reviewed by 3dvizwiz from Boulder, CO on Wednesday, October 19, 2016

This is the first pair of Sanita's that I've tried where the arch support was located incorrectly, e.g., too far towards the heel. I only took a few steps in them before deciding that a return was in the future.

Verified Buyer

Reviewed by luvsplants from Idaho on Friday, September 23, 2016

My first pair of Sanita clogs. I have several pairs of Dansko clogs that are either slightly big (41) or slightly small (40). Since there are no half-sizes, I had hoped Sanitas might have a better fit as other reviews claim they fit smaller than Danskos (true!) This shoe is rounded where it fits the heel (as opposed to straight up and loose fitting). The heel is a little higher and narrower than my Dansko clogs. It's a nice-looking clog and the STP price was too good to pass up--but I ended up sending these back. They didn't fit any better than my Danskos and I didn't want a higher, narrower heel.
Receive email updates for new Sanita items