Sanita Reviews

Popular Sanita Products

Popular Sanita Searches
By their ultra-stylish looks, you'd never know Sanita clogs and comfort shoes carried the Seal of Acceptance of the American Podiatric Medical Association. The Sanita company began hand-crafting clogs in Denmark in 1907, where their unique style (inspired by the shoe's quaint wooden predecessor) had become the footwear of choice among Scandanavians. Originally designed for people who work on their feet, Sanita clogs and shoes are now worn by everyone from doctors and nurses to mechanics and kitchen staff (even Emeril endorses a chef clog collection). Made from the highest quality materials, Sa
... Learn more about Sanita
nita specializes in orthopaedically correct fit, moisture-absorbing linings and shock-absorbing polyurethane soles to cushion impact from the hard ground. ... Less
About the Sanita Brand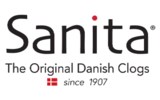 Reviewed by Bea from Chicago on Monday, July 18, 2016

Nice looking sandal but running small. I think a whole number small. And it's a pity that there are no bigger size available because I loved the design.

Verified Buyer

Reviewed by wannabe hiker from Iowa on Friday, July 15, 2016

I wanted something to wear with jeans or skirts that was still super comfortable - these are it. Feel amazing on my feet and look so cute.

Verified Buyer

Reviewed by Kelly the hiker from Maryland on Wednesday, July 13, 2016

These are nice sandals. They look beautiful and seem very well made from quality materials. They are my first wooden-soled shoe (other than my authentic Dutch wooden clogs) and I find the sole surprisingly comfortable. The leather is a very fine leather, but I find that it is so soft that it stretches considerably. If the shoe started small, that would be OK, but the straps started out a little loose (though I fit the sole well) and have just gotten looser. After about a month of use every few days (these are one of 2 summer sandals that I wear every day), I'm now at the point where I use the last hole on the ankle strap and am wishing the toe straps had adjustments because the front of the shoe flops around wildly when I walk. This causes me to walk funny and tense muscles in my foot to the point where it hurts. I no longer wear these on days when I have serious walking to do. If I was overweight and my feet were puffy for their length (but not overly wide as I find the sole rather narrow), I think this shoe would work well, but with normal bony feet with high arches, it just isn't working well.

Reviewed by kathleen from indiana on Tuesday, July 12, 2016

so sad you haven't had size 35 all my friends are buying from your site because i told them ?????

Verified Buyer

Reviewed by Heather the Huguenot from Downeast Maine on Friday, July 8, 2016

For the most part, these appear to be very well-made. They are light-weight with a comfortable footbed and nice, substantial clog sole. I normally wear size 7, so I ordered 37 which fit about as well as possible. The heel was a bit too roomy, but a size down wouldn't have been the solution. I figured they could still work for me, especially because I would no doubt be wearing tights or even socks with them at times. I thought I'd wear them around the house a bit to get a feel for them. It wasn't long before one of my ankles felt the pain of the collar digging into it. I was hoping the leather might warm up, soften and stretch a little to ease the pressure against my ankle, but things did not improve. It's funny that only one ankle had most of the trouble. If these were just a couple inches taller, they would work, but they hit right in the middle of the ankle bone. Such a pity, had to return.

Reviewed by Clog Lover from Colorado on Thursday, June 30, 2016

Nice looking boot which fits true to size but without the great arch support of the traditional Sanita clog. They are easy to slip on & off and will be OK to wear for short excursions.

Verified Buyer

Reviewed by Lise from Durango on Wednesday, June 29, 2016

These clogs are great for anytime wear. I couldn't figure how they could be flexible, now I know and its the best idea for clogs. They fit my size 5 feet! Socks on socks off!

Verified Buyer

Reviewed by Sundee from Minnesota on Wednesday, June 22, 2016

Really I did...but the front straps were way to wide for my feet. I do not have narrow feet in the least, so this surprised me.

Reviewed by Zoey from Los Angeles, CA on Wednesday, June 15, 2016

I suffer from plantar fasciitis, and someone recommended Sanita and Dansko. I have never had any of these before. I bought this one and Dansko. I have narrow feet but high arch, very bad combinations. The Dansko pair feels very wide and my feet can turn in them. The Sanita pair is perfect for me, and the insole also provides the arch support that the Dansko pair does not. I am returning the Dansko and buy another pair of this in different color. I am a size 8, and I order 39.

Verified Buyer

Reviewed by ejc42 from western MA, USA on Sunday, June 5, 2016

Wish I had seen reviews mentioning that these run small. I've had two other pairs of Sanita clogs and loved them, but this pair of 39s was tight even without wearing socks. Hope that my replacement pair fits! If so, these will be an ideal comfortable and casual shoe for work, where I'm on my feet all day.