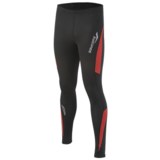 Closeouts. Designed to support muscles during training and reduce vibration during high-impact activities, Saucony's Amp Pro2 training compression tights are a must-have for every athlete, from the marathon runner to the first-time gym rat.
Average Rating based on
5
reviews
4.200000
0
5
Reviewed by Archuang from CA on Saturday, November 16, 2013

great

Reviewed by Ryuichi from joelbarish@yahoo.com on Monday, July 29, 2013

They fit well and look good. Great stretch. Only problem is the rear zipper on the legs...you must tuck it in, upwards, or you may feel it on your achilles tendon.

Reviewed by MTtrailrunner from MT on Saturday, June 8, 2013

I like the material, and does compression work? That's sort of in the eye of the beholder, or muscles as the case may be. Some are believers and swear by the benefits of compression, others not so much. I think it does help me a bit, but I especially like using them for activity. These are not super tight..in fact, about the loosest compression I've ever had. The material is very comfortable though. Saucony swears that the magic is in the material itself and not the compression, which is a new one for me. Really I'd only suggest these tights if you like 'em a bit looser. I'm usually a M in pants (33 waist) and these in M fit me well. The reason these were a no go for me, however, were the ankle zips. While I love ankles zips for easier on and off, these are not well designed. First I dislike zips that run down the achilles area instead of the outside ankle..they can really rub, and these do. I've had achilles surgery so am even more sensitve to this than most, I know. Also, the zips don't work particularly well anyway..the things were constantly unzipping. So, these need to go back, as they were a fatal flaw for me. I like most everything else about them, including the nice zip key storage in back, the overall look and feel, etc. Can't speak to efficacy, as I didn't keep them long enough to really test them after a long, tough run, etc. I will debate getting the "recovery" pair as those don't appear to have ankle zips..but more than likely I'll save my $ and get a tighter fitting compression pant, as I'm sort of in the camp where I think if you're going to see any benefit, it's in the tight compression, not magic material.

Reviewed by alan former Cat 1 racer from new york on Wednesday, May 8, 2013

Not as good as others that I have. Too thin to offer enough compression maybe okay for post workout, but a little too thin for cycling

Reviewed by Brian B from Kansas City area on Tuesday, May 7, 2013

I bought and compared these Saucony Amp Pro2 Training tights along with the Saucony Amp Pro2 Recovery tights to compare them. They both have a good compression feel but the Training tights seem to have the panels and stitching in specific areas to support around knees and muscles while the Recovery tight has straight lines of fabric down front and side of the leg to offer overall compression for post-run. I followed the suggested sizing and bought Medium for waist of 33-34 and they feel appropriately tight.

Note: They have zippers down the back of the calf to make it easy to get in and out. On my first run, I had them all the way down to my shoes and the zipper rubbed above my heels with every step. I'm 5' 10" so if you're a little taller you won't have the issue or if you're a little shorter, you may want to tug the bottom up a little or not zip them all the way to the bottom.