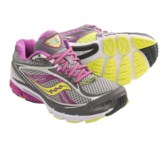 Closeouts. Saucony's Omni 12 running shoes are the next generation of the stability shoe with a devoted following. The PowerGrid heel-to-toe insert offers an improved ride, and the 8mm drop promotes a balanced, efficient stride.
Average Rating based on
25
reviews
4.800000
0
5
Verified Buyer

Reviewed by buybread from Ithaca NY on Wednesday, November 26, 2014

I just recently got the opportunity to try out these new running shoes. They were totally comfortable right out of the box. I had not done any running in a while and was able to pound out 4 miles with no discomfort whatsoever. The cushioning was terrific and shoes fit true to size. I highly recommend for the low distance runner looking for a comfortable ride!

Verified Buyer

Reviewed by Grammy Wendy from LAWRENCE, KS on Wednesday, October 29, 2014

I am 46, 5'1", and a lttle over 200lbs. I've gained all this excess weight after a tragedy 4 years ago and I NEED TO GET IT OFF. I have tried every brand of athletic shoe out there t wear to the gym but this excess weight has caused heel spurs, pronation, Plantar Fasciitis, and knee pain. I have several pairs of good name brand shoes that I purchased THAT I CAN'T WEAR because my feet and knees still HURT! But after talking to some folks at the gym and doing my own research I learned that there are low-end shoes and high-end shoes of all brands. I thought I was just paying half the price for the same shoe at the retail stores as the ones they sell at the downtown shoe store. WRONG!
These SAUCONY OMNI 12'S are last years model - WHO CARES - and they make my feet feel so good. I got them at nearly half price at STP and am SO HAPPY - NO, ELATED that I purchased them. They are true to size, sturdy, and very comfortable from the minute I put them on. In fact, I wore them an entire day the FIRST DAY and my feet didn't hurt at the end of the day.
Best shoe I've ever purchased!

Verified Buyer

Reviewed by MG from Colorado on Tuesday, October 28, 2014

I've been running in Sauconys for over 10 years - and have yet to have a "bad" pair. I need a shoe that is wider in front, narrower at the heel, and can accommodate orthotics, and Saucony is the only shoe I've found that consistently is able to deal with both those issues. The size is consistent to what I've been wearing, so there was no issue there. I've tried other shoes, but never have been able to find the comfort of a Saucony.

Verified Buyer

Reviewed by Uom from East Bay, ca on Thursday, October 23, 2014

For years , Saucony Grids were a perfect fit. No more. Inserts are not of same quality. Had to return them. I felt that feet were pronating

Verified Buyer

Reviewed by Rhonda from Colorado on Thursday, October 23, 2014

I really love these shoes! They fit well and are very versatile. Also got them in 2 days!!!

Reviewed by PepperP from Ohio on Sunday, October 5, 2014

I wear an 81/2 narrow shoe. It is so hard to find a great running shoe for narrow feet. This fits perfectly and is true to size. I have bought several pair over the years. They wear well and look good.

Verified Buyer

Reviewed by Tim K from Wisconsin, usa on Monday, September 29, 2014

One of my girl friends favs. Works on and off roads.

Verified Buyer

Reviewed by LuNi from Oklahoma on Sunday, September 28, 2014

Excellent, comfortable, very light shoes. Great for jogging and walking too. Size was just the right one. Fast delivery. Thank you!!!

Verified Buyer

Reviewed by Janice from Milwaukee, WI on Tuesday, September 23, 2014

Love this shoe. I have trouble with shoes and comfort, and this pair was comfortable from the moment I put them on. I would recommend these for anyone who is looking for good arch support and comfort. I must admit though I'm a fan of Saucony Running shoes and have been wearing them for years. I would recommend them!

Verified Buyer

Reviewed by Knitting Fool from IL on Thursday, August 28, 2014

Put them on and went for a run. Perfect fit and very sound construction. Good support.