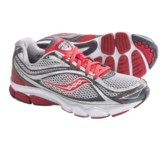 Closeouts. The legacy of superior support and outstanding cushioning is updated with a lighter design in Saucony's ProGrid Omni 11 running shoes. An 8mm heel-to-toe drop promotes a balanced, efficient stride and Support Frame technology enhances overall stability.
Average Rating based on
21
reviews
4.476190
0
5
Reviewed by Rocklady from PA on Sunday, November 3, 2013

Happy with purchase. No break in. Good support.

Reviewed by Red1 from Salt Lake City UT on Saturday, October 19, 2013

I've had these a couple weeks now and they were great right out if the box. I wear a size 7 in regular shoes but typically buy a 7.5 in running shoes these are no exception a 7.5 fits great.

Reviewed by Horselover4ever from Marietta on Friday, September 27, 2013

I have been wearing New Balance running shoes for years and always buy and wear the size 8.5 but the last pair I bought, ran small, so I thought I would try a new brand. So far the Saucony has exceeded my expectations in comfort and fit. This is a great running shoe. Lots of support and cushioning.

Reviewed by Ruth from WA on Wednesday, September 25, 2013

My first pair of Saucony's and they're very cushy! They're almost a little short, so if you're in between sizes, go up a half. I bought an 8 wide and they're not as wide as New Balance, but enough so that they'll work for me. The soles are quite high so you'll look a bit taller. The orange-red is pretty seriously bright, but comfort is what counts for me. A good buy.

Reviewed by Runner Girl from Michigan on Wednesday, September 25, 2013

As an avid runner I need a good shoe. Usually I purchase Asics, but the reviews for Saucony's (and along with the price) made me switch. I have a rather wide foot and my feet feel as like they are being pinched. I got blisters as well. Gave them the ole' college try and wish I didn't so I could return.

Reviewed by me from sd on Tuesday, September 24, 2013

I put these shoes on and they felt "different" in the toe box, but it was large enough in length. I wore them for a short run and they were dreamy, evidently the initial feel to the shoe wasn't anything that would create a problem for a toenail, and I really didn't notice the "feel" on the run. They were cushiony. The next day I went out for a long run (8+ mi) and the rest of the day the ligaments on my little toe side of my foot and up the lower leg were crabby. Because I'm a pronator I knew this wasn't good. Even though I wear orthotics and haven't had problems in years, I could tell that these shoes did not provide the stability I need. Too bad because they are really cool shoes otherwise. The laces are of a poly material and lace really nicely.

Reviewed by BarbfromMD from Baltimore, MD on Tuesday, September 24, 2013

The red is not my favorite color but the sneakers are great. I walk 2 1/2 miles a day with my dog and these are holding up well. They are very comfortable.

Reviewed by Nature Lover from Indiana on Monday, September 16, 2013

I bought these shoes because I have feet issues and they were recommended to me. Even those these are running shoes and I am not a runner, I need the extra support they offer. Very comfortable from the first time I put them on and they seem like they will last. My son has worn the Saucony brand for several years-he is a runner and appreciates how they last.

Reviewed by kaytea from Central NJ on Monday, September 16, 2013

This is my first pair of Sauconys (I usually wear NB or Asics) at a great price. These shoes are comfortable and have the soft, roomy feel that Sauconys are famous for. I found them true to size and wide enough in the toebox for my aging feet. I will probably choose Saucony again in the future.

Reviewed by Sierrafan from PA on Monday, September 2, 2013

I am normally a Saucony Hurricane runner but couldn't resist these on sale. Ran them in a 1/2 marathon and a 10K. They are fabulous! They are now out of my size but if they have yours and you are not a minimialist footwear fan, or don't need to wear shoes that look liked they were designed at a Rave - snap 'em up!