Saucony

Sizes

Style

Gender

Features

Sleeves

Sock weight

Sock height

Colors

Reviews

Events

Prices

Popular Saucony Products

Search Within

Founded in Pennsylvania and currently headquartered in Lexington, Massachusetts, Saucony began as a family-owned shoe company in 1898 and has since grown into a household name in running footwear. Today, Saucony shoes benefit from industry-leading technology, rigorous quality control standards and dedicated customer support. Whether you're looking for track spikes, traditional Saucony running shoes or ultralight minimalist shoes, this company has footwear designed to accommodate a wide range of foot sizes, arch shapes and running styles. Built for hard-working athletes, Saucony clothing also o
... Learn more about Saucony
ffers an incredible mix of performance, comfort and style to keep you feeling your best, from starting line to finish line. ... Less
About the Saucony Brand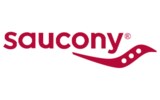 Verified Buyer

Reviewed by Lucys mom from Bend, Oregon on Thursday, July 28, 2016

Need shoes that could handle custom orthotics and these are perfect. Lightweight, plenty of room in the tow box. Would buy them again in a heartbeat.

Verified Buyer

Reviewed by Pinkemerger from NC on Wednesday, July 27, 2016

I have a foot that is due to running has gotten wider and longer! This shoe is perfect in size plus it gives me the foot position that I long for in a running shoe.

Verified Buyer

Reviewed by Ashley from Washington on Wednesday, July 27, 2016

I love the bright color of these shoes! The tread is aggressive. I haven't taken them trail running yet, but they shouldn't have any problems with traction. I ordered the 8.5 when my usual size is an 8. They have just enough room. If you're on the line between half sizes I would order up. My only complaint is that they don't have a lot of squish/padding in the heels, which for me creates a fairly harsh impact on my heel that's not very comfortable. Overall I like them, but I wouldn't order them again.
Receive email updates for new Saucony items