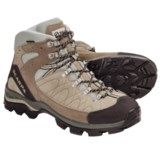 Closeouts. It's no surprise Scarpa's Kailash Gore-Tex® hiking boots are a Backpacker magazine "Editors' Choice" award-winner. Testy weather, mud-infested trails and rocky terrain are no match for the durable suede upper, Gore-Tex® waterproof breathable membrane and Vibram® Hi-Trail Lite rubber outsole.
Average Rating based on
14
reviews
3.928571
0
5
Verified Buyer

Reviewed by Moose The Goose from California on Sunday, August 9, 2015

First pair was so good bought a back up pair

walk dogs for a living - great support, fit and comfort

Reviewed by Connecticut Panda from Connecticut on Friday, July 24, 2015

I have been wearing Scarpa boots for 20 years and I do not know what happened-I wear a size 12 but size 11 Scarpas always fit and I ordered these in 11 2/3 and they were super narrow and tight.

Still top notch quality and if you have narrow feet go for it otherwise go with Asolo.

Sad wanted to keep but these are going back.

By the way put them next to my 15 year old Scapas and the treads are the same-the soles never wear out!



Verified Buyer

Reviewed by peak1 from nj on Monday, May 11, 2015

best hiking boot I've ever had....light and form fitting....great trail boot

note to scarpa....bring back the escape mountaineering boot!

Verified Buyer

Reviewed by p from Casper, Wy on Friday, May 8, 2015

Scarpa boots are the best!! I am really rough on my shoes and Scarpa's last. I put on hundreds of miles a year hiking, hunting, and trapping. In every kind of terrain, rocky cliffs, snow, mud, mountains, prairie, you name I am in it. If you have a narrower foot like me these are perfect with a quality insole. Great fit and very comfortable, could not have made a better purchase at a great price.

Verified Buyer

Reviewed by Schattenjager from Southern Ohio on Wednesday, May 6, 2015

Rugged with great traction for muddy slopes.

Verified Buyer

Reviewed by blueryder from ADKs NY on Monday, April 6, 2015

Good initial fit. Up-sizing 1/2 size was a good idea. ignore the other reviewer who asked "in what world a 43.5 is a size 10.5M (US)?" If you do a quick search some size-comp chart say 10.5 = 43/44 (43.5) some say it = 9, 9.5, or 10...all over the board. bottom line? buy 'em, try 'em. that is the russian roulette of buying shoes online.

I haven't had a chance to beat them up much, but spring is here in the ADKs so, we'll see! i'll post an update in 30 days

Verified Buyer

Reviewed by Off-Trailer from CA on Monday, March 16, 2015

My first pair of the Kailash boot are on their last leg, so I decided to order two more pairs. I first fell in love with this boot due to the fit, though that's a personal preference and I hate it when people knock a boot due to fit...or due to having a poor qualify insole (they all have poor quality insoles). The mid-weight classification is appropriate...I feel it is a true trekking-style boot, plenty nimble and just enough flex for hopping around. As for fit, I take a 101/2 in most boots and this was the equivalent to a 44.5 for me in this model. They are slightly narrow I'd say, but most with a medium foot should be fine, though it might not hurt to go up 1/2 size either. Also, a tip since they don't come in wide...my friend who is on the medium- to medium-wide size stretched his Kailashs in the toe box and indicated they are easy to perform a custom stretch on...simply modified a wooden shoe tree/form with a little Bondo, creating a lump to widen/stretch the width at the toes and simply crammed it into the shoe; the suede stretches easily. Another plus is that they breathe better than mot GTX-lined boots. Finally, my 3-year-old pair remain 100% waterproof...the GTX in most of my other GTX-lined boots were compromised in a year, or two at most, so I am quite pleased the membrane has held up for so long on these! The only negative...after three seasons have off-trail use in rocky areas, the horizontal seem has started to give way due to the threads getting abraded off...though anytime there is stitching/seams on the sides, that will be a potential weak-spot...but mine held up for plenty of time and consider the Kailash a real bargain.

Verified Buyer

Reviewed by AquaTodd from Ft Lauderdale, FL on Sunday, February 8, 2015

This is my second pair of boots from Scarpa and once again I'm pleased with the product. The fit is right on they feel broken-in right out of the box. so far I've only put in a couple miles around the neighborhood but but look to put in 12-20 in Colorado in a couple weeks depending on weather.

Verified Buyer

Reviewed by Outback Hiker from Australia on Wednesday, April 16, 2014

Owned many great boots over the years. However, Scarpa are not one of them. Sizing is a major issue. In what world is a 43.5 = 10.5 (US)? This is the sizing I was provided. Needless to say, I cannot wear the boots. Proper sizing is 45 = 10.5 (US). Also, toebox is so narrow, you are guaranteed to lose a pinky toe nail over a multiple day hike. Whose feet are that narrow? Construction looks good, but I never got to try out for long period of time. I should have listened to other reviews that complained about these same things. Bottom line, if you want accurate sizing, go into store and buy them, not online. And be prepared for numb feet if buying Scarpas and using them over multiple days.

Reviewed by civi68 from altoona on Saturday, August 31, 2013

I liked these boots but they were too narrow even with trying a larger size. I wish European companies would make their shoes wider.