Scarpa

Features

Gender

Recommended use

Number of buckles

Last width

Style

Colors

Reviews

Events

Prices

Popular Scarpa Products

Search Within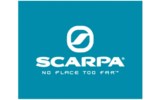 About

the

Scarpa

Brand
Scarpa of Italy was literally "born in a barn" back in 1951. Founder Luigi Parisotto began his footwear career in a small outbuilding, crafting hand-made shoes for the local residents with a near-fanatical attention to detail. After acquiring a flawless reputation with the locals, Luigi switched from farmer boots to mountaineering boots… and Scarpa of Italy was off and running, not to mention hiking and skiing and climbing. Scarpa of Italy has a reputation today that is second to none. With the latest shoe and boot technology applied to a wide range of outdoor disciplines, Scarpa of Italy manufactures superior footwear for adventurers who recognize and appreciate it.
Reviewed by Hiker Guide from Alaska on Friday, December 2, 2016

Lets start off with that they look cool, right? I get compliments on them all the time. Next is the weight or lack there of. Some people have said they feel cheap or too thin? They're fine, trust me. I'm that guy who has too much gear, and I know what's cheap or not. Yes, the material is a bit thin. But, the last thing these shoes are cheap or poorly made. They are more than worth the 40 bucks.
They are definitely best suited for the trail. On concrete they feel like you're wearing a shoe made for dirt if you know what I mean? Kinda a little too grippy? Definitely doable for everyday use, though. Overall they can't be beat for the price.

Verified Buyer

Reviewed by Chris from Washington on Thursday, December 1, 2016

I have only had these shoes a couple of weeks, but the fit and feel of the shoe has been very satisfactory. I did make the mistake of over tightening the laces near the toe causing some discomfort, which was quickly fixed by properly adjusting them to fit my foot.

Reviewed by SJG from NYC on Thursday, December 1, 2016

These boots are great. They're soft where they need to be but stiff enough to power modern skis. I've got them on skis that are 86mm underfoot and the boots have more than enough power for them. I don't know how they'd handle skis with waists wider than 100mm. I find them comfortable in touring mode (I don't tour but I do skin uphill at a resort). I don't love the mechanism for the center buckle as I question the durability of the plastic "strap" in the ratchet system. I know they've been using this forever and it will last plenty long. I just prefer buckle systems like the top and bottom one that have not components that could wear out. I find the liner to be warm and comfortable. Overall, I find the boot to be light and low profile. (I replaced a pair of Black Diamond Seekers that felt bulkier and heavier without seeming to offer more power or control.) I will not comment on the appearance beyond saying that the color scheme and paint job are "different."
Receive email updates for new Scarpa items