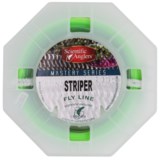 Closeouts. Designed to be cast from the beach, boat or jetty, Scientific Anglers' Striped Bass fly fishing line has a tapered design that reaches striped bass, bluefish and other species that require long casts.
Average Rating based on
6
reviews
4.333333
0
5
Verified Buyer

Reviewed by RoverMartian from Oklahoma on Monday, July 20, 2015

I bought the 7wt and it works and cast great.

Verified Buyer

Reviewed by Juancito from America on Wednesday, June 17, 2015

Hurry up and buy this. It does the work really fine. Excellent for Golden Dorado in South America

Thank you Sierra for this awesome product.

Reviewed by Jandl from Wisconsin on Tuesday, October 14, 2014

I bought this line on an extra sale, so my review is partially in the context of purchasing top-shelf brand line for only $25. In any case, I have used this line on my 10wt for throwing big musky flies. It performs well, and quite well once I dial in my casting, though I imagine a more aggressively tapered line would be better for my uses. When I tie on a smaller fly, I can tell the line is much happier. As with other reviewers, I find that this line tends to coil/tangle somewhat, which can be frustrating. It seems to improve over the course of a day, but I think this is in general the one weakness. Otherwise, definitely recommended, especially if you can get it as cheaply as I did.

Verified Buyer

Reviewed by Mark from PA on Thursday, October 9, 2014

Pretty difficult to cast with a stiff rod. The green in the picture is the backing, the lure end of the line is clear.

Verified Buyer

Reviewed by High Plains Fly Fisher from Connecticut on Sunday, October 5, 2014

Worked well in Fall fishing conditions on Cape Cod

Verified Buyer

Reviewed by vtaflyer from Ventura, CA on Tuesday, June 10, 2014

I just got this line for surf-fishing southern California, with a trip to the beaches and salt ponds of Rhode Island coming up in a month. I got the 7w line for my Hardy 6w ProAxis rod. After three outings the kinks are slowly working out, but there seems to be lots of coil memory in the clear mono tip section. I've slowly stretched the line out several times with a rubber leader straightener, which helps. I've been careful to rinse the line after fishing and not leave the reel in a hot car, but the line still has some memory. We'll see how it works as the water warms up (low 60's now). Don't think it would be good for a winter line around here. Looking forward to sight casting for some stripers soon!