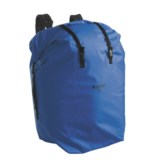 Closeouts. Great for paddling tours, camping trips and everything in between, the Seattle Sports roll-top waterproof gear bag protects your essentials from moisture and also works great for stowing wet, muddy gear during the trip home.
Average Rating based on
169
reviews
4.248520
0
5
Verified Buyer

Reviewed by Mitch R from Northern California on Friday, October 14, 2016

I used this bag on a four day float and found it was very spacious for all the clothing and gear that I needed. The handles are a great addition and even one of the packers stated she was liked the idea of their presence.

Verified Buyer

Reviewed by L&C Portage Company from Alaska on Tuesday, September 20, 2016

Used two of these on a 7 day float that turned into a 2 day portage off the river up a steep bank and across the AK tundra for about a mile. Carried everything from clothes to coolers and still remained water proof. I would definitely recommend these for any trip.

Reviewed by CuriositykilledtheCat from MN on Tuesday, August 23, 2016

I just got back from 6 days in the Boundary Waters Canoe Area Wilderness with this pack as my bag for all my gear. We canoed between 3 and 6 hours every day, finding a new spot to set up camp each night. So I packed and unpacked this bag a number of times over the course of my trip.
The reviews about this bag being extremely heavy once fully packed are absolutely true. The bag functioned perfectly in terms of keeping my gear dry (5 stars for rating that aspect alone). However, the padding in the straps is SO VERY poor for the amount of gear this thing holds. Maybe if you are hauling lightweight, bulky items this pack would work super well. Or if you don't pack it anywhere near its capacity. But for any serious camping/wilderness excursions, I wouldn't recommend this large of a bag because of how poorly made the straps are. There is no belt strap or chest strap to steady the load and the padding in the actual straps compresses with its own weight once it's on your back, making you feel like you are hauling the load without any padding at all.
Overall, waterproofing functioned flawlessly. But because of the size and the way the straps are made, I will likely never use this as primary gear pack again.

Verified Buyer

Reviewed by Kim, hiker-camper from Shorewood, WI on Thursday, August 4, 2016

I bought this large waterproof bag for our upcoming canoeing-camping trip to the Boundary Waters Canoe Area. We have not tried it out yet, but it is going to be great to stuff all of those odds and ends into single larger bags for easier portaging. For the price, I figured it was even cheaper than renting large bags from an outfitter!

Reviewed by HSL from NJ on Thursday, July 28, 2016

This is a monster of a bag so be sure to carefully consider the dimensions before ordering. We also bought the medium size bag and surprisingly, this bag's fabric is thinner and softer than the medium bag. It is not clear whether it will last longer though. The large capacity will allow me to stuff sleeping bags and a tent into this bag for hauling it on a canoe or a tandem kayak. My my land camping trips, I plan to use this to keep gear dry during rain. Its huge size will make this bag very heavy so I only use it for car camping. As for quality, the straps are not well padded and below par as compared to hiking backpack straps. Also, the closure system works best when the bag is fully packed. If you have a half-empty bag, you will not have a tight seal at the opening as the rolled up opening will loosen no matter how tightly you buckle it in. This is an affordable bag for occasional use but it is not for an expedition due to its hulking size and below average straps.

Verified Buyer

Reviewed by Jeremiah Portland from Portland, OR on Monday, July 25, 2016

Works just as advertised!

Reviewed by STP Loyalist from PA on Thursday, June 23, 2016

I was in search of a bag for my child's car seat for checking it on the airplane. I didn't want to spend $50 for a car seat-specific bag that I wouldn't use again (they are usually horrible quality too) This bag is HUGE! I can fit a full size car seat (Evenflo Maestro Booster), another small booster seat and two child's life jackets in the bag. I am little concerned the straps may take a beating when I send it through checked baggage. However I may tape them down. I am hoping to use the bag on a future camping trip if it survives.

Verified Buyer

Reviewed by Frank the Butcher from Illinois on Tuesday, June 7, 2016

Purchased this exact same one a year ago. Taking the entire fam on a canoe/camping trip this summer and two of these will be more than sufficient for a family of 6 (tents, sleeping bags, etc.). For this price, it pays for itself after one use. Unbelievable deal. Haven't had any issues with my older one, no snags, holes, belt issues, nothing......and if I did, I would find it hard to complain about it, since retail at local outfits by me would charge 3x as much at least.

Verified Buyer

Reviewed by 99mkw from Georgia on Monday, May 30, 2016

This is obviously not a product for the ultralight crowd. I ordered it for a scouting trip in which everyone's gear was going to be transported close to the campsite in a big dump truck. The issue was that the forecast called for pouring rain and I had to send the gear ahead with a buddy. The product arrived in time with STP 2-day shipping. As others have mentioned, it fits a ton. In my case it fit two sleeping bags, two pads, a tent, a full-size pillow and clothes for me and my son.

I arrived a few hours after the group and the gear had been unloaded and covered in tarps. In spite of that, my friends gear had gotten pretty wet while mine stayed bone dry in the bag. When we left camp I made the (foolish) decision to haul the bag up myself rather than use the gear truck. It was a brutal 1.5 miles uphill but the bag was more comfortable to carry than one might imagine.

Verified Buyer

Reviewed by Bah from minnesota on Friday, May 20, 2016

This is a great canoeing bag for the price! Just purchased our second one! Our first lasted 4 years and is finally starting to wear out! Very large, waterproof bag! Holds everything we need! Will definitely recommend highly for anyone that wants to keep the price reasonable!!