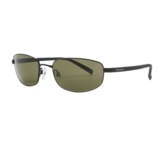 Closeouts. Serengeti Manetti sunglasses feature Infiniflex technology for a lightweight frame with a customized fit. Polarized, photochromic Polar PhD lenses complete the lightweight package with outstanding optical clarity and automatic tint adjustment.
Average Rating based on
13
reviews
4.230769
0
5
Reviewed by JT from Florida on Wednesday, October 1, 2014

These glasses are definitely keepers. They feel extremely lightweight and comfortable. This leads somewhat to an impression of fragility, especially when you observe the amount of flexion that the center/nosepiece of the frame allows. Also, the lenses are not my favorites, and I, like other reviewers, do not notice a significant shift in darkness due to the photochromatic feature. The lenses seem pretty good, but I have some other glasses that are less expensive and the lenses in those really make the world appear to stand out in high definition. After giving the foregoing, somewhat negative description, I will say that these are so extremely comfortable and look so good on me that I look past the areas where these glasses do not totally shine.

Verified Buyer

Reviewed by Equestrian from New York on Wednesday, September 17, 2014

Great value for quality eye protection with style and quality materials.

Verified Buyer

Reviewed by rcktman from Space Coast - Florida on Sunday, July 27, 2014

Great Sun Glasses -- well constructed and do everything as advertised --exceptional pricing by Sierra, made these affordable

Reviewed by Wayuwander from Birmingham, AL on Thursday, July 24, 2014

First let me say I really like these glasses. However here are several things I was disappointed with. They are not what I would call photochromic in that the lenses do not seem to lighten or darken much at all. The lens has a grey/greenish tint. I prefer the grey tint as they seem to be more true to color. I have other sunglasses that seem to have better lens clarity. These lens do seem to make color "pop" however. As opposed to driving sunglasses as Serengeti seems to be noted for I prefer them in situations where I would like to be a bit more stylin'. They look good on my rather large noggin. They seem very well built and are very lightweight . So despite some misgivings, I'm overall very pleased with this purchase.

Verified Buyer

Reviewed by Rosh from flatlands on Thursday, July 24, 2014

I'm a pilot, and I also drive quite a lot. I prefer Serengeti's, as do many of my colleagues. This frame design and lens combination in the Driver's color is a great set of glasses. My only beef is that they are a bit heavy for extended wear..since these have the Phd lens, these weren't as heavy as the glass lens , full frame models.

I have switched to many of the frame-less designs, such as the Nuvola or Nuvino or Ceilo or Roggia from Serengeti. These frame-less glasses are much lighter but they aren't as durable. The pro's and cons are weight versus strength and durability. So if you want a pair of glasses for more extreme use that won't break as easily, and you don't need to wear them for 5-6 hours at a time, these Manetti are a good choice.


Verified Buyer

Reviewed by Mark from Michigan from Blue water on Thursday, May 8, 2014

When I opened the case for my new Serengeti glasses I was worried they may be too small for my large face, but as I put them on they formed to hold perfectly there. I love these glasses. Lightweight, stylish and a great lens. I would order these again. Great for driving and outdoor deck parties for sure!!

Verified Buyer

Reviewed by Deeezy from Washington on Tuesday, May 6, 2014

This is my first pair of serengetti shades. I'm pleased with the quality and the weight. They're very light. But the arms are kinda almost too flimsy and adjustable. I'm having a hard time feeling comfortable taking them off and putting them on my body somewhere. I'm active and I like to put them on top of my hat but they've already fallen off. I have put them hanging off my shirt in front and they don't seem secure there either. They haven't fallen but they don't feel like they're gonna stay. But that being said, they're very comfy when wearing. I'm not sure about how much the tint changes. Haven't tested that yet. Or haven't paid attention to it yet. But they seem dark enuf on a bright sunny day. I would recommend these glasses still as they are a quality pair.

Verified Buyer

Reviewed by Jane 2014 from ME on Tuesday, May 6, 2014

Looks well made overall. Frames are smaller than I expected by looking at the photo.
Lenses are not very dark, which is fine by me. Haven't really been able to notice the photochromatic feature.
I like theses glasses and will keep them as they seem good quality, but not wild about them.

Verified Buyer

Reviewed by Upbeat Betty from Berkshires, MA on Monday, May 5, 2014

These glasses are very high quality, unfortunately the fit is not for me. They were too large and loose and would not stay on my head. They are going back.

Verified Buyer

Reviewed by Jose Luis from Mexico on Monday, April 28, 2014

I recive them just tha way Sierra told me, and Im very please with the purchase, great lenses.