Not only will the world look crisper and more colorful in the shade of your Serengeti sunglasses, but you'll also score serious style points with a range of great-looking frames. Thanks to high-definition lens technology, Serengeti eyewear is able to provide unparalleled contrast and color enhancement for superior visual clarity. Serengeti polarized sunglasses also reduce eye strain caused by harsh reflected glare from roads, water, snow and other surfaces. This brand is well-known for its stunning array of driving sunglasses, each engineered with spectral-control lenses and fitted with a vari
... Learn more about Serengeti
ety of lightweight wire frames. Lenses from Serengeti Optics are also molecularly engineered with technology that prevents the eye protection from wearing out or wearing off. ... Less
About the Serengeti Brand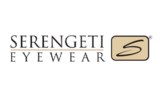 Verified Buyer

Reviewed by Kevin from Utah on Wednesday, July 13, 2016

Love theses sun glasses. Light weight, comfortable, cover my eyes well. I love that they are photochromic. They work perfect.

Reviewed by GmanVT from Northern Vermont on Tuesday, July 12, 2016

Just picked up a pair of these (satin black with 555nm lenses) this afternoon. My initial impressions:
• Amazing lenses! No color shift, but everything "pops"
• Very comfortable: I have a medium face, these are lightweight and gently hug my head
• Excellent ventilation on a warm, humid afternoon
• Great looking- subtle, technical look.

Verified Buyer

Reviewed by M from CA on Friday, July 1, 2016

I cannot use lenses that distort, but these work fine.

Verified Buyer

Reviewed by Justin from Milwaukee on Saturday, June 18, 2016

The lenses in these glasses are amazing!

Verified Buyer

Reviewed by MrBill from South Carolina on Thursday, June 16, 2016

Serengeti sunglasses are always of high quality. This pair is no exception. These are the first Serengeti's I've owned that have mirrored lenses. Even though the frames are fairly small they provide good coverage and the optical quality is great.

Verified Buyer

Reviewed by Sue from the Southwest from New Mexico on Sunday, June 12, 2016

They protect beautifully from the bright Southwestern sun and are very light and comfortable. I thought the honey stripes would be more visible but like them better as they are mostly dark brown and very sophisticated looking, and they fit my oval face perfectly. Don't buy if you have a large head or face; I would say they fit someone who is medium sized. Well worth the money and the case and cleaning cloth are also exceptional. Well worth the money and the optics is also exceptional. The brown lenses go nicely with the frames. Love em!!

Reviewed by Bee1 from California on Saturday, June 11, 2016

The lens are exceptional quality. I am not sure I want to keep them because of the overall look and fit. I am petite (5'2") with a small face. The frame is beautiful, but seem too large for my face.

Verified Buyer

Reviewed by car_E7322 from Temple City, California on Wednesday, June 8, 2016

Like the look, and quality. It really does reduce glare. Just a note: They do run small, smaller than I though, but I still like them and they are not that small for me to wear.

Verified Buyer

Reviewed by Oxxboww from Kentucky on Friday, June 3, 2016

These sunglasses are very light, well constructed and good value. I like the fact they don't slip and adjust to current lighting very well. Good value!!

Verified Buyer

Reviewed by Shadysvegas from South Carolina on Wednesday, May 25, 2016

Very comfortable, easy to wear all day.