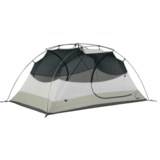 Closeouts. Camp comfortably in thunderstorms with the durable construction and airy interior of Sierra Designs' Zia 2 tent. The included gear loft and footprint provide additional storage space and protect the tent's floor.
Average Rating based on
7
reviews
4.142857
0
5
Verified Buyer

Reviewed by T & V from Englad on Tuesday, August 26, 2014

My lady and I bought this tent after doing a good deal of research. We're camping/hiking novices, but our first excursion into that world started with more of a bound than baby steps, as we set out for three nights in the Rockies. A quick glance at the pros/cons of our "Baby Zia":

PROS
- Size: fit both of us (average sized humans) comfortable)
- Simplicity: we're both novices and had no trouble at all setting it up and taking it down
- Weight: Light, easy to pack up, and easy to transport (secured mine to the outside of my hiking backpack). It packs to a pretty small size
- Value: a great price to begin with, and it comes with a footprint to boot
- Storage: the cover provides you with a good amount of space on two sides of the tent to store equipment, shoes, etc... the loft is small but handy, and there are two interior pockets at the head and foot of the tent that come in handy as well
- Waterproofness: we were caught in a fairly severe thunderstorm with heavy rains that went on for 8 hours. I believe the few light drips we experienced were from condensation.

CONS
- Windows: I don't think this is unique to this tent, but there aren't windows on the cover of the tent, therefore if you have the cover on, the only way to see outside is to unzip one (of the two) doors on the cover. On starry nights with good weather, I felt this was a drawback.
- Height: it's a double-edge sword... on one hand the low stature of the tent is great for avoiding high winds; on the other hand, if you plan on hanging out inside expect low ceilings.

OVERALL
The missus and I loved the experience it provided us. We'd whole heartedly recommend it for a full range of campers looking for a streamlined, easy, and great performing tent.


Verified Buyer

Reviewed by Hallie from Washington on Tuesday, July 8, 2014

This is a great little tent at this price- but the instructions are super confusing and a little misleading. I was impressed with how waterproof it was. Also comes with a footprint.

Verified Buyer

Reviewed by Eric from Aomori, Japan on Monday, July 7, 2014

The tent is great-- there is so much space despite the size (I got a two person), and the gear loft and custom-size footprint are great too!

EXPERIENCE (n/a): Unfortunately I haven't been outside with it yet. I have pitched it once in my apartment for a few nights sleep in a tent!

MATERIALS (4/5): Very sturdy stuff. This is an amazingly cool tent, with the top half being made almost exclusively of mesh. I recommend to anyone who hates getting stuffy while camping (I know I do!) The only part that doesn't feel so sturdy are the zippers. I always seem to have a problem with zippers, and these are no different. They feel slightly flimsy, I was hoping for larger zippers. But a minor complaint indeed.

SETUP (3/5): Honestly, the setup instructions the tent comes with are as useful as a blank paper. Very disappointing. Once I finally figured it out, setup was not so difficult. The two poles arch over the two doors, with an X-bar along the top to open the tent up even more. You only slip the large poles into clips, rather than sliding/pushing them through little flaps. So the clips are very painless and helpful.That being said, it *definitely* isn't a one person setup. The two long poles cross over each other during setup, and makes for a hard time raising the tent.

ROOM: It's roomy, especially with the space created by the rain-fly for your gear/boots/etc.

PACKING: One more unfortunate note-- which can be fixed with a compression bag. The pack bag the tent/poles/footprint/rain-fly come with is WAY too big for the gear. This allows the tent to expand MUCH larger than necessary. I need to find a compression bag, or just sew a new bag for the tent-- but for now it takes up too much room, and that isn't good for backpacking.

OVERALL: All of the trifles I have with this tent (pack bag, zippers, setup) are just that-- trifles. The tent is great, the material is great, and the breeze blowing through is amazing. You won't regret the tent, nor the price (got it for just over $100).

Verified Buyer

Reviewed by Youngsum from Beijing on Monday, June 30, 2014

Just got the package today. Expecting a camping trip to test its versatility and stability. Good quality and price. The only issue shopping here is the shipping& tax which can cost me dearly.

Verified Buyer

Reviewed by Jess from Korea on Saturday, May 10, 2014

Very good

Verified Buyer

Reviewed by Ole dude from texas on Friday, May 2, 2014

The tent is a good compromise between low cost and versatility. It has held up well in wind and light rain. I have not been in a significant downpour but the light rains have been no problem at all and it is stable in wind. Came with footprint and gear loft so even a better deal. Very well vented and since it will be used in very hot weather that is a major asset. I am happy with the tent use it solo as most two person tents are really one and a half person.
It is easy in and out has outside storage with the fly just a well designed tent.

Verified Buyer

Reviewed by kangsai from seoul, korea on Monday, April 14, 2014

This tent old model but wide width size.
godd space.