Sierra Designs Reviews

Popular Sierra Designs Products

Popular Sierra Designs Searches
For more than 40 years, Sierra Designs has been at the forefront of the outdoor apparel and equipment industry. Just pick up the latest "Gear Guide" edition of Outside or Backpacker magazine, and you're certain to find this company racking up awards. Sierra Designs tents are class-leading examples of the company's commitment to outdoor adventure, and Sierra Designs sleeping bags represent a clear focus on ground-breaking technology and top-flight performance. With a diverse line of technical apparel for men and women, Sierra Designs continues to innovate clothing and outerwear that is built to
... Learn more about Sierra Designs
excel in demanding conditions and fuel your passion for the outdoors. ... Less
About the Sierra Designs Brand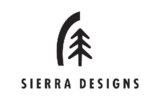 Reviewed by Mikeywo from Connecticut on Saturday, August 13, 2016

I really wanted to like this jacket, it looked good, and felt good on. It was lighter weight than the other Gore-Tex jacket I normally wear. But now, less than a year after purchase, the waterproof coating is coming off in a BIG way. Wonder if it is too late to return?

Verified Buyer

Reviewed by Dan from Minnesota on Wednesday, June 22, 2016

Great fit and value.

Verified Buyer

Reviewed by mral from colorado on Monday, June 20, 2016

I have an old sierra design sleeping bag and love it but this has stole the show. I have used it several times and have to say that if you sleep on your belly this is the best sleeping bag. My wife agrees with me except that the only 2 colors sierra trading post was red and she would have preferred purple or something across those lines. I have recommended this bag to lots of fellow car campers.

Verified Buyer

Reviewed by Forest Gump from Montana on Thursday, June 16, 2016

What I was looking for: basic, lightweight ran protection. They have mesh zippered pockets on each side. They pack to a 5" long, 2" diameter roll. They are wide enough to slide over a pair of shoes to get them on quickly when you need to, without being overly baggy.

Verified Buyer

Reviewed by Hollis from Cleveland, OH on Friday, June 10, 2016

I first took this jacket out in a thunderstorm (although the rain was pretty light at that point) and it worked well! It kept the wind and rain out, although I have yet to see how it will hold up in a downpour. It does get a little stuffy/humid while wearing it, but that is to be expected. The adjustable hood is a really nice feature, as well. And I love the color I got!

Verified Buyer

Reviewed by Biker Girl from Redding on Thursday, April 21, 2016

I wasn't sure if the tent came with all the poles, but it does. You can leave the front poles and use your trekking poles to save weight. It has a different design and it took me a little time to figure it out. It's not a free standing tent which could be a problem it you take it in area's where you're not able to use the stakes. This does make it a little more time consuming to set up. Overall, it seems to be well made. I haven't used it yet, but it I think it wil be durable.

Reviewed by Surly from Oregon on Friday, April 15, 2016

I'd rather have a stuff sack than the storage sack.
Loft seems ok. Rating is more in the 30f range. I pack a down jacket anyway but I may still return it.

Reviewed by Bean from PA on Wednesday, April 13, 2016

Quality was much better than expected. Fit as described...purchased size adult medium for 5' 10" 130lb youth to wear over pants for international travel during rainy season. Packs in a small bag that takes up minimal space. Can't speak to long-term durability, but since this was purchased on sale, the value was already there.

Verified Buyer

Reviewed by Me from California on Tuesday, March 22, 2016

Haven't used it yet, but it was advertised as a three season bag. Tags on the bag clearly say two season. Will need to make a wool liner.

Verified Buyer

Reviewed by Chad from Idaho on Monday, March 14, 2016

I'm 6'3", 220lbs. I tried it last night wearing a single layer of thermals in 30 degree weather. I got a little too cold for comfort around my hips and belly.