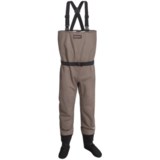 Closeouts. Simms Drift waders are built lightweight and puncture resistant. High-density neoprene stockingfeet and built-in gravel guards provide excellent protection in and out of the water.
Average Rating based on
45
reviews
4.511111
0
5
Verified Buyer

Reviewed by Alex T from Peru on Wednesday, May 20, 2015

Wore them the other day and had no issues. The fit was right on and they were very comfortable. Standard Simms quality and no complaints.

Verified Buyer

Reviewed by Braden the Bucknasty chaser from Washington on Sunday, May 17, 2015

Simms never is a let down in any of their products! They always come through with the highest quality gear.
these waders are perfect fitting size wise. the booties are a tad tight with bulkier socks on however. They allow full range of motion with outerwear on as well. The internal pocket is very nice with a fly patch. All in all for the price and the name brand it was a great product!
Simms is the best!

Reviewed by frank trout from Ca. on Thursday, March 12, 2015

I bought these as my first pair of waders simms makes great waders i bought a pair of Headwater simms gortex waders and use these as my back up I think I will use these in the warmer days as they are thinner than my other waders.

Reviewed by Druciak from Pittsburgh, PA on Sunday, February 15, 2015

The fit is perfect for me. I used them twice now and they have been flawless. I am looking forward to many more days in the water!

Reviewed by avid fishermen from Vancouver, Canada on Tuesday, January 20, 2015

I have purchased these waders 6 months ago, and I must say I am very pleased with them.

I haven't had a single problem with these waders. I have used them a lot (I go fishing at least once a week). I am so happy with them that I use them more than Simms G3 waders that I have since they are lighter. I now use my G3 waders for very cold weather and I use these waders for the rest of my fishing.


Verified Buyer

Reviewed by Joan S from New York on Monday, January 5, 2015

I purchased these waders for my husband for Christmas. What more trusted name than SIMMS? Unfortunately, the neoprene ankle and foot were too small/tight. I had to return the waders. On the positive side, the length (inseam) was great, the material was good, the weight was good also. If my husband's feet were smaller, they would have been the perfect wader.

Verified Buyer

Reviewed by Trouty from Central Coast CA. on Sunday, December 7, 2014

The waders arrived and I could barely believe that they fit perfectly. I have not been up to my arm pits in water yet but lets keep fingers crossed none of the seems leak, you never know what you are going to get when yo buy a new brand. I asked members of the fly club what what brand would they buy. I went for something under $200 this time and will see if I can get a few years out of them. Last brand lasted about 6 months.

Verified Buyer

Reviewed by TJ from NY on Tuesday, November 18, 2014

I purchased the waders in a XXL based on my chest size being 53" and was a bit concerned about the inseam being too long based on my 32" measeurement. Well the waders fit great around the chest with room for multiple layers (one base, one mid, a heavy polyester hoodie and my fleece jacket liner). The waders come up to my chest in the correct position and the length is perfect. There is no material hanging between the thighs like you would think with long or baggy pants. The stocking feet fit nicely as I normally wear an 11 or 11 1/2 depending on the mfg. I had room for two pairs of socks (one thin and one wool). The only area that felt a little tight is in the calfs, again I had on a base a mid and a final thin layer. It was 25 degrees and I was warm and able to move no restriction. The waders kept the water out and kept me dry all day on my first outing.

Verified Buyer

Reviewed by MC from Connecticut on Monday, November 3, 2014

These are all that I expdcted, good fit and very comfortable.

Verified Buyer

Reviewed by MC from Connecticut on Monday, November 3, 2014

These are all that I expdcted, good fit and very comfortable.