Simond Cubik Belay-Rappel Device
Item #5813P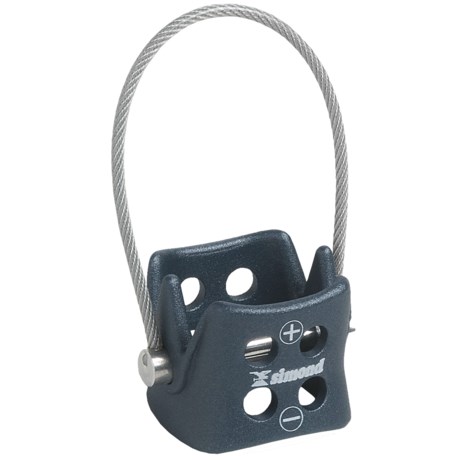 Overview
About Simond Cubik Belay-Rappel Device
Closeouts. The Simond Cubik belay-rappel device can be used in two orientations; the first provides a traditional flat edge, and the second features the addition of friction grooves for increased rope control.
Tubular-style belay device with two friction modes
Minus (-) position is a classic mode for use in the majority of situations
Positive(+) position is a high-friction mode ideal for thin ropes or belaying a leader who's bigger than you
Can be used with 7.5 to 11mm ropes
Ideal for rappelling and belaying
Made in France
Specs
Specs about Simond Cubik Belay-Rappel Device
Material: aircraft aluminum, 1/8" braided steel wire
Weight: 2 oz.
Dimensions: 2x2x1-1/2" (L/W/D)
Made in France
Climbing activities are inherently dangerous; we recommend getting proper instruction on its correct and safe use. For any refund, climbing gear must be returned in its original packaging/coil, have original hangtags and plastic wrapper
Reviews
Do you own this product? Write a review and help others with their buying decisions!
Write a review
3.857142 5 Overall Rating: 3.9 Based on 7 reviews
Most Helpful 5-Star Review
Reviewed by GehrigFan04 from Nashville, TN on Wednesday, May 29, 2013
Excellent belay device for the money. I like it more than my Black Diamond. The friction made almost gives too much grip, but turn it around, and it is a really smooth belay, especially on lead. Highly recommend
Your search for "" returned reviews for Simond-Cubik-Belay-Rappel-Device
Reviewed by Odin Thorfather from Bulgaria, Europe on Wednesday, March 4, 2015

I own my device for about a year. I own Petzl Verso and Petzl Reverso 4 and can make comparison with them. I find it perfect for the money I paid for it. Easy to work with - change the friction mode with just one motion. Great grip with the grooves/notches - even on soft/thin rope. The "normal" (minus) mode is a little bit fast on rappels on soft and thin ropes, but allows faster rappels. The holes on the sides helps for the better ventilation - the device does not generate much heat, but unfortunately I cannot compare the heat production with other devices. When rappelling this device stops better than tubular devices with V grooves on one side only - as those matching the Petzl Verso and Reverso 4 devices on my ropes. On the other hand it has larger rope slots that allow thicker ropes through it unlike the latter. I have rappelled on ropes 6 and 7 mm with the groves-side (plus mode), but I aided the friction with 2 connecting carabiners or accessory carabiner through which I let the brake side of the rope.
I have 2 things to say against the device: 1. the cable is according to me too long - I find it a little clumsy with it and like better devices with shorter ones - here come the Petzl belay/rappel devices; 2. I dislike the paint on the device - I would prefer it anodized or just polished - the paint remained on the rope in the beginning and after a while it was removed by the friction on one side and on the other the connecting carabiner made indents on the painting on the other than the friction side which finally cracked the paint and it deteriorated.

Reviewed by yositune from Alexandria, VA on Friday, May 2, 2014

I didn't find the friction groove side all that responsive and was a little heavy feeling. Nice cheap ATC though.. and it's not designed to wash your windows so what more do you need?

Reviewed by Wendy from Cambridge, MA on Saturday, June 29, 2013

I somewhat regretted this purchase because as a casual indoor climber, I got very comfortable using a single groove ATC. The rope slips too easily in to the Simond Cubik and doesn't stay well in the groove, often slipping into the adjacent one. This means that sometimes it's much harder to pull the rope through. I generally am watching the climber, not the belay device, so it's hard for me to keep track of where the rope is on the belay device.

Reviewed by Mountain guy from Washington, the State on Thursday, June 13, 2013

This is an interesting belay rappel device. Because of the pin in the center that the cable is connected to, it can rotate so that two sides change be chosen against which the rope can be pulled to lock it. One side has four "V" cuts that allow the rope to bind and provide lots of friction. The other side is for lower friction during belay or rappel.



Reviewed by GehrigFan04 from Nashville, TN on Wednesday, May 29, 2013

Excellent belay device for the money. I like it more than my Black Diamond. The friction made almost gives too much grip, but turn it around, and it is a really smooth belay, especially on lead. Highly recommend