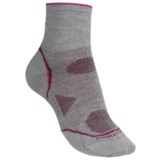 2nds. Smart outdoor enthusiasts know their socks are as important as their shoes, and SmartWool's PhD V2 Outdoor ultralight mini socks deliver top-tier performance with a moisture-wicking, odor-resistant merino wool blend.
Average Rating based on
34
reviews
4.676470
0
5
Verified Buyer

Reviewed by Rockstar from Western Colorade on Thursday, August 18, 2016

When you just need a few more $$ to make the Free Shipping deal, SmartWool socks are a great, dependable go-to. I usually have a nice stash for gifting for this reason alone. These are a nice weight and lovely color combo.

Verified Buyer

Reviewed by willyfern from Bellevue WA on Thursday, September 10, 2015

Smart wool is the best, well maid, nice snug fit around arch so no bunching up like some socks will do & become uncomfortable. Since I have short legs, it is nice to have ankle high socks. I have several of these in many colors to go with my different shoes/outfits jeans/capris. They are warm & wick & keep feet dry.

Verified Buyer

Reviewed by ForestCritter from NorCal on Tuesday, August 18, 2015

I don't think I've ever owned a pair of smartwool socks I didn't like. And I ALWAYS get them here because I can never detect the defect that makes them "2nds." These are great for warmer weather and for slimmer shoes. Wool is great for helping your feet breathe in all kinds of situations - they're not just for heavy hiking boots or cold weather - so it's nice to have these light, thin socks as an option in my sock drawer.

Verified Buyer

Reviewed by RuralGrl from San Francisco on Friday, May 22, 2015

These are very comfortable and are lightweight enough for summer wear. Nice design too, with leaf accent on the cuff. I should have ordered more!

Verified Buyer

Reviewed by Mama Krohn from Amsterdam, NY on Friday, May 1, 2015

These socks are so adorable and so warm and comfy!

Verified Buyer

Reviewed by JB from Maine on Tuesday, April 28, 2015

The sizing is great - I wear 6 1/2 - 7 shoes and the small size sox fit. Texture feels good.

Verified Buyer

Reviewed by Diane from Utah on Wednesday, March 18, 2015

Nice, as usual SmartWool socks. Was little surprised that they are thinner than others I own. In the heat of the summer that will be nice though. Fit great.

Verified Buyer

Reviewed by La Veta yogini from Colorado on Monday, March 16, 2015

Love these socks! the color is very rich and they perform well.

Verified Buyer

Reviewed by Marie from Virginia on Monday, March 9, 2015

This socks are wonderful. They fit well, are light-weight, and look nice.

Verified Buyer

Reviewed by suzicruzi from Vancouver, WA. on Monday, February 9, 2015

I love Smartwool socks! They are my tried and true sock of all time, due to the fact they last forever, and are comfortable in all conditions. I HATE sweaty clammy feet and that's why I switched to SW years ago. I have at least 20 pairs in all styles and colors for different occasions and shoes. About these in particular; I wear a 9 shoe, and I always get a Large no matter what. That way they can go in the dryer if someone forgets to leave them aside, and I can still wear them comfortably. The deal is this; if they are a bit long, they will last much longer as they won't be pulled so tight all the time. They'll be more comfortable in the long run, and you don't get holes in the toes, or heels from being stretched tight. This is tried and true for me. I know if I get a Med, like it says on the size chart, they wear out faster. If you feel they are too big, put them in the dryer for a few minutes. These PhD's are such nice fitting, nice feeling socks!!! They say light weight, but they are so cushy on the soles. A good running, sport, even summer hiking sock. I also use them for casual shoes and oxfords on weekends, and also ("blush", yes I'm one of "those" who wears socks with my sandals sometimes) for my sport sandals when it's chilly in the mornings. If you are camping, they wash out in a small bucket, or stream and are dry in about an hour. Perfect sock in my opinion!