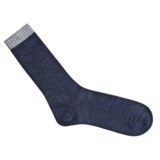 2nds. Unbeatable for comfort, SmartWool Adventurer socks feature thermo-regulating merino wool, for soft, itch-free comfort.
Average Rating based on
89
reviews
4.404494
0
5
Reviewed by Kristy from Ohio on Thursday, September 26, 2013

Can't ask for more than what this provides, these are an alternative dress sock for me. I've been wearing wool/smartwool socks for years and still used cheap cotton dress socks. Well no more of that. Got several different styles/colors of smartwool socks to substitute as dress socks and cannot be happier.

I'm sure I'll wear them occasionally as intended as well, as a cool or warm weather all day outdoor sock.

Reviewed by James from Boise, ID on Wednesday, September 25, 2013

I've been on a hunt for just the right socks for year round wear and I have found them. These socks are not too thick, not too tight, and have just the right amount of cushion for everyday wear, all day long. They come in colors that go with everything I wear, yet are dressy enough for all but the most formal of occasions.

Reviewed by rico from eugene on Friday, September 13, 2013

60% of the price at REI

Reviewed by DekeD26 from Lexington, Ga on Tuesday, September 10, 2013

MartWool makes great products. These socks are very high quality, but I find them not quite heavy enough for my needs.

Reviewed by jd from Tennessee on Monday, September 9, 2013

Warm, soft and great colors. They run a bit small, imo - I wear a size 8 shoe, and the medium fits just a tad tight. Slightly thinner than some of the other smartwool hiking socks I have.

Reviewed by Corvallis-ite from Oregon on Monday, August 5, 2013

I bought a variety of socks for my husband. His old hiking socks had worn through. He likes the crew length and these were comfortable on their first outing. Fit well. Washing inside out is kind of annoying - not sure how many times that will actually happen! Always happy with SmartWool socks.

Reviewed by Matt the Syracuse fan from Virginia on Thursday, April 25, 2013

I bought the orange topped socks and love them. They are perfect for this hikes when it is muggy out and you know you're going to sweat. They had awesome water and moisture wicking ability. I recommend them.

Reviewed by Lulu from Washington on Sunday, April 21, 2013

Good price for value

Reviewed by jmt j from Tahoe on Saturday, April 20, 2013

SmartWool socks are comfortable, wick moisture well and stand up to some serious abuse. There not cheap but luckily at Sierra Trading Post you don't have to pay an arm and a leg.

Reviewed by Mutton as Lamb from Washington State on Friday, April 5, 2013

I've been buying Smartwool socks for years, all kinds. Don't expect these to be super-duper long lasting hiker socks. What makes them good is they don't have that really binding spandex cuff--it's increasingly hard to find Smartwools that don't. These just have several threads of tighter spandex knitted in at the very top edge of the ribbing, which I may try to pick out with a seam ripper. I've worn and washed my pairs twice so far. They are a little thicker and hotter than I expected, gaining a halo of loose merino fluff after washing, even though I drip-dry them--first time that's happened to me with smartwool. I'd say upper midweight, good for clogs. I'll have to retire them until next fall pretty soon, though. You'd roast if you tried to spring-or-summer hike in these things.