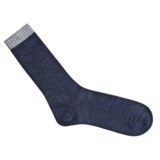 2nds. Unbeatable for comfort, SmartWool Adventurer socks feature thermo-regulating merino wool, for soft, itch-free comfort.
Average Rating based on
89
reviews
4.404494
0
5
Verified Buyer

Reviewed by Phil, da bomb tech from kentucky on Wednesday, November 12, 2014

Warm, thick but not bulky and good cushion

Verified Buyer

Reviewed by Tecnica from East Coast on Monday, June 30, 2014

This would be a better sock if the double cushioning from the ribbed uppers was beneath the foot. Close, but I want a Rohner Trekking clone.

Reviewed by Eric from Oregon on Friday, June 20, 2014

I own many pairs of SmartWool hiking socks, as well as some heathered rib socks, and compared to those these barely grip my legs and are much more prone to fall down to my feet if I'm doing anything remotely stomp-ish. A little disappointed at this, but they'll probably work fine if they're worn with boots that tie around my legs anyway.

Next time I'm getting more hiking socks though.

Verified Buyer

Reviewed by Old Fat Guy in Detroit from Michigan on Saturday, May 17, 2014

As usual, SmartWool doesn't fail to offer quality and value to it's customers. I recommend these socks highly!

Reviewed by CJKarl from CT on Wednesday, December 18, 2013

I have always had good luck with smartwool socks until now. I have literally warn a hole in them after 4 or 5 wearings. The elastic at the ankle is also odd as it has one tight strand at the very top.
Going to ask Sierra if I can get a refund.

Reviewed by S from chicago on Sunday, December 8, 2013

Nice comfortable socks for cold winter days. I bought them for the chicago winter and until now very satisfied, alhtough I haven tested them at below zero degrees...The wollen material is pretty comfortable and fits very well. Keeps the feet warm even with a normal leather shoe. Nice product from smartwool and I highly recomend it to anyone..

Reviewed by GA the Hunter from Covington, KY on Thursday, December 5, 2013

Enough said. Buy some SmartWool socks any time you can. I wear them around the house, running, even to work...

Reviewed by it's raining in ca. from santa fe on Sunday, December 1, 2013

bought them for myself (a woman) since the color was so nice. midweight. good buy.

Reviewed by ed the bargain shopper from West Shokan, New York on Friday, November 29, 2013

very good, price is excellent

Reviewed by EBC Hiker from California on Tuesday, November 26, 2013

He loves it so much.

Reviewed by Chloe2 from West Richland on Monday, November 25, 2013

I have only worn wool socks for past two years and feet have never been as happy.

Reviewed by Nick from Washington State on Thursday, November 21, 2013

I only buy smartwool socks and I only buy them from sierra trading post. These socks are great. I bought 4 pairs. They are very soft and not as tight knit as many of my other SW socks which makes them very comfy for all day wear on cooler days.

Reviewed by Nanci Dvorsky @ Ridge and Valley Charter School from NW New Jersey on Wednesday, November 20, 2013

These socks are great to keep your feet warm but not too hot!
Great weight, not too bulky1
Just throw in the washer and dryer too!


Reviewed by cowboy_yank from Northern Wisconsin on Tuesday, November 19, 2013

I had worn other SW socks and really expected these to be silky soft like the others. While these are not SUPER soft, they are still soft enough to be comfortable. They breathe and insulate exceptionally well for their weight. I use them for work (I walk about 8-10 miles per night) and can go two days easy before washing. No odors, ickyness, or signs of wear. LOVE THEM and would HIGHLY recommend for recreation or work!!

Reviewed by CO from Colorado on Monday, November 18, 2013

Another quality Smart Wool product. Taller than some socks. Good fit. Soft feel. Looser weave than some.

Reviewed by Old Gray Mare from Iowa on Monday, November 18, 2013

I am pleased with this product - love the warmth of SmartWool.

Reviewed by PacNW Mike from PacNW on Friday, November 15, 2013

these are pretty good socks but my size XL are now size M. :(



Reviewed by Paul the Hiker from Virginia on Tuesday, November 12, 2013

I love these socks! They are very warm for their weight. I purchased seven pair so that I can wear them everyday.

Reviewed by PGB sailing from Massachusetts on Monday, November 11, 2013

Bought these for my husband for work. He tried them for the first time today and found them to be very comfortable. He usually wears mid-weight hikers, but said these were nearly the same. Can't beat the price.

Reviewed by Ari from Boston on Sunday, November 10, 2013

Warm, well made, have them on my feet right now!

Reviewed by boot lover from Illinois on Thursday, November 7, 2013

How can you beat this price and as you know the quality of SmartWool is excellent.
I wear them every day in the cool to cold weather

Reviewed by PNW Hunter from Washington on Thursday, November 7, 2013

I'm a big fan of SmartWool socks. Great material...warm and comfortable. These are the first SmartWool socks I've owned that work down off your ankle and leg and bunch up in your boots. Maybe not enough elastic??? I guess these will be for around the house.

Reviewed by cate from colorado on Thursday, November 7, 2013

smartwool are the best sox for every season. they wear very well. might run a bit small, so order up a size.

Reviewed by kr from MA on Wednesday, November 6, 2013

I've been buying only smart wool socks for years now and only on sale. They are great socks with different weights and styles for different purposes. There is nothing like wool.

Reviewed by cd from colorado on Tuesday, November 5, 2013

Not too shabby. Toasty Warm!

Reviewed by Cate from colorado on Thursday, October 31, 2013

These are really fine sox at a really great price. They run a little small, so order up.

Reviewed by KittyB from Iowa on Wednesday, October 30, 2013

Excellent socks. Have used SmartWool for a long time but these are particularly good. Warm without being bulky and they seem as though they will wear well. Have only had them a couple of weeks so ask me again in 6 months!.

Reviewed by Travis from East Tennessee on Sunday, October 27, 2013

These socks are very comfortable, but unfortunately they are not very durable. I love merino wool socks, and in particular SmartWool socks. I probably have 10 pair in my sock drawer currently. I have had two pair of these socks for 8 months now, and they have both already had to be retired due to excessive wear in the heel. I haven't subject these socks to the abuse that I typically do with my hiking socks, as these were only worn to work and around town. My other SmartWool socks like the light hiker, Phd, and toe socks have easily been going for two years now without any sign of deterioration. Highly recommend to not venture out on the trail with these socks, as they will fail on you. I would buy these again, as they are comfortable. However, I would wait and use an additional 35% off coupon, as I don't believe they are worth more than $7/pair.

Reviewed by JGH from Wyoming on Wednesday, October 16, 2013

Merino socks are the way to go ... very comfortable, plenty durable, and they don't stink. Trouble is: most are too expensive. I go to Sierra Trading Post for the great deals in socks .... when I like one style, like this, I buy a bunch of them. Great deal.

Reviewed by garinapperson from Boulder Town, UT on Monday, October 14, 2013

Great product. Warm, cushy. Great price, great value. Thank you Sierra Trading Post!