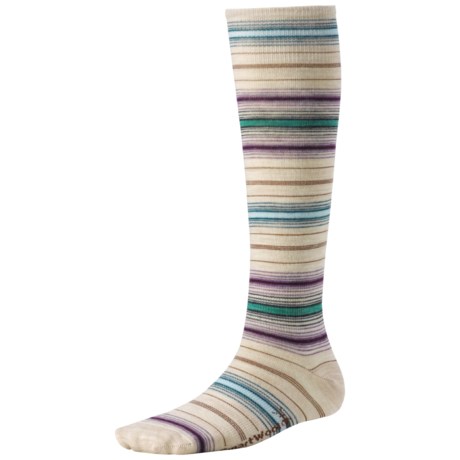 Answer

I don't really think so. I wear a sz 6.5 shoe, mostly to make room for my orthotics (otherwise I'd wear sz 6, sometimes), and the SmartWool sz S has sometimes been too small for my narrow foot. This is mostly true when the foot is padded with either light or med padding, so this unpadded sock style does have a little more room. I just washed them for the first time and haven't worn them again to see how roomy they are, but I'm comfortable with the M. A narrow sz 7 foot **might** be able to wear these in S, and at the wonderful sale prices it could be worth a try, as long as you're forewarned.

Also, I NEVER put these socks in the dryer. They seem to do better with machine washing (I often include them in a gentle load) and hanging to dry.

Answer

SmartWool socks fit fairly snug. I wouldn't order a small for a size 7 shoe; I'd go with a medium.

Answer

The socks are nicely snug, and that probably adds to their warmth. The "M" size is perfect for me. I wear an 8 to 8/12 size shoe.

Answer

It should as long as the foot width is not WIDE. Small should fit the size 5/6/7 regular width foot without a problem.

Answer

i think you would be ok with a small. they have a little stretch to them. good luck!!!