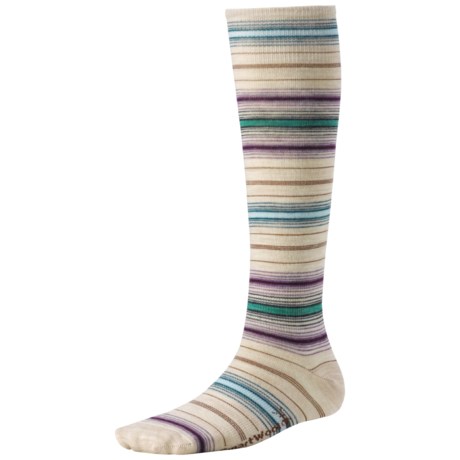 Too tight for my calves and too low
Reviewed by Dory from Arundel on Friday, November 15, 2013
I have many pairs of Smartwool socks, Ladies size small, and I love them.

Unfortunately, I ordered 2 pairs of these socks (different colors) in size small and the foot area fits fine, but the socks barely go around my calves and they only reach to about 5 inches below my knees -- certainly not "over the calf" in my case.

I have other brands' size small knee-high wool socks, such as Falke (which are excellent) and other brands, and I've never had a problem with their fitting my calves or coming up to right below my knee as advertised.

I have not had an issue before with Smartwool socks being too tight/low for my calves, although the other tall Smartwool socks that I have are ski-boot socks which are thicker and more stretchy than these.

My calves are a little bigger than would be proportional for my height, but not monstrously so -- I don't have really big calf muscles or anything. In case it helps a fellow shopper, I'll give the relevant dimensions of my lower leg: from the bottom of my foot to just below my knee, it's 16 inches. The widest part of my calf is 14.5 inches around. I wear size 6.5 or 7 women's shoes.

I'd say that these socks are probably best for women with slender-to-normal size calves, or for petite women who find that typical knee-high socks run a bit tall on them and they end up having to fold them down, etc.