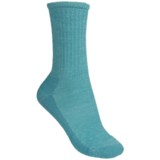 2nds. Easy day trips or extended overnights are more comfortable in the itch-free merino wool and lightweight cushioning of SmartWool's hiking socks.
Average Rating based on
30
reviews
4.600000
0
5
Verified Buyer

Reviewed by Arw from Boston on Wednesday, January 28, 2015

Very comfortable!

Verified Buyer

Reviewed by DDS from MD on Tuesday, January 27, 2015

Hey, if the way to men's heart is through their stomach, the way to a woman heart is keeping their feet warm. My girl loves these.

Verified Buyer

Reviewed by Walkabout from Green Valley on Monday, December 15, 2014

These are extremely comfortable, light weight hiking socks. I wore them in new boots and they were fabulous.

Verified Buyer

Reviewed by Julie12canada from Ohio on Thursday, December 11, 2014

great socks for wearing around the house or in short boots-I support all SmartWool socks

Verified Buyer

Reviewed by Gillian from Wisconsin on Sunday, December 7, 2014

Not a lot more to say; they are everything they are described to be, warm, soft, non-itchy, wick moisture very well, no odor, dry quickly, wear very well. STP is the best; I'm able to own many more pair than I would if I had to pay full price. Can tell their seconds when they are. Thanks so much for making these available!

Verified Buyer

Reviewed by Bebra from Hawaii on Thursday, November 13, 2014

These socks are very cushy and comfortable on the foot, fit very well, and are warm - perfect for my rubber boots in Hawaii. Only complaint is the elasticized top of the cuff is a little narrow and tight on my lower calf, (which at my age may be larger than a younger woman's), but it does stay up well. Nice color!

Verified Buyer

Reviewed by Kaling the Grad Student from Wisconsin on Thursday, November 6, 2014

These are thin enough that I can wear with my oxfords, but still keep my feet as warm and dry as my thicker smart wool socks. Plus, there is a little bit or arch supper, which I like.

Verified Buyer

Reviewed by Rebecca from Boston on Thursday, October 9, 2014

Not only do I love wearing these with hiking boots, but I especially love wearing them with dressy work boots. I look all dressed up, but no one knows that my toesies are soooooooo cozy. Perfect for fall and winter temperatures. Also, these are not too thick, but not too thin.

Verified Buyer

Reviewed by Alaskan Shopper from Alaska on Wednesday, October 1, 2014

Comfortable, do everything Smartwool is supposed to do, look nice, can't find why they are seconds.

Reviewed by beekeeper3 from Hoosier State on Friday, September 26, 2014

Have tried numerous socks, but SmartWool are the best--even when beekeeping in the summer heat. I've worn these in extreme cold and extreme heat, and the comfort is the same--perfect. Love the lightweight cushion in these.

Verified Buyer

Reviewed by Rebecca from Boston on Monday, September 15, 2014

These socks are not too thin, but not too thick - perfect for fall weather, especially with boots. I love to wear them with dressy boots (I always order my boots in 1/2 size larger than what I normally take). Also great for hiking or just every day wear. Very soft and comfortable, but the fabric prevents your foot from slipping around inside your shoe, also preventing blisters. Keeps your feet nice and dry as well.

Verified Buyer

Reviewed by JKS from Idaho on Monday, July 28, 2014

I wear Smart Wool socks exclusively. Never have sweaty feet. Love the feel of them. They wear well,too.

Verified Buyer

Reviewed by Kate from Denver on Thursday, July 24, 2014

They are very comfortable and well made socks! Perfect for hiking!

Reviewed by Feral cat woman from Portland on Tuesday, March 4, 2014

These are excellent socks for hiking in cold climates. Nothing fancy nor extraordinary. Thicker than I had expected...however, quite durable.

Reviewed by Ranger Tom from Lake Geneva on Monday, February 24, 2014

Excellent quality as ususal.

Reviewed by PA in sunny FL from FL on Tuesday, February 18, 2014

Great socks and so comfortable. You may not think I would need wool socks in sunny FL, but we have some cool mornings and why not wrap your feet in the best available. These socks are so comfortable, fit well, wash nicely and love the sunny color for my FL adventures. Thanks for making them available. When I visit up North, you can be sure they will be packed to go with me.

Reviewed by Abby from Indiana on Wednesday, January 29, 2014

Very warm! love these socks. Fit well (I wear a size 7.5 shoe). Very comfortable.

Reviewed by Knotamy from Texas on Friday, January 24, 2014

As with most Smartwool products, these socks are made of breathable, comfortable fabric. These, though called "lightweight", are thicker than I expected. I cannot use them in the shoes I had intended, but will still wear them in boots. The band at the top is a little too tight.

Reviewed by WesternPuma from San Francisco CA on Wednesday, January 22, 2014

I couldn't find a production flaw in these socks unless it's the color. The color is much more orange than in the image. The same darkness yet definitely melon or coral or light orange. I bought according to the size chart. The foot portion fit me well. The seam above the toe doesn't bother me, but it's certainly there and in a close fitting shoe could be an issue. There's lost of padding underneath the foot. The sock on top is of moderate thickness, but not the thickest made by Smartwool or others. The ribber portion around the ankle was very snug, of slight thickness, and had no padding to speak of. They stay up well even if you jump up and down. I have slender firm ankles. I feel that if my ankles were larger or less firm these would be uncomfortable.

Reviewed by Sydney from Virginia on Monday, January 13, 2014

I mostly wear these when I sleep - I have not hiked in them yet. They are comfortable and true to size

Reviewed by UpNorth Girl from Northern Wisconsin on Thursday, January 9, 2014

I gave 2 pair of these to my son's girlfriend. She loved them and reports wearing them several times since Christmas. Color and fit were spot on.

Reviewed by Samantha13 from MD on Thursday, January 9, 2014

Best socks ever! My feet are toasty and they fit great with my hiking boots. No discomfort. Not too tight or too bulky. Very nice feel. I am getting another pair! :)

Reviewed by RFreddy from Delaware on Friday, December 27, 2013

Color and fit are as described. They feel soft and comfortable. She says they are warm.

Reviewed by Mickey from Ohio on Thursday, December 26, 2013

If you order the pink color it is really salmon so make sure you do not care about color when you order because it is listed incorrectly

Reviewed by ADKhikermom from Long Lake on Thursday, December 26, 2013

If you have yet to discover Smart Wool, go for it. Their sox are the best. I always hope I have a clean pair in the drawer! I do not put them in the dryer. I just think they maintain their soft stretchiness better when I let them air dry. My preference only. They dry well in the dryer too.

Reviewed by Julie in Georgia from Georgia on Friday, December 20, 2013

Can't say enough about Smart Wool Socks. I love wearing these around the house, in boots and even to bed on cold,
winter nights. They are my favorite!!! Thank you Sierra Trading Post for carrying these socks at affordable prices.
My feet thank you too!

Reviewed by pasta luvver from madtown on Tuesday, December 17, 2013

color not as bright as in photo, but nice

Reviewed by jess632 from New York, NY on Tuesday, December 17, 2013

I love SmartWool socks and these are no exception. Perfect for wearing with boots in during snowy and rainy days hiking around NYC!

Reviewed by Likes Comfy Feet from Philadelphia on Wednesday, December 11, 2013

Love the feel!

Reviewed by Ellen from California on Tuesday, December 3, 2013

I love how warm and how easily these can be laundered.