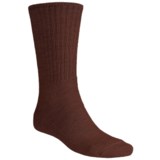 2nds. Discover the soft, itch-free pleasure of merino wool SmartWool hiking socks, which offer quick-drying warmth in winter and cool comfort in summer.
Average Rating based on
854
reviews
4.627634
0
5
Verified Buyer

Reviewed by Scntwrk from KS on Saturday, August 20, 2016

I'll wear these on winter days as they are a shade thicker than my go to PhD Smartwools.

Verified Buyer

Reviewed by WindDancer from Indiana on Wednesday, August 10, 2016

I have heard good things about SmartWool socks; however, this is the first time I have purchased them. They are thick, soft, well constructed and look good. Sierra Trading Post offered them at such a great price that I bought a dozen. I was concerned at first about how they might feel. I am pleased to report that the wool is soft and comfortable to wear, and it breaths well when I spend all day in my hiking boots.

Verified Buyer

Reviewed by john from western MT on Tuesday, August 9, 2016

Sold as seconds by STP, neither I nor my spouse could find any imperfections in the dozen pair we ordered. The same high SmartWool Hiking sock quality and a good price.

Verified Buyer

Reviewed by Kate from Minnesota on Tuesday, June 28, 2016

Love SmartWool and these socks don't let me down. Great for everyday, yet heavy enough to wear with boots. Bought them for my husband and he wears them nearly everyday. They do shrivel smaller a bit when washed so you may want to order up if possible.

Verified Buyer

Reviewed by happy feet from Arlington Texas on Saturday, June 25, 2016

I really like these socks. not hot even here in Texas. I will be ordering more of them. The heavy weight this time.
they keep the sweat wicked away and my feet comfortable.

Verified Buyer

Reviewed by Ellen from MIssouri on Friday, June 3, 2016

hiking sock.

Verified Buyer

Reviewed by NC Ski Guy from Wisconsin on Thursday, May 19, 2016

These socks seem to be between midweight and heavyweight socks. They fit well and are quite comfortable. I always think I'm going to have a good day when I put them on in the morning.

I machine wash them and hang them out to dry,

Verified Buyer

Reviewed by Ryan from Colorado on Saturday, January 31, 2015

great breathability, comfortable, dont bunch up in my boots. perfect for cooler/cold weather that is not sub zero

Verified Buyer

Reviewed by BigredinLA from Manhattan Beach, CA on Saturday, December 27, 2014

I have about 7 pairs of these socks and love everyone of them.

Verified Buyer

Reviewed by DougS14850 from Ithaca, NY on Wednesday, December 17, 2014

These are very comfortable and long lasting socks. I must have gone through 10 or more pairs over the years.

Verified Buyer

Reviewed by Chris from Pennsylvania on Monday, December 15, 2014

Although this product hasn't been given as a gift yet, I know it will be appreciated. My family loves Smartwool socks and they are always a given as a Christmas gift. They are warm and hold up for years! Love our Smartwool!


Verified Buyer

Reviewed by Chilly feet from Georgia on Friday, December 12, 2014

I bought these as a Christmas present for my father. The color is a little dull, but my whole family loves SmartWool socks for their warmth and design. I'm sure they will be well worn!

Verified Buyer

Reviewed by Brian from Chicago (Evanston) on Saturday, December 6, 2014

Yeah, what do you say about socks other than these are some of the best socks I've had. They are very warm, they have a nice cushion to them, they wash well, look good, have good colors to choose from, and Sierra Trading Post has the best prices by far. In fact if it wasn't for them and the coupons they offer, I probably wouldn't have ordered socks like these because I wouldn't be able to justify paying 20-25 bucks for a pair of socks. But with the coupons and the sales, a guy like me can order several pairs at 7-8 dollars a pair and feel good about it and have socks that work amazing in all kinds of boots (l never knew how much of a difference the right socks can make for certain kinds of hiking, work, or winter boots - in comfort levels) and feel good about it. I wait tables in a restaurant, take public transportation, and if it's not too cold, I can put a pair of these on in my work shoes and not have to lug them around in a bag while wearing my insulated boots on the way. It's nice to have options like this. Sierra Trading Post is the Best.

Verified Buyer

Reviewed by Adk Mark from Tupper Lake on Wednesday, December 3, 2014

Very soft and warm

Verified Buyer

Reviewed by Kathy from Chicagoland from Illinois on Tuesday, December 2, 2014

These socks are wonderful! They help keep my feet warm in the house and during my daily walks with my dog. I'll also be wearing them when I cross country ski this winter!

Verified Buyer

Reviewed by bobby w from Mass on Tuesday, December 2, 2014

Great fit, very durable

Verified Buyer

Reviewed by Hikes the hills from WA on Monday, November 24, 2014

Nice thick wool sock. Washed well in front load machine. I line -dried them and they did not shrink.

Verified Buyer

Reviewed by kevin from ny on Monday, November 24, 2014

good stuff

Verified Buyer

Reviewed by Dan W from SF Bay Area on Thursday, October 30, 2014

I've been wearing Smartwool Socks for years. They are the best!

Verified Buyer

Reviewed by Vickie the yogini from Idaho on Tuesday, October 28, 2014

I feel like I'm hiking at my job on the flight line. These socks are perfect for me. Not too thick, but just thick enough to cushion and keep me warm.

Verified Buyer

Reviewed by bird hunter from Idaho on Monday, October 20, 2014

They're just what I need for long camping/hiking/fishing trip. I wear SmartWool socks almost every day; they're wonderful.

Verified Buyer

Reviewed by John H from Minnesota on Monday, October 20, 2014

True to size. Very comfortable. I Love the Smartwool brand. I wear these for everyday socks.

Verified Buyer

Reviewed by woodguy from pennsylvania on Friday, October 17, 2014

These are extremely well made socks. I prefer merino wool and smartwool is by far the best that I've tried. These aren't too bulky but they still offer a nice cushion for those of us that are on our feet a lot.

Verified Buyer

Reviewed by james from Delaware on Friday, October 17, 2014

I have had smart wool hiking socks before, but these socks seem to be loose fitting and the elastic in them doesn't seem to be the same.I have not had them that long. Hope there wear like my previous SmartWool hiking socks.

Reviewed by JH from Michigan on Thursday, May 1, 2014

These are great socks. I got enough for everyday of the week and am glad I did as replacements for my cotton pairs. All of mine had a few errant white stitches in varying locations, but I wouldn't care as no one would see those stitches anyways. At STP prices these are awesome.

My shoe size is US 12 and the XL fit great.

Reviewed by Beth W from western WA on Saturday, February 22, 2014

just the right thickness; comfortable, and wash easily on trips

Reviewed by Michael from North Carolina on Thursday, February 13, 2014

Really comfortable to wear with boots. Very soft.

Reviewed by PA Senior from Pennsylvania on Thursday, February 6, 2014

These socks are as shown and described. They are listed as seconds, but I am unable to see any defects. The flaws must be of a very minimal cosmetic nature that easily escapes detection. My foot size is a U.S. 10 (men's) and I bought a medium pair. They are a bit longish in the foot but otherwise fit well and are comfortable and warm in the cold. The Merino wool, does not itch. There is a terrycloth weave inside the socks, giving them a nice loft and cushioning. They wick well and resist odor.

Reviewed by Kath from Brooklyn, NY on Thursday, February 6, 2014

Seem fine even if they are seconds. toasty toes.

Reviewed by bugle boy from colorado on Wednesday, February 5, 2014

comfortable. fit a slightly narrow man's foot like a glove. breathe well. Color is bright, but I wear boots most of the time, so who cares. Gives my wife something to tease me about....