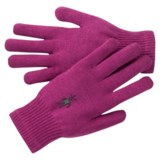 Closeouts. Worn alone or inside a pair of glove shells, SmartWool's liner gloves get right to work to keep hands extra-warm with itch-free, naturally temperature-regulating merino wool.
Average Rating based on
98
reviews
4.510204
0
5
Verified Buyer

Reviewed by owlgrabber from OREGON on Monday, September 7, 2015

As a person who chills easily and loses at least one pair of gloves per winter, I am so glad to get these Smartwool liners at a sweet price. I wear them as light gloves in our milder winters. Bought two pair, one for a gift for a sporting person who will probably use them as liners.

Verified Buyer

Reviewed by Elk HUnter from Tennessee on Monday, September 7, 2015

I have spent hundreds of dollars trying to keep my hands warm while Elk Hunting high in the Colorado mountains. Last year one of our friends had a pair of these glove liners and his hands stayed warm, even when his gloves got wet. I read all the reviews and went to the company's web site and decided to purchase a pair to see if they work for me. They are wool so they should work. If they don't work I will update this review. I also bought a pair of inexpensive waterproof gloves to see if those work better than the very expensive gloves I have been using.

Reviewed by Sarah Koznek from Victor, ID on Wednesday, April 10, 2013

I have three pairs of these and a fourth pair I bought for my boyfriend. They are great for chilly walks in the evening, and really nice for Fall and Spring trail running.

I have size small for me, 5'3" female. And a size large for my boyfriend, 5'10" male. They fit great as a stand alone glove or also as a glove liner. I wear a pair under my mittens while snowboarding. I've also used the extensively while xc skiing just by themselves. I have a pair in grey, black and the plum color. They're awesome little gloves, great to keep in a purse or pocket.

Reviewed by Alex from Russia Federation on Monday, March 18, 2013

Thin. Warm. Looks good.

Reviewed by Holly from Michigan on Monday, March 18, 2013

These are perfect for added warmth to my leather mittens I use for barn chores. They are thin and do not add bulk. Love the SmartWool products!

Reviewed by Dayana from Philadelphia on Friday, March 15, 2013

This are great gloves! I've used them alone around the city and under my waterproof gloves out hiking. They are warm but not too much so your hands are never sweaty. Cute little logo too ;-)

Reviewed by Lisa from Saratoga Springs, NY on Wednesday, March 13, 2013

Adds extra warmth for those cold ski days. I have small hands and probably could've used the XS for less length in fingers, but they are plenty snug around the wrist. Great value!

Reviewed by JoeRev from Powder Springs, GA on Wednesday, March 13, 2013

Great product and true fit - purchased for a recent ski trip to Copper Mt, but only used them for walking around, not as liners inside of my ski gloves because the weather was actually too warm - great skiing though!

Reviewed by Biker girl from Washington on Tuesday, March 12, 2013

As usual with Smart Wool these are good quality gloves. I use them for liners for my downhill ski gloves and they are perfect. They fit smoothly under o heavier gloves.

Reviewed by My Guy's Wife from West Michigan on Tuesday, March 12, 2013

Love these! They are thicker and warmer than my very thin wool glove liners (which I use a lot). I think they'll get lots of use, both layered inside of other gloves or mittens, or worn on their own. Well made, good quality, warm!

Reviewed by jnh from southern Oregon on Monday, March 11, 2013

These look perfect to wear under my deerskin work gloves next winter at the barn.

Reviewed by JR the photographer from Ossipee, NH on Friday, March 8, 2013

These are great gloves. My hands are generally too warm in real winter-type gloves and I love these for their light weight and versatility: wearing alone or as a liner. They're pretty stretchy so I didn't need a large size, as I normally would in a strictly womens sized glove. I just love Smartwool anything!

Reviewed by Liz loves gloves from Minnesota on Friday, March 8, 2013

These run a little big. Ordered them in medium and had to exchange for a small to get a proply-fitting glove. Otherwise, they're warm, thin and perfect as liner gloves or just as thinner gloves for not-so-cold days. All around great!

Reviewed by Chicago reviewer from Chicago on Friday, March 8, 2013

Good quality glove liners. Perfect for wearing under my Columbia mittens w Omni-tech heating. Keeps my hands warm for hours in 20-30 degree weather.

Reviewed by Brunhilda from Colorado on Friday, March 8, 2013

Very comfortable, dry and warm, but snag easy and tear.

Reviewed by Whiffer from Northern Virginia on Thursday, March 7, 2013

I got these a few days before a 10 mile hike in the 30s with snow flurries. They were perfect. I wore a pair of waterproof shell gloves over them while waiting to leave and then wore these the rest of the time and only got cold while eating lunch.

Reviewed by Happy Hiker from North Carolina on Thursday, March 7, 2013

They're perfect as liner gloves, but are too thin to be worn alone unless it's just slightly chilly vs. really cold.

Reviewed by jschinito from los angeles on Wednesday, March 6, 2013

great soft feel, warm but breathable, sturdier than typical cheap marathon expo gloves; great deal at stp so bought extra pair

Reviewed by eva from colorado on Tuesday, March 5, 2013

I love these gloves for running and walking my dog in the morning.

Reviewed by sarah from seattle on Sunday, March 3, 2013

This is the first smartwool product I have been disappointed with. Very thin, poor quality, not cuddly soft. I have better gloves I got for $2 from the local drug store!

Reviewed by Nick from oregon on Sunday, March 3, 2013

Great fit, stretchy knit allows for smaller fize to fit larger hand well. Warm liners for cold skiing days

Reviewed by James Migs from USA on Saturday, March 2, 2013

nice gloves, good liners

Reviewed by Julie Upstate from Upstate New York on Saturday, March 2, 2013

Very practical gloves. Excellent liners for everyday or sports. Price is great for the product.

Reviewed by Chilly from Chicago on Friday, March 1, 2013

i buy gloves like these to wear by themselves, so my "issues" might be unfair. they aren't knit that tightly, so they aren't that warm when it's windy. and (as gloves), they wear out fairly quickly. but i bought a second pair because there aren't many products like this.

the large size fits neatly inside my medium Gordini Lavawool gloves, so i have a nice glove "system" that's warm enough for Chicago. on my first pair, the SmartWool logo was printed on cheap vinyl ovals glued quite securely to the gloves. now, it's screened onto the fabric ... much nicer and you can make it barely noticeable by coloring it with black ink.

not as nice as SmartWool socks, but that's not saying much. very solid product.

Reviewed by Colorado011 from Colorado on Friday, March 1, 2013

Great liners. They fit well with my gloves and they kept my hands much warmer while skiing.

Reviewed by Skylar from New York on Friday, March 1, 2013

My hand were toasty warm. Go for it!

Reviewed by La Veta yogini from Colorado on Friday, March 1, 2013

Haven't washed these yet. As a woman with "big hands" the small fit fine. If they do shrink, I have plenty of girlfriends that would take these with a grin.

Verified Buyer

Reviewed by Artuality from Michigan on Wednesday, February 27, 2013

I can't imagine life without these now, they are essential for cold weather. Quality surpassed expectations. I wear a womans medium and the small fit perfectly. I love Smartwool for washing and durability.

Verified Buyer

Reviewed by Janet from Alaska on Wednesday, February 27, 2013

warmth

Verified Buyer

Reviewed by The Dude from CT on Wednesday, February 27, 2013

Used as casual wear and inner lining with my other gloves for shoveling.