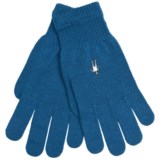 Closeouts. Made of naturally temperature regulating, moisture-wicking merino wool, SmartWool liner gloves have a touch of stretch for fit.
Average Rating based on
99
reviews
4.303030
0
5
Verified Buyer

Reviewed by Amanda from Massachusetts on Monday, December 22, 2014

I purchased this gloves and i'm very happy with the, They fit my small hands and the price was fantastic!

Verified Buyer

Reviewed by Diane, enjoys comfort from NY on Saturday, December 13, 2014

These are just what I was looking for, light additional warmth for some light cashmere gloves. The fit is perfect. I have small hands & the liners fill the extra space of the gloves.

Verified Buyer

Reviewed by Sharon the Angus Cattle Producer from South Carolina on Tuesday, December 9, 2014

I love these - do not stop carrying them!

Verified Buyer

Reviewed by T.Stewart from South Dakota on Monday, December 8, 2014

I bought these to go under my Cabella's wind blocking gloves, they fit nicely, and are warm! We have very cold windy weather here.

Verified Buyer

Reviewed by dmarie from North Dallas on Wednesday, December 3, 2014

I actually use them as gloves and have a similar pair over ten years old!
The reason for a second, I have a slight hole in the thumb area.
A second pair is great as I keep misplacing the first.


Verified Buyer

Reviewed by CrimpinJen from Washington on Monday, December 1, 2014

These gloves are great, they work with my smart phone and keep my hands warm. I just wish they were a little longer to stay beneath my jacket and keep my wrists warm while biking.

Reviewed by Alyse from SLC, Utah on Wednesday, November 12, 2014

Love smartwool very warm and soft.

Reviewed by Irene from California on Monday, September 1, 2014

I got these because my hands are always cold. The gloves fit well (I usually wear size 6-6.5 gloves) but they really don't stand up to regular wear and tear: I've had to sew the fingertips shut on pretty much all fingers my now over the past year or two.

Verified Buyer

Reviewed by Anna from Sweden on Tuesday, April 29, 2014

My 12-year old likes the color, fit and feel.
Worked well as stand-in soccer goalie gloves one practice session. (but would not hold up for that in the long run, not what they're made for)


Reviewed by WMD Mtn Mama from W on Monday, March 31, 2014

I am small, usually considered tiny. These gloves will work, but not a good fit. Will not stretch all the way down between my fingers. Might send them back, not sure.

Reviewed by Terry from Seattle on Monday, March 24, 2014

Good design and fit well.

Reviewed by Diana from New York on Thursday, March 13, 2014

Vibrant green color makes wearing these gloves fun! I ordered the XS which fits just perfect. I have small hands and usually the XS/S gloves I try on are still loose on me.

Reviewed by SweetPea36 from NE Ohio on Tuesday, March 11, 2014

I ordered an extra-small because I have small hands. They fit the palm of my hand but the fingers were too short. I returned these gloves for the next size up. I'm still waiting on them.

Reviewed by Sunlover from New London, MN on Friday, March 7, 2014

This is my second pair of SmartWool Liner Gloves and I love them! They are thin enough for use under my heavy mittens or gloves when it's really cold out, which is most of the time here in MN! They don't itch at all, and last a really long time. I have washed them by hand with laundry detergent, then laid them flat to dry. They retained their shape and didn't shrink in the least.
These are a true high quality product, and I am thankful that STP had my size. I would definitely recommend these.

Reviewed by M in the little house on the hill from New Hampshire on Wednesday, March 5, 2014

I have small hands and finding warm gloves that fit is like playing Russian roulette. Add that there seems to be a belief among glove manufacturers that women with small hands who live in cold climates don't haul wood or do other chores that require tough as well as warm gloves, and February inevitably finds me with cold hands. Rather than buy yet another pair of gloves obviously designed for holding nothing more than a ski pole, dog leash, or smart phone, I decided to try adding a lining to the weather- and wood-beaten remains of my current pair. I honestly didn't hold out much hope for this approach, but finding a pair of women's small warm work gloves in February is comparable to finding the answer to world peace. Besides, the liners weren't that expensive compared to how much I'd spent for the gloves I was wearing that weren't that warm. Much to my delight, these liners have been a game changer for me. Not only do I wear them inside my work gloves, but also the pair I wear when I run errands. In addition to being warm, the slight stretch and smooth seams ensure a perfect fit. Admittedly they are of a color I normally wouldn't be caught dead in but then who but the most uncouth person would comment on the color of an old lady's glove liners? So if you have small hands, they get cold, and you've always been thinking gloves but not liners, these are a perfect introduction to an accessory that I now consider a must-have in my winter wardrobe.

Reviewed by Gardener from Pennsylvania on Tuesday, February 25, 2014

These liners are outstanding. I have several pairs. They are perfect as liners and also as lightweight gloves on a cool day.

Reviewed by spirit33 from Colorado on Saturday, February 22, 2014

SmartWool products are rarely disappointing. These liner gloves have a great fit - wrists not too tight and ample room in the fingers. I actually bought these to wear to bed in the winter when I put hand cream on. They are perfect. Warm, but they breath well, so my hands don't get too warm, and they don't wear out quickly like the cotton or cotton/lycra gloves I have bought for the same purpose.

Reviewed by JR from Colorado on Friday, February 21, 2014

Love these gloves! I wear these both alone and as a liner under a heavier, Gortex glove. Perfect when you're active out in cold weather and your hands warm up. I often wear them alone. These gloves are great! My hands have even stayed warm when these gloves got wet! They are true to size. I have very small hands and was worried that the XS might be too small, but ordered based on the sizing information and they fit perfectly! Recently lost the first pair I bought back in Nov. Turned out they had fallen on the ground when I was getting out of my car one night. They were covered by snow for days and I probably walked and drove over them for during that time. I couldn't be without them so I oredered another pair. Happily I discovered them when the snow melted and thought they might be a lost cause, but after a good washing and air dry they are good as new! Now I have 2 pair!. Would definitely recommend them to anyone!

Reviewed by frankie from Wisconsin on Tuesday, February 11, 2014

I love these smartwool liners! My hands get cold easily, and with these liners inside my mittens, my hands have stayed toasty!



Reviewed by AC, x/c skier from Oregon on Tuesday, February 4, 2014

The SmartWool liner gloves are a great stand alone glove when running or used with open finger cycling gloves. They also are great in mitts on really cold days.

Reviewed by Wanderlust from Lower Hudson Valley on Tuesday, January 28, 2014

Wife says they fit great, are warm beneath her black leather dress gloves, in which the fingers get cold without the liner gloves, but I guess I goofed on the color, as she says the colored cuffs look weird sticking out. Life's tuff, ain't it.

Reviewed by roper1 from west treasure valley on Friday, January 17, 2014

Excellent fit, comfortable, fit well under other golves, also work well as a light glove by themselves.

Reviewed by Frugal Shopper from North Carolina on Sunday, January 12, 2014

I love the color - and very grateful for the extra small size. You just can't beat SmartWool quality.

Reviewed by Adventure Lover from Ohio on Thursday, January 9, 2014

Fianlly a glove liner that actually keeps your hands a bit warmer! Way better than those cheap ones you can buy locally!

Reviewed by Matt from Colorado on Wednesday, January 8, 2014

Merino wool is comfortable. These gloves are warm, but designed to be thin, so you might not be able to wear them on their own when it's really cold out. They fit nicely under heavier mittens and gloves. Seems like good construction.

Reviewed by Doc Pat from Kansas on Monday, January 6, 2014

I gave a pair to my wife for Christmas. That's what she wanted. She had looked at your catalog and requested them
A Very good product

Reviewed by AdventureNomad from Minnesota on Friday, January 3, 2014

This is a good basic liner. It does run large.

Reviewed by kathy87 from Vermont on Tuesday, December 31, 2013

These gloves are great because a) they are wool; b) they are Smartwool which is a great brand; c) they can be worn alone when it's not so cold and under bigger gloves when it's super cold.

Reviewed by Monday Quilter from Virginia on Sunday, December 29, 2013

I love these gloves. I lost my black ones and couldn't be without them. Therefore I placed an order the next day.

Reviewed by Alaskan Skijor Chic from Fairbanks, Alaska on Saturday, December 28, 2013

These liners are wonderful for doing high intensity outdoor activity in the cold. They really help wick the moisture away. I'm not sure how durable they would be as a glove on their own, I've already had a pair I bought last year start to fray just being used as a liner, but they are getting pretty heavy use. They maintain their shape & size after repeated washings (I always lined dry). This price cannot be beat for Smart Wool brand.