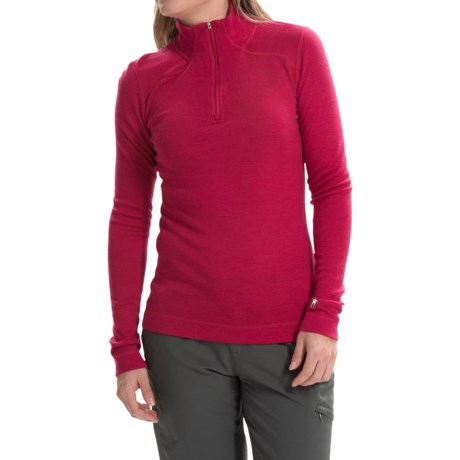 Answer

This top doesn't have those-I fund that the cuffs stay put anyhow.

Answer

Cory, sorry but there's no slit for the thumb in these tops. The sleeves are pretty long, though, and can cover your hand if your arm is of normal length. Also, as usual for SmartWool, the fabric is very nice; and the sizing seems true -- I'm an XS and the fit is snug enough, whereas brands like Terramar and Icebreaker I found too big in the same size range. Only thing I'd change is the small zipper garage at the neck opening-- there should be a little fabric tab to shield the zipper from the neck.

Answer

I bought two of these because the colors/pattern are gorgeous. They both do not have thumb holes.

I checked my older smart wool sweaters, two of them do have thumb holes. You may have to look a bit longer for styles with thumb holes.

Good luck.

Answer

This shirt has regular standard sleeves, no thumbhole.

Answer

Yes indeed and they are top stitched so they're smooth and don't have a gap!

The fit is comfortable and the warmth is over the top! A 5 star product! I have four of these.

Answer

My smartwool do not have the thumb slit but some of my patagonia things do.

Answer

No but the sleeves are nice and long.

Answer

These do not have the thumb hole and hand cuff.

Answer

This particular style does not have a slit for the thumb but the sleeves are long enough that it can reach down to the first knuckle of your thumb. I wish it had thumb slits. I haven't seen it in smartwool products. This is a very comfy and cozy top, colors are gorgeous and to me it's more than a base layer.