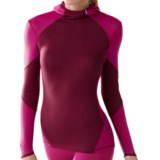 Closeouts. From SmartWool's NTS (Next to Skin) collection, the SmartWool NTS Light hoodie features the undeniably soft, performance-ready power of pure merino wool with a lightweight, single-layer design that lends just enough warmth for cozy cold-weather layering.
Average Rating based on
7
reviews
2.857142
0
5
Verified Buyer

Reviewed by Danny_Stormborn from Southern California on Wednesday, January 13, 2016

Okay I've just tested them out around town (outside). This thing is amazing. I mean I actually got hot at one point! It seems decently durable but I haven't gone climbing in it yet. I think it will hold up decently - as much as any clothing does climbing.

Reviewed by Mom2Dogs from Raleigh on Thursday, January 16, 2014

I've written before on several positive Smartwool reviews that Smartwool rarely disappoints. Unfortunately, this was one of those rare times. I was so excited about this purchase as the product's photo appeared to have a more modern cut to it with the zipper on a slant. Unfortunately, the cut around the neck where the zipper connects was layed very awkwardly and the hood was not fitted, but very flimsy. The "light" layer was so light, it didn't provide any level of warmth or protection. The overal fit was not good, snug across chest area and loose in the middle. I have lots of other Smartwool tops that fit me perfectly and are of a much higher quality than this piece. So sad as my excitement turned to disappointment and the product was returned.

Reviewed by CRL from Washington on Wednesday, November 20, 2013

Great fabric, very stretchy in the right places, nice snug hood, but the unprotected backside of the zipper lies coldly against your cheek. I wanted to love it, but for this amount of money, the zipper should be cozy.

Reviewed by Mountain Maiden from Hesperus, Colorado on Sunday, September 8, 2013

Comfy and snuggly for hiking, camping and general casual wear, but it definitely has some issues. I would have given it a higher rating if I had not discovered that one camping/hiking weekend caused the fabric to pill in the back where the bottom of the pack sits. Pilling generally indicates short fibers, ie, low quality wool. I have another color of the same shirt and it did not have that problem. The fabric is a patchwork of smooth and ribbed knit and the smooth part is where it pilled. The color is greener (less minty green) than the picture - not unpleasant, but not what you see here, either.

The neck zips up the raglan shoulder seam and it is just WRONG. If you want to unzip to ventilate, you ventilate your shoulder and if you do not have a shirt on underneath, your bra strap will show. Also, the zipper is difficult to zip over where the neck seam makes the fabric four layers thick. The zipper end is just as uncomfortable poking the side of your chin rather than the center. If they wanted to avoid having a zipper poke your chin, they should have omitted the zipper entirely - this design is more problematic than a center zipper..

The fit is poor - too long and narrow. I am 5'3" with a 34" bust and I ordered a large and it is not loose. This is shirt weight, not outerwear weight. There is a hole in the back of the hood you can pull a ponytail through.

Reviewed by Wooly Gee from Santa Barbara on Tuesday, April 2, 2013

Fabric is much too thin to be of any warmth value. Colors are not nearly as striking as pictured. Zipper does not lay nicely as shown on model; it rolls out and way, revealing the inside seam. Wearer is 5'-1", 125 lbs. Size small fits slightly loose/sloppy. It would be interesting to see if styling looks as good on anyone other than the model in the picture.

Reviewed by Little Dog Mama from Philadelphia on Saturday, March 9, 2013

As described, it _is_ very thin and lightweight, but not as soft as some midweight Smartwool base layer shirts I have purchased and worn as next to skin layers for skiing. Looks exactly like photo. Great, vivid colors and styling. Nice pony tail holes on hood! Offset, side zipper much more comfortable than center zippers.

Reviewed by Mountain Maiden from Hesperus, Colorado on Saturday, March 9, 2013

I have a 34" bust and 38" hips and ordered a large. It fits well - not form fitting - although it is too long in the body. There are no thumb holes. The hood is reasonably sized, but the zipper in the shoulder seam is a poor design - it is difficult to zip and looks odd if you need to unzip to ventilate. It would be better with a center zipper or no zipper at all and a bigger neck opening. The fabric is relatively thin (maybe 150 weight) and very soft.