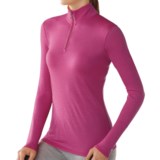 2nds. Performance and versatility come naturally to SmartWool's NTS Microweight T-shirt. Designed for year-round use, this merino wool top functions as a single layer in summer for cool, breathable comfort or as a lightweight base layer in fall and winter.
Average Rating based on
36
reviews
4.305555
0
5
Verified Buyer

Reviewed by Linda from Torrey, Utah on Wednesday, January 13, 2016

I am happy with this baselayer shirt. The color, the warmth, and soft fabric are great. I consistently wear a size small shirt. The sleeves on this smartwool shirt are a bit short. I am keeping it though.

Verified Buyer

Reviewed by jadawoman from WI on Thursday, January 7, 2016

Love the super light weight, which is so difficult to find. Fits true to size.

Verified Buyer

Reviewed by Glad for good gear from Arizona on Tuesday, November 3, 2015

The shirt is true to size and product quality. Very lightweight for outdoor gear.

Verified Buyer

Reviewed by New runner from Houston on Monday, October 12, 2015

As a new runner, I discovered Smartwool as excellent solution for running gear in the hot, humid conditions of Houston. It's important to have something breathable that dries quickly. The stink factor is an added bonus as there is NO stink with natural wool as compared to synthetics. Hands down, Smartwool is the best in technical shirts (I like their other products as well), that can also be used as base layers or worm by themselves for a casual look.

Verified Buyer

Reviewed by detroitbabe from Tabernash, CO on Wednesday, June 10, 2015

Bought this to wear golfing in the early morning. Very lightweight and comfortable even once it warms up here in the mountains. Large fits well with ease, I am 5'10", 160.

Verified Buyer

Reviewed by DJA from Minnesota on Sunday, March 29, 2015

You can't beat merino wool for a baselayer. It is much better than any synthetic, especially for warmth and wicking. Product fits true to size.

Verified Buyer

Reviewed by KY High Pointer from Kentucky on Wednesday, March 18, 2015

Good fit, comfortable fabric, very slightly rough but not uncomfortable. Nice base layer for 50 degrees and lower.

Verified Buyer

Reviewed by royandronnie from Va. Beach, VA on Wednesday, February 18, 2015

It's close-fitting, all right, though true to size! No thumbholes, unfortunately, but a good baselayer; wear alone down to 40º-45º if you're cold-skinned like me. It's very light and the zip neck is good for ventilation.

Verified Buyer

Reviewed by Peggy from Vermont on Wednesday, January 28, 2015

This does add some warmth, but it seems a bit scratchier at the neck than expected or like my other merino T necks. I work outside and am always cold. This layer helps. Washed well.

Verified Buyer

Reviewed by Carol the dogcatcher from Western New York on Monday, December 29, 2014

This is a really soft and comfortable shirt. the sleeves are the right length and the shirt body is long enough to stay tucked in. My only complaint is that the zipper is sticky and really tough to pull down. Maybe as I wear it more it will get easier but its really tough to move now.

Verified Buyer

Reviewed by Good workout shirt from California on Thursday, December 25, 2014

I love all Smartwool products. The quarter-zip is perfect for my cold morning walks. It keeps my neck warm, and after a mile or two, I've had enough of a workout to zip it down. I'm always comfortable in Smartwool.

Verified Buyer

Reviewed by Monday Hiker from Virginia on Thursday, December 25, 2014

Love this style without extra bulk.

Verified Buyer

Reviewed by Sayornis from Indiana on Saturday, December 20, 2014

This shirt is definitely an underlayer as it is thin but as expected by wool - very warm. I have had problems with the zipper sticking since it arrived but usually can get it lined up and unzipped.

Verified Buyer

Reviewed by Montana Ash from Montana on Sunday, December 14, 2014

This lightweight top is perfect--not diaphanously thin and warm enough for moderate days when a heavyweight layer would be overkill. Put a fleece or jacket over this, and you can run or backpack in winter conditions comfortably. Color is just like it appears on the site.

Verified Buyer

Reviewed by Paige from Seattle on Thursday, December 4, 2014

This is the 4th time I've bought this shirt in the past 8 years. Warm and cozy and the perfect weight to wear on top of a tshirt. I tend to live in these during the winter, use them for hiking/outdoor activities, and also take it along when traveling.

Verified Buyer

Reviewed by Content in Colorado from Colorado Rockies on Thursday, November 20, 2014

Perfect fit and feel.

Verified Buyer

Reviewed by Jan from CA on Thursday, November 13, 2014

Just had to buy a second one I love it so much. It's the perfect weight to wear as a second layer hiking, but looks great to wear everyday also. Can be worn multiple days with no odor.

Thank you STP for making this product available at a reasonable cost.

Verified Buyer

Reviewed by DK the hiker... biker... snowshoer from MN on Thursday, October 16, 2014

I wear these as base layers... I wear them as stand alone shirts...They was well... dry well... do not pill...look as nice a season later as they did when they came out of the box. I have three and then another brand...

Verified Buyer

Reviewed by papotage from WA on Tuesday, April 29, 2014

I like it so much that I purchased 2... very light yet keep me warm. You can't go wrong and color is attractive

Verified Buyer

Reviewed by snowsports & stable from upstate ny on Wednesday, April 16, 2014

This Zip T is great solo in springtime or under multiple layers for frigid ski days

Verified Buyer

Reviewed by asob from Maryland on Thursday, April 10, 2014

This base layer is wonderful. I am a very consistent size medium in all my clothing (5'5" athetic build, 145lbs), and the medium fit great. It's form fitting but in a forgivable, comfortable way. It is very light so don't buy with the intention of wearing on it's own in colder environments. I am new to the merino wool trend, but I've yet to be disappointed.

Verified Buyer

Reviewed by Laurie in the San Juan Mtns of CO from Colorado on Tuesday, April 8, 2014

Very pretty color and a nice lightweight longsleeve.
The fit is "Goldilocks" not too loose, not too tight - just right!
I'll get a lot of use with this!

Reviewed by Kay from Francestown, NH on Wednesday, March 26, 2014

I loved this shirt. It is very flattering and very warm. Haven't washed it yet but itlooks like it will wash well. It runs true to size. It is meant to fit slim like a base layer.

Reviewed by Charlotte from Sweden on Tuesday, March 4, 2014

Peony is a lovely colour. Snug fitting. Go up in size if you are just in between sizes and don't want the sleeves to be short.

Reviewed by stvnflt from Sequim, WA on Tuesday, February 18, 2014

This is an extremely light-weight shirt. You'd never know it was wool. It was a little too tight-fitting for me so I'll always wear it as a base layer with a vest or another top over it. It will be perfect for spring and fall hiking.


Reviewed by Always cold from Oregon on Wednesday, January 22, 2014

I'm 5'6" and 118 Ibs. I ordered a size medium and love the fit. For a true base layer it should fit tighter and would have in a size small but I prefer a looser fit. Most of the time I use it for a top layer shirt with a tank underneath. Looks great. I love the warmth without thick bulkyness.

Reviewed by monkeypants from Oregon on Wednesday, January 22, 2014

It is a pretty color and the fit is perfect for my 5'8" 135lb body. the sleeves are plenty long. It is very lightweight, a perfect layering piece.

Reviewed by Miata_Nina from Weymouth, MA on Monday, January 20, 2014

I use this over my Pilates/Yoga tops when I want a little warmth and no bulk.
I plan on using it to run in when the temperatures get colder (less than 10 degrees). I'll wear it under my jacket.
I'm looking forward to the absence of pit odor that I have enjoyed from the short sleeve tank, that I also run in.

I do have a little itchiness going one (for me who cannot wear regular wool at all). I limit how long I wear this. anything over 6 hours and I begin to scratch.

Reviewed by Running Mom of 4 from Charlottesville, VA on Thursday, December 12, 2013

This is so thin I can see through it. Not sure if it would be warm at all...I wanted a wool sweater for its warmth and Smartwool for its warmth+ease of care. Unfortunately this "Microweight" is not gonna cut it.

Reviewed by Staying Warm from Indiana on Monday, December 9, 2013

Every year I look for clothing to keep me warm through the winter months and I finally found it! This is a thin layer but it really does the trick and keeps you warm.