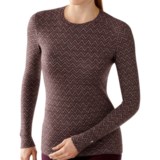 Closeouts. The exceptional versatility of SmartWool's NTS Midweight Pattern base layer top means this naturally thermal- and moisture-regulating piece is perfect for causal and athletic wear alike.
Average Rating based on
95
reviews
4.884210
0
5
Verified Buyer

Reviewed by Katie Cycler from Indiana on Sunday, May 22, 2016

Received product in a timely manner and was exactly what I wanted

Verified Buyer

Reviewed by Sara from Oregon on Friday, May 13, 2016

So comfy in the cold, and comfy when it's warm. I bought THREE. Need I say more?

Verified Buyer

Reviewed by Cricket from Virginia on Tuesday, March 1, 2016

I own several of these tops in various colors and patterns and I purchased them all from Sierra Trading Post. They keep me warm and dry when I'm outside and do not hold odor or wetness like cotton. I highly recommend!

Verified Buyer

Reviewed by Kate from northern Illinois on Thursday, February 18, 2016

Love this shirt. I have a few 150 weight base layers but wanted something less sheer and just a tad warmer. I wear a 14/16 top and am 5'8". This is plenty roomy for me in an XL, but not baggy or bulky. I wanted this for a mid-layer, didn't want it too form fitting and it's perfect. It's just long enough in the torso (mid-hip) and arms. Actually wore this over a size L 150 weight long sleeve base layer with a light winter jacket in 20 degree windy weather for a two hour hike and was warm without overheating.
I live in merino wool base layers and socks in the fall/ winter and can always count on them to keep me warm. And they never smell, even after days of wear. I've pretty much replaced all my cotton and polyester base layers with merino wool. It performs so much better in my opinion.
Ordered the grey stripe, which is 2 shades of grey, not cream, A good neutral color.
Loved this so much I ordered 3 more in L for 1st layer. Fit is form fitting, yet comfortable. No difference in torso or arm length between L and XL. The grey dots is gorgeous. The taupe is actually purple, taupe and white, very pretty. Also ordered a solid, the imperial purple, which is a blue tone purple.
I wash these inside out on delicate with Woolite (no fabric softener) and dry draped over a clothes line. That way, no pilling or shrinkage. Treated right, will last years.
I also own a few pieces of Icebreaker, Terramar and Supernatural base layers, but Smartwool is my favorite.
My only complaint, I wish Smartwool offered tall sizes. I'd like another inch or two in length in the torso.

Verified Buyer

Reviewed by Didee99 from Colorado on Saturday, February 13, 2016

The first one I ordered had one arm shorter than the other which would have driven me crazy since I have long arms. I returned and re-ordered and the 2nd one seems to have the same length sleeves. Soft and comfy - this midweight is nice - has plenty of stretch too.

Verified Buyer

Reviewed by Kat from Iowa on Tuesday, February 2, 2016

Fabulous fit and feel of this substantial wool base layer. Gorgeous color and love the longer body length.

Verified Buyer

Reviewed by catiejo from huntington on Wednesday, January 27, 2016

This top is not just a base layer It attractive and a bit more colorful than the photo .Smart wool is warm ,I have been wearing it for years
Im glad I purchased this one

Verified Buyer

Reviewed by Reba Traveller from Long Beach on Monday, January 25, 2016

I bought this for my upcoming winter trip to Iceland. Merino wool is the only way to go in cold weather.. Cute patterns and very comfortable. I got the xs and fits great. I'm 120lbs and 5'7 usually wear 0-2 or xs/s. Love it!

Verified Buyer

Reviewed by Bees from New York on Thursday, January 21, 2016

This and other similar SmartWool base layers feel a bit too tight on my usual size, especially after washing and taking on some shrinkage. I did follow the washing instructions and expected them to shrink a little due to the wool content, but I wish they were made just a little bigger in order to allow for shrinkage. I usually wear a size 6 or small, 34C and have stronger arms than the model on the picture. However, I can still wear them and the construction is strong.

Verified Buyer

Reviewed by Laura from MA on Wednesday, January 20, 2016

Warm, comfortable, worth the price.

Verified Buyer

Reviewed by Tiffany from WA on Saturday, January 16, 2016

Can't beat smartwool!

Verified Buyer

Reviewed by Kat from Bay Area California on Tuesday, January 12, 2016

When I received this 100% merino wool top, I was amazed at how soft it is and how beautiful is the print! I have many merino wool tops, and this is now one of my favorites. It is a true midweight base layer and is slim fit without being too tight. It runs true to size. I recommend this.

Verified Buyer

Reviewed by Ann the Novice from California on Tuesday, January 12, 2016

I felt the need to stock up since it has gotten quite cold these past few weeks and have heard great things about SmartWool's base layer tops. I was definitely surprised how much I loved it the first time I wore it. It is thick enough that it has a good weight, but not so thick that it doesn't layer well.

I would definitely be interested in getting more of these tops in other colors.

Verified Buyer

Reviewed by Outdoor Gal from Wisconsin on Friday, January 1, 2016

This top fits close without being tight and looks good enough to wear as a sweater. As always, SmartWool is soft and feels good next to my sensitive skin.

Verified Buyer

Reviewed by Funkypuppet from Oregon on Saturday, December 12, 2015

The usual Smartwooll quality. Love the pattern, true to size. I am 5'3 and 112 lbs.and the small fits great. It is not loose at all, so I think the XS is actually for an extra small person this time.

Verified Buyer

Reviewed by CHB from Seattle, WA on Wednesday, December 9, 2015

I was surprised how soft this one is compare to the other smart wool base layer I had. The smart wool base layer undershirt was inch! But this one is very soft and warm! I love it so much so I ordered another one in different color.

Verified Buyer

Reviewed by Judi from MA on Friday, November 13, 2015

The design is cute & flattering; the material feels comfy. The fit is slim, which I find suitable for a base layer. However, it can be used as a solo top, because of its design.

Verified Buyer

Reviewed by Shoe-Niqua from ATL on Tuesday, November 10, 2015

I LOVE these SmartWool Midweight Pattern Base Layer Tops! I have 5 of them. They're super soft, warm & cozy, look fabulous and are very well made. They're cut long in the sleeves and torso so u are always covered. The patterns are stunning and I get many compliments. I actually look forward to winter so I can wear these tops that feel like warm whipped cream! I wear 'em to sleep AND out on the street. I need to get more...5 is not enough!


Verified Buyer

Reviewed by Bobbi from Minnesota on Monday, November 9, 2015

I ordered 5 of these tops they run true to size and they are perfect weight

Verified Buyer

Reviewed by Lauren S. from New York, NY on Tuesday, June 30, 2015

This shirt is a must have for camping/hiking, especially in a climate that varies throughout the day/night. Just completed the four-day Inca Trail in Peru (15-20 degrees during the day, 0-5 degrees at night) and I wore this shirt every day for the whole trip. My sister wore the same shirt all day and all night for the whole trip. It kept us warm at night and comfortable during the day. I wouldn't say it was completely odor-free by the end but considering I wore it four days straight the smelliness was minimal. This is worth the money so don't hesitate!

Verified Buyer

Reviewed by Michigan Traveler from Michigan on Friday, May 22, 2015

I have one of these tops in another color and love it. So I ordered this one. It is soft and light weight . In the winter it is warm and it is also a great weight for spring and fall. It is a favorite to pack on trips. Order one size larger as Smartwool mades its tops smaller than other companies.

Reviewed by CarolynP from the midwest on Monday, April 6, 2015

I indulged myself with a this base layer top last fall, and used it through a cold winter (and now a rather cool spring!). I like the feel, and it definitely keeps me warm, although I recommend a windproof outer layer. It doesn't have a lot of stretch and is definitely a trim fit; I'm 5'4", 140lbs, 36C chest and the Large was right for me. The only improvement would be an inch or two of extra length (and I'm not long through the torso). I've washed it on cold and dried it on medium at least a half dozen times, and it still looks new.

Verified Buyer

Reviewed by tif from Illinois on Friday, December 26, 2014

I absolutely love this top! Its very long which I love because you wont get drafty in the winter. Im 5'3 130 lbs and I bought a medium so I could wear it as a base layer or a regular shirt. The fit is perfect. Not too tight and not too loose just right. Very warm and feels thicker than earlier years versions of the same shirt. I love it and plan on buying more in new colors.

Verified Buyer

Reviewed by MtMama from Denver CO on Saturday, December 20, 2014

This was the second one I've purchased. It's great for layering both in and out-of-doors. The colors are vibrant, yet well-toned. It's well-made and easy-care; true-to-size.



Verified Buyer

Reviewed by OutdoorThorman from Washington on Friday, December 12, 2014

Next to skin for sure (skin tight) so be generous on the sizing if you don't like super snug. Love the warmth and the material is not scratchy at all and is comfy and stretchy. Would buy it again for sure!

Reviewed by PixiePoet from California on Thursday, December 11, 2014

I purchased this thinking it would be warm, but it is too lightweight and I can feel the breeze from my room going through it.
Why buy expensive wool underwear if it doesn't even keep you warm? I'm returning it.

Verified Buyer

Reviewed by Tamara Traveler from California on Tuesday, December 9, 2014

I have bought this top before in other colors and am completely satisfied. These shirts are not thick, and yet provide a tremendous amount of warmth. They are perfect for layering or on their own. This is possibly the most comfortable shirt you will ever own. While traveling I wore this shirt over and over between washes and it does not start smelling after a day or two like my cotton shirts did. Also it dries incredibly quickly, and in a damp climate like Wales in winter these were the only shirts that I could get to dry completely without a dryer.
I am thin, 5'5" and 110 pounds, and small breasted and both the small and the medium sizes are fine for me; so go with your size for snug or go up a size for more room or large breasts.
The only negative with this shirt is the cost. I have purchased all of mine only when on sale of at least 40%, which is hard to find.

Verified Buyer

Reviewed by marink9 from kentfield on Thursday, December 4, 2014

Fits great, regular sizing. Looks very nice as outerlayer. Great price.

Verified Buyer

Reviewed by SunnyGirl from North Carolina on Wednesday, December 3, 2014

I ordered 2 of these, and they are just as nice as I was hoping! The sleeves are a perfect length, the fabric is very soft, and the keep me warm without getting too hot. SmartWool has great products. I ordered a small and the size is true.

Verified Buyer

Reviewed by tkln from Vermont on Tuesday, December 2, 2014

So soft and warm, this shirt rocks. Buy it. That is all you need to know.