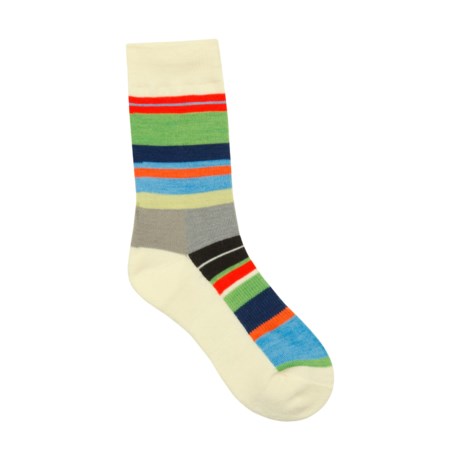 "The sock sizes accommodate the following shoe sizes, in parentheses.|S (4'6½)|M (7'9½)|L (10'12a½)"

I know that M is 9-11 sock size-I wear an 8 and M is perfect. It's the same as socks in stores.

As the owner of many pairs of SmartWools, my experience is that they run large.|With my 7.5-8 size foot, i started with Medium socks, but soon found out that Small fitted me better - with no bulkiness. There have been some exceptions where the sizing seems inconsistent. For exemple with my first 2 pairs of Saturns, the Small was perfect, but the recent third pair of Small were too small. I guess that size inconsistency is to be expected with 2nds.|PS. I wash the socks in cold and hang them to dry. They stay soft and do not shrink at all!

M (medium) shows women's shoe size 7-9 1/2. I wear shoe size 8 to 8 1/2 and found the medium size fine for these socks.

Medium says they fit size 7-9.5 womens (E 38-41, UK 5-7.5). I wear a 9.5 and they fit fine. I think the sizing is fairly accurate. Smartwool socks are all very stretchy, and from my experience don't shrink very much either (not like other wool socks that I've had). These are 76% wool, 21% Nylon, 3% Elastic.

The sizing is related to shoe size (see chart on product page). In my fairly extensive experience with the brand Smartwool sizing runs true.

I have a size 8.5 foot and wear a M Smartwool sock. I have a LOT of these socks and do not find they run small.