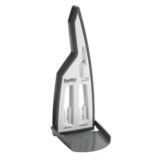 Closeouts. Keep your prized chef knives and kitchen shears razor sharp and ready to chop like a professional with Smith's Knife and Scissor sharpener, featuring a versatile design that quickly and easily sharpens standard and Santoku knives, as well as left- or right-handed scissors.
Average Rating based on
25
reviews
4.240000
0
5
Verified Buyer

Reviewed by Blandman from Missouri on Thursday, October 30, 2014

Keeps the right angle.

Verified Buyer

Reviewed by Eyet from Georgia on Tuesday, October 7, 2014

Good sharpener for someone who knows diddly about sharpening angles

Verified Buyer

Reviewed by FarmHer from Oregon on Tuesday, June 3, 2014

Liked so much I ordered a second one! Didn't know how dull my scissors were until I run a pair though.......WOW! I scoured the house and not a pair of scissors were safe...from blunt tipped kids to sharp point sewing :) along with all my kitchen knifes.

Verified Buyer

Reviewed by Sherry H from McFarland on Monday, May 26, 2014

The Smith,s knife did not work Right but I guess i am stuck with them

Verified Buyer

Reviewed by Screwpin from calif on Wednesday, May 21, 2014

works great sharpened everything in the house

Verified Buyer

Reviewed by vlodko_lviv from Lviv on Friday, April 25, 2014

I bought specifically to sharpen scissors , clippers . I sharpen knives on a stone , so this part I do not really need .

Verified Buyer

Reviewed by 2dogspaddling from Wyoming on Monday, April 21, 2014

I bought the Smith sharpener because of the scissors sharpener and it works very good. I have also sharpened a few knifes and it was quick and easy. I think it will be very handy to have for a quick sharpening.

Reviewed by Maggie in NM from New Mexico on Monday, March 24, 2014

I mainly purchased this product to sharpen scissors. I now have sharp scissors. It does a fine job with knives. I think you can hand-sharpen your knives to be sharper, but overall it does a very good job.

Reviewed by MLKrug from Navarre, FL on Friday, March 21, 2014

I live with a family of hunters...and you know that everyone of them has a very sharp hunting knife, but do you think the would think to keep the household knives or scissors in the same shape. So I thought that I would make she each of these ladies had one of these for themselves...now they just g=have to watch and make sure their men don't get their hands on it!!! Not The greatest on Knives but better than anything else I've had and works really good on knives....

Reviewed by MLKrug from Navarre, FL on Monday, March 10, 2014

Love this thing. Works great. It's funny I live with a family of hunter's and all of their hunting knives are always sharp, but do you think that I have a sharp knife in my house. Problem solved. I went and purchased one of these for every female in the family...not only will she have sharp knives, she can now have sharp scissors too. I thinks I have purchased a total of 10 sets so far. Not to mention that the price was also a great price.!!