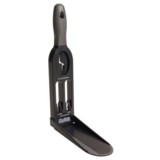 Closeouts. Sharpen up your most-used knives or scissors without worry about scratching up the counters in the process. Smith Abrasives' deluxe knife and scissors sharpener is designed with a flip-down guard that not only protects surfaces from damage while sharpening but also is imprinted with a handy weights and measures chart.
Average Rating based on
39
reviews
4.512820
0
5
Verified Buyer

Reviewed by Zak from Minneapolis on Tuesday, September 15, 2015

This sharpener has turned dull, unusable scissors into precision instruments with practically no effort. Stable and easy to use.

Verified Buyer

Reviewed by Ken from Vermont on Tuesday, September 15, 2015

Tried this little unit out the day I received it and it works even better than anticipated. Sharpened all the knives in the kitchen, even the stainless ones and it only took a few strokes to put an edge on. Also sharpened scissors, but as you only have ceramics, you can't let the scissors get too buggered up before you do them or you have to start with a different abrasive.

Verified Buyer

Reviewed by Chessman from Oceanside ca on Wednesday, September 9, 2015

Great product easy to use take it anywhere . Purchased two home and away

Verified Buyer

Reviewed by djeffords from OH on Tuesday, September 1, 2015

After receiving, went through kitchen sharpening all the knives and scissors. Three passes on coarse and fine for the knives gave a fine edge and was amazed at improvement in the scissors after a few strokes in the device. Big enough to grasp firmly, but light and folds for storage. Nice built in counter top protector as tip of knife pulls out at end of sharpening stroke. Very pleased. Quick, easy, effective. Might not have the cache' of a stone, but does a good job.

Verified Buyer

Reviewed by Girlocelot from Kitchen on Tuesday, August 11, 2015

I like that it folds up and is big enough not to get lost in a drawer. Haven't tried the scissor sharpener but based on performance of the other honers, it looks like it will work very well as the knife sharpeners do. Easy to use and foolproof. I use it for quick sharpening almost every day. It's also light weight and so inexpensive that I wish I'd gotten 3 or 4. Design with counter protection is improvement over other designs out there.

Verified Buyer

Reviewed by mike m from tx on Friday, July 31, 2015

bought two. the scissors sharpener actually works great. the knife sharpener is so flimsy it broke the first time I ran a knife thru it. The second one is in the drawer in case I need to sharpen one knife in the future.

Verified Buyer

Reviewed by Main Ma from Missouri on Thursday, June 25, 2015

Gee, this sharpener is great for the kitchen. Hangs up for instant availability when you need to carve/cut something (which is when you notice how dull your knives/scissors are

Verified Buyer

Reviewed by billylynn from Pennsylvania on Monday, April 6, 2015

I can't believe something this price works. This is going to save me a pile of money on getting scissors sharpened. And has worked really well for my small knives. I am in awe. I thought it was probably money just thrown away but took a chance. So glad I did.

Verified Buyer

Reviewed by Bill Walker from Connecticut on Wednesday, March 25, 2015

This sharpener is easy to use for a knives and scissors, both to bring a dull knife back from the dead and to keep a keen edge on the sharp ones. My only complaint is that it's not indicated for use with serrated edges (straight blades only).

Reviewed by Pumpkins from CA on Tuesday, March 10, 2015

My scissors were hopeless - now they're like new. Haven't tried my knives yet.