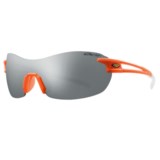 Closeouts. Get high-performance protection and quick interchangeability with Smith Optics' PivLock V90 sunglasses. The PivLock system features an included storage case, microfiber cloth bag and two additional lenses (Ignitor and clear), so you can customize your lenses to the changing light conditions.
Average Rating based on
32
reviews
4.281250
0
5
Verified Buyer

Reviewed by Monika from Michigan on Sunday, June 14, 2015

After I read lot of reviews on these glasses I decided to go with it and don't regret this purchase at all! Absolutely love them! I run, bike, drive and spent time outdoors a lot. These are great glasses for all the activities I do. Very comfortable, light, almost don't feel them on my face. Also, you can change the lens for different light conditions. They came with two extra lenses and great hard shell case plus fabric case/cleaning cloth. Great price for such a wonderful product!

Verified Buyer

Reviewed by Sarah from OK on Thursday, May 21, 2015

I bought the Pivlock sunglasses for cycling, and they work for the most part. The only con is they are a little big on my face and tend to rise up when I have my helmet on. Good product just wish the frame was a little smaller.

Verified Buyer

Reviewed by Mountain lover from California on Friday, May 1, 2015

3 lenses , great design

Verified Buyer

Reviewed by BikinBeth from Benton on Monday, March 30, 2015

I am a long time Smith consumer with my first pair being the Slider IIs. I actually still have those glasses but have relegated them to the mtn bike gear box to be worn on the trail only. I was hesitant to purchase these for fear the lens might be too large on my small face warranting lots of "sweet goggles bro" types of comments. But I was pleasantly surprised that the lens isn't as large as it appears. I love Smith's dedication to the triple lens feature, however, I don't see how removable temples and nose piece will last very long. The nose piece I feel will outlast the temples and there is even another one in the case. I haven't examined it very closely to see if it is a different size or simply a replacement part. The glasses are comfortable and very lightweight as I had hoped. My only complaint is that I can see the temples' attachment points to the lens in my peripheral vision which was a bit distracting at first, but I'm getting used to it. And most of all they just look cool!

Verified Buyer

Reviewed by TS from Washington State on Saturday, March 14, 2015

Smith Optics are awesome. Lightweight design with a wrap around face fit is perfect for cycling. The curved design actually is better than conventional sunglasses for fit and eye coverage from the elements. I have a medium face (male) and these fit perfect.

Verified Buyer

Reviewed by Nordicguy from Bend on Thursday, January 22, 2015

I have another pair of these glasses and the bronze lens is the best. Not too light or too dark for nordic skiing in the trees. Love the extra pink lens for lower light conditions and the price is the best. I did have a lens crack on my prior pair but I know that Smith will replace if it gets worse

Reviewed by Runs with dogs from Missouri on Wednesday, January 21, 2015

These are fabulous. I love them for running and cycling, and the ignitor lens in particular works great in a wide range of light conditions. Based on a previous review, I was worried that these wouldn't work with the Smith ODS Rx adapter, but I took a chance and it fits just fine (the ODS2--which I got online from an optics retailer--comes with a nosepiece that holds the Rx lens and the Pivlock lens). At STP prices for the Pivlock V90, this was the cheapest way I found to get an outstanding pair of performance Rx sunglasses, with lots of flexibility because of the extra lenses. Very pleased!

Reviewed by Brian B from Salt Lake City on Tuesday, November 26, 2013

I absolutely love these. I ultimately decided to go with them after a sales person at REI who does triathlons said they were the best all-around sports sunglasses he had ever worn and he had pretty much tried them all. Add to that the 2 other interchangeable lenses and you cant go wrong.

Reviewed by tri it from Indiana on Friday, August 16, 2013

Super light and flexible. Perfect for triathlons. Sweat runs right off. Easy to change out lenses. Great price.

Reviewed by TN Hiiker from East Tennessee on Thursday, August 15, 2013

Ordered these to replace some big box store glasses that had polarized lenses but were lousy for running, especially in forest or shadowy areas. The ignitor lens works great for the forest runs. The wife likes the glasses too so we are both able to use them for our runs/bikes.